Dialogue not an end in itself
Hazards of a poorly planned engagement with Pakistan
G Parthasarathy
A diplomatic engagement with a neighbour having territorial ambitions has to be carefully calibrated and executed. Apart from realistically assessing the balance of military and economic power, one has also to carefully assess the neighbour's internal political imperatives and the readiness of its leadership to live at peace, without resort to terrorism. Sadly, there are vociferous sections in India which believe that dialogue with Pakistan is an end in itself, without carefully considering what the available options are. Moreover, has continuing dialogue produced better results than no dialogue at all?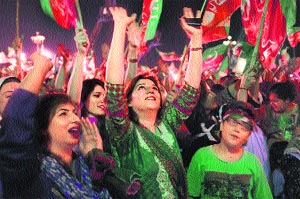 Imran Khan supporters at a rally in Islamabad. The demonstrations led by Imran Khan and Tahir-ul-Qadri enjoy the backing of the military establishment
Pakistan lost its eastern half, 13,000 sq km of its territory in the west, one half of its navy, one-fourth of its air force and army, with India holding 90,368 prisoners of war, in the 1971 Bangladesh conflict. In negotiations in Simla with Zulfiqar Ali Bhutto, India's most hard-headed Prime Minister was persuaded by some of her key officials that Bhutto would be devastated politically if he went back empty handed from Simla. While returning the 90,368 PoWs was inevitable, what was surprising was the decision to withdraw from 13,000 sq km of Pakistan territory captured by us on the basis of a mere verbal assurance from Bhutto that he would, in due course, settle the Kashmir issue on the basis of the territorial status quo.
Bhutto had no intention of abiding by his verbal commitment. Just over a decade later, Pakistan commenced promoting a communal divide in Punjab. This was followed by the arming and training of disaffected Kashmiri youth to promote an armed insurgency in J&K. Pakistan also sought to exploit "fault lines" in India's body politic. The Mumbai bomb blasts in 1993, where 250 Indians perished, were planned and executed by the ISI. The perpetrator of these blasts, Dawood Ibrahim, resides comfortably in Karachi. He even ventures abroad on a Pakistani passport. ISI-sponsored terrorism grew rapidly alongside continuing "dialogue" with Pakistan.
The bilateral dialogue was called off by Prime Minister Benazir Bhutto in 1994 when she found that efforts to coerce India on J&K had not worked. Unlike in the past, Kashmiri youths were becoming increasingly wary of crossing the LoC. What followed was the induction of Pakistani nationals from the ISI-backed terrorist outfits like Jaish e Mohammed, Harkat ul Mujahideen and Lashkar e Taiba. This shift in Pakistani strategies from support for a "freedom struggle" of Kashmiris to a jihad by terrorists occurred, not because of any "composite dialogue," but because of ground realities. Moreover, it was during this period that, thanks to imaginative political initiatives and effective policing, Pakistan-backed militancy in Punjab ended. Terrorists from Babbar Khalsa and the ISYF, however, still live across our borders.
Prime Minister Inder Gujral initiated discussions with Nawaz Sharif on a "Composite Dialogue Process," in which the centrality of terrorism was not emphasised. Terrorism was merely put on the same pedestal as drug smuggling! The first round of this dialogue was held in 1998, after the nuclear tests. Determined to ensure that India was seen as sincere in its quest for peace, Mr. Vajpayee visited Lahore, only to find that rather than promoting peace, the resumption of the dialogue was accompanied by Pakistani intrusions, leading to the Kargil conflict, amidst dire Pakistani threats of nuclear escalation. President Musharraf's subsequent visit to Agra was followed by the attack on India's Parliament in December 2001. Structured dialogue alone was clearly no recipe for peace and good neighbourly relations.
The military standoff after the Parliament attack and the post 9/11 American invasion of Afghanistan, forced General Musharraf to think afresh. He proposed a ceasefire across the LoC and promised that "territory under Pakistan's control" would not be used for terrorism against India. While Musharraf abided by his commitments, where the UPA government went horribly wrong was in presuming that a weak democratic government led by Mr. Asif Ali Zardari, a well-meaning Sindhi Shia, would be able to rein in the jihadi propensities of Gen Ashfaq Kayani, a hard line Islamist. New Delhi underestimated the significance of the deadly ISI-sponsored attack on our Embassy in Kabul in August 2008. What inevitably followed was the terror strike of 26/11 in Mumbai. The public outcry that followed the disastrous summit diplomacy in Sharm-el Sheikh forced the UPA government to tread warily thereafter.
Given what followed the 2008 terrorist attack on our Embassy in Kabul, New Delhi should not underestimate the significance of the attack on our consulate in Herat, just on the eve of Prime Minister Nawaz Sharif's visit to Delhi. The recent demonstrations led by Imran Khan and Tahir-ul-Qadri clearly enjoy the behind-the-scenes backing of the Pakistani military establishment. The army has indicated that it will assist Nawaz Sharif. But in return for this support it has demanded that Sharif "must share more space with the army". To expect that in these circumstances, Nawaz Sharif can deliver India's concerns on terrorism, or promote trade and energy cooperation significantly will be wishful thinking. The tough stance that India has taken on the links of the Pakistan establishment with Hurriyat at least conveys that it is not going to be "business as usual" with Pakistan, especially if it continues with ceasefire violations, while abetting terrorism in India and threatening our diplomatic missions and nationals in Afghanistan.
In her meticulously researched book "The Pakistan Army's Ways of War" American academic Christine Faire notes that in order to deal with Pakistani army policies which undermine US interests and seek to destabilise India, the US should consider means to "contain the threats that emanate from Pakistan, if not Pakistan itself". This is the first time a reputed American academic has spoken of the need to "contain" Pakistan. Clearly, this cannot be done by merely chanting the mantra of "uninterrupted and uninterruptable dialogue" with Pakistan. While a measured engagement with whoever rules Pakistan is necessary, it has to be complemented with measures to tighten internal security, enhance our military capabilities and raise the costs for Pakistan, if it pursues its present efforts to "weaken India from within".

I am a PhD too
Kirti Dua
I booked my railway ticket in IIIrd AC of Hemkunt Express for my journey from Jammu to Ludhiana. On the day of the journey, I boarded the train and kept my suitcase underneath my lower berth. On the opposite lower berth a middle-aged lady was lying.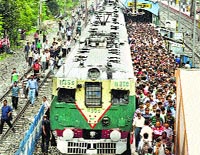 A gentleman boarded the train, and after having a glance at the berth, told the lady that it was his seat. The lady replied that the TTE had allotted this seat along with four other seats to her family members. The man got annoyed and told the lady in a little loud voice that he had a proper reservation for the seat. He was well-educated and a PhD, neither the TTE nor that lady could befool him.
In the meantime, her husband came and after a careful examination of the ticket of the gentleman, told him to go to IInd AC compartment as his reservation was for that class. The husband of the lady then said that a PhD did not guarantee wisdom and common sense; one had to be careful and alert. After listening to all this conversation, I said to myself that 'I am a PhD too, but I am not like that'.
After some time, one couple in their late sixties arrived in the same coupe. They had their seat reservation for the middle and upper berth on my side. They kept their suitcase underneath my berth. Soon after the train chugged off the railway station, we had a good discussion on various aspects. From the discussion, I came to know that the couple was going to Haridwar on some family function and they had the plans to return the same evening by Hemkunt Express.
Then we opened our packed dinner and shared it with each other as a goodwill gesture. Soon after the dinner, the middle berths opened, lights of the coupe were switched off and all slipped into their berths for the night. The train reached Ludhiana at midnight and everybody else in the coupe was sleeping. To avoid inconvenience to others in the coupe, I took out my suitcase gently from underneath the berth without switching on the lights, got down the train, took an auto and reached home. The next morning when I opened the suitcase, there were suits, saris etc in it. Then I realised that my suitcase had got exchanged with someone else's of the same colour, size and shape.
I recalled that when the elderly couple had boarded the train, they had pushed my suitcase forward to fit in their suitcase and that resulted in this mix-up. From a diary in the suitcase, I found a phone number of their son in Delhi. I called him and explained the whole episode. After contacting his parents at Haridwar, he gave me the details of their return journey on Hemkunt Express.
Within 24 hours, I was again at Ludhiana station at midnight and after sincere apologies from my side, we exchanged our black suitcases. It appeared like a scene from a film in which two smugglers exchanged their stuff. The person told me that they really had a tough time because his wife had to attend that function in the same suit she was wearing as her suitcase was exchanged. I was feeling sorry for the couple and at the same time wondering if it was just a coincidence or my PhD too had a role in it.

How to view the tamasha in Islamabad
Imran Khan and Tahirul Qadri, according to their supporters, represent an aspiration for "commonsense" democracy which empowers and liberates the common man. Nawaz Sharif and his ilk represent the "traditional power structure" democracy or crony and phony democracy
Ashraf Jehangir Qazi
HOW should we view the goings-on in Islamabad? Low comedy and high farce? A national disgrace? A serious breakdown of governance? A critical opportunity? The start of a real transition towards better governance and more genuine democracy? Or preparing the ground for another decade of open or de facto military rule? Some analysts suggest all these views are valid to one degree or another, except that it is not clear what the outcome will be. Nawaz Sharif is seen by many as a three-time elected prime minister who must be allowed to complete his tenure if democracy in Pakistan is not to be derailed yet again. His record of governance may be patchy. But he has only completed 15 months of a five-year mandate.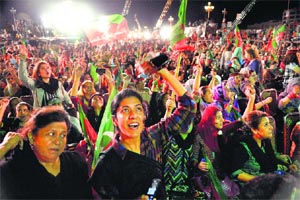 There is a perception that both Tahirul Qadri and Imran Khan are endangering democracy by their antics and agitation. photo: AFP
Moreover, governance is always a learning process and democracy is always a work in progress. As Bill Clinton said in his address to Pakistanis during his brief stopover in Islamabad in 2000, imperfect democracy needs to be addressed through better democracy, not the suspension of democracy. Gen Musharraf argued he was a better democrat than the politicians.
The Constitution of Pakistan, however, explicitly excludes unconstitutional and undemocratic interventions to resolve political challenges facing the country. Those of this view might approvingly refer to Bertolt Brecht's play The Life of Galileo in which Andrea says, "Unhappy the land that has no heroes," to which Galileo replies, "Unhappy the land that needs heroes". Nawaz Sharif supporters might also quote Aneurin Bevan's description of a political opponent as "suffering from petrified adolescence".
According to this view, both Imran Khan and Allama Tahirul Qadri are endangering constitutional democracy and the economic development of Pakistan through their "antics". They are also making a spectacle of themselves and of the country through their politics of anger and frustration.
Their escalating and shifting demands, accompanied by a range of threats, only confirm their hunger for power at any cost to the nation. This is the essence of fascism rather than democracy. It represents an entire negation of the Quaid's philosophy of political agitation which rested on an uncompromising respect for constitutional procedures and an emphatic rejection of Gandhi's calls for civil disobedience.
According to Noam Chomsky, there is a "commonsense" or dictionary meaning of democracy and a contrasting "doctrinal or real world" meaning of democracy. According to the commonsense or dictionary meaning, roughly speaking, a society is democratic to the extent that people in it have meaningful opportunities to take part in the formation of public policy. There are a lot of different ways in which that can be true.
But insofar as it is true, the society is democratic." The "real world," (indeed we may say traditional Pakistani) meaning has been "a top-down democracy that leaves traditional structures of power in effective control". Chomsky adds "if segments of the public depart from their apathy and begin to organise and enter the public arena that, according to those in control, is not democracy. Rather it is a 'crisis' of democracy". Imran Khan and Tahirul Qadri, according to their supporters and sympathisers represent an aspiration for "commonsense" democracy which empowers and liberates the common man. Nawaz Sharif and his ilk, in this view, represent "traditional power structure" democracy; in other words, crony and phony democracy that has been manifest in the worst-ever governance in Pakistan's history. This is rule by money and power, including the criminal abuse of constitutional authority. This excludes the prospect of real movement towards any kind of inclusive or "commonsense" democracy. According to this view, both protagonists of "commonsense democracy" (some would argue Imran more than Qadri) represent the only hope for Pakistan to avoid descending into the realm of state failure. Many who are deeply aware of Imran's shortcomings as a political leader, including his exaggerated and empty posturing in recent days, see him as a vitally important transition figure. His contribution has been to make the people aware of their rights and their potential to organise and sustain a multi-layered struggle on behalf of "commonsense" democracy and inclusive and consultative governance. This is the only way to prioritise the agendas of the people rather than those of their exploiters who rule them in the name of "doctrinal" or "constitutional" democracy. Moreover, Imran's supporters argue he has a "vision" for Pakistan for which he has stood up whereas Nawaz Sharif stands for no vision at all except power, pelf and privilege for himself and his family. They might approve of two Biblical sayings: "Where there is no vision, the people perish" and possibly also, "Great men are not always wise." So where are we headed and what can we hope for?
We need first to be clear. Nawaz Sharif would not accept that he represents "traditional power structure" democracy and that his governance is beyond redemption. Nor is it clear that Imran Khan has the leadership qualities embodied in the Arab proverb, "It is the tribe that tells the chief how to do his job". He has to broaden his focus beyond Nawaz Sharif without compromising his core demands. He should avoid off-the-cuff public statements that embarrass his supporters.
He should accept that a Supreme Court-appointed judicial commission will be able to act very independently of a battered and weakened Nawaz Sharif, especially if the FIRs concerning the Model Town massacre are registered against the accused. At a critical time before the elections of 2013, Imran Khan switched from leading a national movement for radical reform of the political system to leading a party for electoral success. He did very well in the elections. But not as well as he expected. Significant if not game-changing fraud may have been involved. We should soon find out. Even significant fraud, if established, will compel Nawaz Sharif's resignation and a fresh poll. Whether Imran wins or loses a fresh poll, he can decide how to restore his national movement for commonsense democracy which he unwisely put on the backburner.
The writer is a former amabassador to the US, India and China. By arrangement with the Dawn