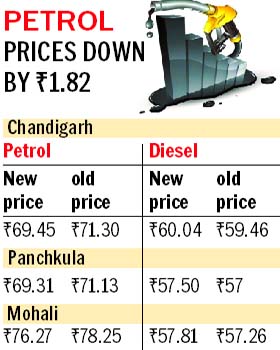 PM's address to schoolchildren on September 5
Schools told to bear expenses of event
Chandigarh, August 30
UT government schools are in a fix over live broadcasting of Prime Minister (PM) Narendra Modi's address to schoolchildren on Teacher's Day (September 5). The school authorities claimed that the Education Department had directed all schools to bear the expenses of the broadcast.
Ambala-Shimla National Highway
NHAI increases toll plaza charges
Panchkula/Dera Bassi, August 30
Now, road users will have to pay more for travelling on the Ambala-Shimla National Highway with the National Highway Authority of India (NHAI) revising the annual toll charges being collected at toll plazas set up at Chandimandir and Dappar villages.


| | |
| --- | --- |
| Tiny Techies: Students look at a robot during the regional tournament of the ninth edition of the Indian Robot Olympiad (IRO) at The Millennium School, Mohali, on Saturday. A Tribune photo | Visual treat: Artistes perform during the annual alumni meet at Postgraduate Government College in Sector 46, Chandigarh, on Saturday. Tribune photo: Parvesh Chauhan |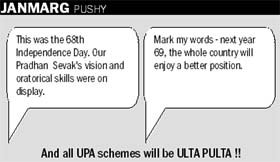 MC readies for yet another study tour
Chandigarh, August 30
While around 20 councillors will be leaving for a study tour to Port Blair, Chennai and Kolkata on Sunday, the Municipal Corporation (MC), Chandigarh, has another one planned for the remaining councillors, who would be going to Bangalore, Coimbatore and Thiruvananthapuram.
Builder blamed for developing project sans approval
Zirakpur, August 30
A resident of Peer Muchalla has alleged that a Zirakpur-based builder has developed a housing society without obtaining mandatory permissions from different government departments.
Restaurants charging 'extra' VAT
Chandigarh, August 30
The Chandigarh Administration is getting rich at the cost of restaurant goers due to a wrong taxation formula being used by restaurant operators while charging the value added tax (VAT).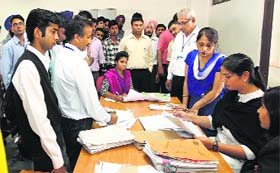 Final hearing: A Bench hearing a case during a Lok Adalat organised at the District Courts in Sector 43, Chandigarh, on Saturday. The 23 benches constituted for the event disposed of as many as 14,443 cases. Tribune photo: Pradeep Tewari
12 fresh cases of diarrhoea in Panchkula
Panchkula, August 30
More than 12 persons suffering from diarrhoea were reported at the Civil Dispensary in Sector 19 here today. Yesterday, over 60 cases of diarrhoea were reported from Abheypur village and Sector 19.
high security registration plates
RLA to take up CH-01-AF series from September 1
Chandigarh, August 30
From the coming month, the Registering and Licensing Authority (RLA) is going to start affixing High Security Registration Plates (HSRP) on vehicles having registration numbers of CH-01-AF series.
Mock drill conducted at Burail jail
Chandigarh, August 30
A mock drill was conducted at the Burail Model Jail here on Friday night to check the alertness and reaction time of the jail officials and the Chandigarh Police. Sources said a few jail officials and police officers failed to reach in time.


Exhibition on health awareness begins
Chandigarh, August 30
Doctor Calling, a unique exhibition on health awareness, was inaugurated by Dr Dharamvira Gandhi, a cardiologist and Patiala MP, here today. The exhibition will be on till August 31.
Visitors to 'Doctor Calling', an exhibition on health awareness, at the Punjab Kala Bhawan in Sector 16, Chandigarh, on Saturday. Tribune photo: Manoj Mahajan
Five children released from Snehalaya
Chandigarh, August 30
On an application moved by the Lawyers for Human Rights International (LFHRI), the Child Welfare Council of the UT Administration has released five children from the Snehalaya in Maloya village here today.
Residents of societies rue poor basic amenities
Chandigarh, August 30
Residents of two residential societies — GBS and DC Office Society — are at the receiving end due to lack of basic amenities. The roads are not being carpeted due to infighting among members of the general bodies of both societies. The entry point to the societies is in a bad shape. There are 96 flats in the societies.
Wall collapses in Naya Gaon
Mohali, August 30
A 10-feet high boundary wall of a house in Ward Number 4 of Dashmesh Nagar in Naya Gaon collapsed today at around 8.30 pm, here.



PU elections
Parties' agenda old wine in new bottle
Chandigarh, August 30
Student parties in the race for the forthcoming elections to the Panjab University Campus Students Council are digging old election agendas to prepare a list of new promises to the voters.

Students paste ABVP stickers during campaigning at Panjab University in Chandigarh on Saturday. Tribune photo: S Chandan


No voters in German Dept
Chandigarh, August 30
No student from the German Department at Panjab University will cast his vote in the coming Punjab University Student Campus Council Elections. As per data, students of the department are not eligible to cast their vote.
Photographers at DAV-10 to capture trouble makers
Chandigarh, August 30
To avoid any untoward incident and to curb the entry of outsiders, the authorities at DAV College, Sector 10, have hired special photographers and camerapersons to record all activities on the premises till the date of elections.
| | |
| --- | --- |
| Amninder Mann, Dean Student Welfare, announces the final list of candidates contesting the election at DAV College, Sector 10, on Saturday. Tribune photo: Pradeep Tewari | A videographer captures the activities of students at DAV College, Sector 10, on Saturday. Tribune photo: Pradeep Tewari |

Protesting students scuffle with cops at college
Chandigarh, August 30
High drama prevailed at the PG Government College, Sector 11, when the hostel inmates — staging a protest to demand better living facilities — exchanged heated arguments with the Chandigarh Police and college authorities today.
Students scuffle with the police during a protest at the PG Government College, Sector 11, in Chandigarh on Saturday. A Tribune photograph
Leaders should be good team members first: General Malik
Chandigarh, August 30
Ethics is a fundamental component of good leadership. All leaders have the power to bring about change and have a big responsibility to lead by example, or as they say in the Army, "lead from the front."

Former Army Chief General VP Malik addresses a gathering at the GGDSD College in Sector 32, Chandigarh, on Saturday. Tribune photo: Parvesh Chauhan
15 schools win prizes in science exhibition
Mohali, August 30
Prizes were awarded to nine schools from the junior category and six from the senior category during the concluding session of the District-level Inspire Award Exhibition-2014, here, today.