Poor canal water supply
Jakhar tells farmers to gear up for stir
Abohar, August 29
Congress Legislature Party Leader Sunil Kumar Jakhar has told farmers of the sub-division to protest the poor canal water supply in villages located at the tail-end of canals. Addressing a meeting in Usmankhera, a village situated at the tail-end of the canals, he said there had only been a marginal improvement in the canal water supply even though he had met the state Irrigation Minister.
Capt blames Badal for depriving Jats of quota
Patiala, August 29
Capt Amarinder Singh, Congress Deputy Leader in the Lok Sabha and All India Jat Mahasabha president, today blamed Chief Minister Parkash Singh Badal for allegedly depriving the Jats living in Punjab of reservation benefits.

Will resign as YAD chief soon: Majithia
Jalandhar, August 29
In a significant development, state Revenue Minister Bikram Singh Majithia today announced that he would soon quit as Youth Akali Dal (YAD) president. He said he had told Chief Minister Parkash Singh Badal and Deputy Chief Minister Sukhbir Badal about it.
Chhotepur is AAP state convener


New Delhi, August 29
Keeping its focus on Punjab, the Aam Aadmi Party (AAP) today appointed Sucha Singh Chhotepur as state convener. The Lok Sabha MP from Sangrur, Bhagwant Mann, has been given the charge of running campaigns and mobilising the youth in the state. Chhotepur was the party candidate for the Gurdaspur Lok Sabha seat. He has spearheaded several movements in the state. Chhotepur said though he had been given a free hand by the part leadership, he would consult all leaders and try build a strong party organisation in the state.
Youth can help fight graft: Kalam
Ludhiana, August 29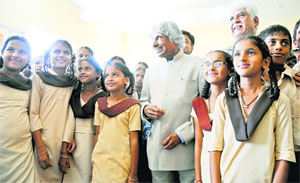 Former President APJ Abdul Kalam today said the youth should be given greater responsibility in the nation's affairs. He was replying to a query on how to end corruption in the country. Kalam was on a visit to Satya Bharti Adarsh Senior Secondary School at Sherpur Kalan, Sat Paul Mittal School and BCM Arya Model Senior Secondary School in Ludhiana today.

Former President APJ Abdul Kalam and Rakesh Bharti Mittal, Bharti Foundation co-chairman and Bharti Enterprises vice-chairman, with schoolchildren at Satya Bharti Adarsh Senior Secondary School in Sherpur Kalan, Ludhiana, on Friday. Tribune photo: Himanshu Mahajan

Ramoowalia usurped property, alleges brother
Chandigarh, August 29
Iqbal Gill, brother of senior Akali leader BS Ramoowalia and a resident of Canada, has accused his brother of having "usurped" a DDA flat that belonged to his deceased mother-in-law by resorting to "forgery".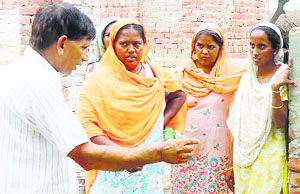 More diarrhoea cases pour in
Rania (Moga), August 29
Six more cases of suspected diarrhoea and viral infections were reported in the Dalit locality at Rania village in Moga district during the past 24 hours. Two patients were admitted to the Civil Hospital, Badhni Kalan, while four were given medicines at home.

A doctor briefs Rania villagers on ways to check the spread of suspected diarrhoea cases in the village. A Tribune photograph


CM orders probe against staff settled abroad


Chandigarh, August 29
Chief Minister Parkash Singh Badal has ordered a vigilance inquiry into the matter of state government employees who had taken up permanent resident status in different foreign countries in violation of existing government rules.

Residents plan stir to save historical site
Fazilka, August 29
Local residents today started an indefinite dharna to save Raghuvar Bhawan, a 113-year-old-building. Residents of Nai Abadi, Teacher Colony, Basti Chandora and Dhingra Colony have been demanding heritage status for the building. They raised slogans against the government for not maintaining the historical building that is in ruins.

Teams survey Bathinda village to explore job avenues
Rattakhera (Lambi), August 29
Rattakhera village in Chief Minister Parkash Singh Badal's constituency of Lambi is reportedly all set to become a model village. The village, located on Malout-Panniwala Fatta road, with a total population of 1,617 people, is severely affected by waterlogging. A majority of the farmers have not been able to grow a single crop for the last several years.

Farmers defer stir
Abohar, August 29 The Kisan Mazdoor Beopari Samiti on Friday postponed its agitation against poor canal water supply in Sriganganagar and Hanumangarh districts till next month. The decision was taken after Anoopgarh CPM MLA Pawan Duggal and other senior leaders were released on bail from the sub-divisional jail at 5 pm. They were arrested yesterday during the "chakka jam".

Namdhari faction defers indefinite fast
Ludhiana, August 29 The Namdhari Panthak Ekta Action Committee today deferred their indefinite fast that was scheduled to begin outside Gurdwara Bhaini Sahib on September 16. The decision has come three days after five men were allegedly injured in clashes between two factions at Bhaini Sahib.

Mexican beetle to tackle deadly weed
Patiala, August 29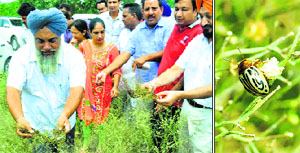 Scientists have finally zeroed in on "Mexican beetle" to tackle the problems caused by parthenium-locally called Gajar buti or Congress Grass. It is designated as one among the seven most devastating weeds in the world and is one of the most common problem faced by farmers in Punjab.
Mexican beetle being released to check Congress grass spread at a village in Patiala on Friday. Tribune photos: Rajesh Sachar

Recruitment of associate teachers
State identifies 623 persons with questionable degrees
Chandigarh, August 29
The Punjab Government has identified 623 candidates with questionable degrees for the posts of rural associate teacher. It has also set up two committees for verification of their degrees.
murder of Sikh in New Zealand
SGPC delegation meets Kiwi High Commissioner
Amritsar, August 29
A five-member SGPC delegation led by its president Avtar Singh Makkar met New Zealand High Commissioner Grahame Morton today and sought stern action against those involved in the murder of a Sikh in that country.
Inspector, ASI suspended for sloppy probe
Jalandhar: The Nawanshahr SS, has suspended an inspector and an ASI with immediate effect. Dilbag Singh Pannu, SP (D), Nawanshahr, said the Mukandpur police booked mill owner Kiranpal Singh in December 2013 for siphoning 8,722 rice bags.
Woman killed, 7 injured in car mishap
Khanna, August 29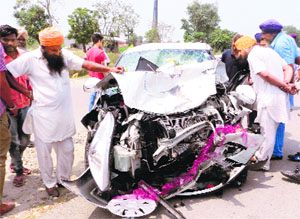 Marriage festivities turned gloomy for a family of Jalandhar when the sister-in-law of the groom died and seven members of the family, including groom Rajesh and bride Isha, were injured when the car by which they were travelling met with an accident near Khanna today. They were returning home from Panipat after the marriage ceremony.
The mangled remains of the car that met with an accident near Khanna on Friday. A Tribune photograph

FIBA delays decision on turban ban
Washington, August 29
The International Basketball Federation (FIBA) has decided to delay the review of its policy against Sikh basketball players who wear turbans, drawing sharp reactions from top American lawmakers and Sikh bodies which described it as "outdated". "Every day FIBA delays is another day that Sikhs can't play. Allowing Sikhs to play while wearing their turban is a no-brainer, and we're disappointed that FIBA has delayed their review of a policy that can only be described as outdated and discriminatory," Congressmen Joe Crowley and Ami Bera said in a statement. — PTI
Life term for Babbar Khalsa man
Ludhiana, August 29
The Court of Additional Sessions Judge Sarabjit Singh Dhaliwal today convicted Balbir Singh Bhootna, an alleged Babbar Khalsa terrorist on the charge of killing a tea vendor at the local railway station.
12 booked for running drug ring in Faridkot jail
Faridkot, August 29
A special investigation team (SIT) of the police has detected a drug syndicate that was running in the Faridkot Central Jail for the last several months. The police have booked 12 persons, including five inmates, who were selling narcotic drugs to other prisoners and undertrials. These five inmates were already in jail for the offence of drug smuggling.
BSF seizes 4 kg heroin
Amritsar, August 29
The BSF last night recovered 4 kg heroin, valued at Rs 20 crore in the international market, a pistol, a magazine and six rounds of ammunition near the border outpost of Mahwa in the Amritsar Sector.
Power corp SDO held for bribery
Patiala, August 29 The Vigilance Bureau today arrested Harpreet Singh, SDO, Punjab State Power Corporation Limited (PSPCL), posted in Rajpura for allegedly accepting a bribe of Rs 8,000 from a local resident.
JE, XEN caught taking bribe
Jalandhar, August 29
A Junior Engineer (JE) and an Executive Engineer (XEN) of the Kapurthala MC, were arrested while accepting Rs 15,000 each as bribe in separate cases today.
Three held for selling wheat meant for poor
Sangrur, August 29
The Sunam police have arrested three persons, Amandeep Singh, Rohit Kumar and Rakesh Kumar, all residents of Sunam, for allegedly selling wheat supplied to a ration depot by the government for distributing among the poor.