| | | |
| --- | --- | --- |
| | ARTICLE | |
Weather risks to agriculture
Crop insurance can mitigate farmers' losses
S. S. Johl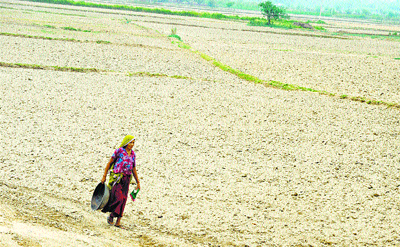 If run diligently, agricultural insurance is not a losing business and can be expanded profitably


Farm business suffers from acute risks and uncertainties, both at the level of production and in the market. So far all efforts made to mitigate the effect of adverse weather and minimise market risks have succeeded partially only. On market risks and uncertainties, the minimum support price (MSP) in conjunction with procurement by the government, as a buyer of last resort in the market, is quite an effective tool that introduces a fair level of certainty.
Yet the procurement system worked effectively for wheat and rice as well as to some extent for cotton only. There has been virtually no procurement in place for other commodities. Therefore, for the rest of about two dozen agricultural commodities, for which MSPs are regularly announced, market prices have been always ruling above their MSPs. This indicates that unless the MSP of an agricultural commodity is fixed above the ruling market price, there would be no procurement and the government would not need to put the procurement system in place. Once the procurement is made, the public distribution system has also to be developed. This is the reason the government has been shying away from the market for agricultural commodities other than the food grains by keeping the MSPs lower than the ruling market rates. This comes handy for avoiding the trouble to the administrative system. This has adversely affected the efforts on diversifying the production system to substitute alternative crops for wheat and rice.
On the production side the Union government has made several attempts through agricultural insurance schemes. The initial attempts turned out to be a failure and claims of over Rs 1600 crore far exceeded the premium realised. Gujarat alone claimed more than Rs 790 crore for just one crop. The scheme had to be scrapped the same year. Again, a comprehensive crop insurance scheme was introduced in 1997-98 covering even small and marginal farmers. With highly subsidised premium, claims exceeded more than twelve times. The scheme had to be discontinued the same year. Thereafter an experimental insurance scheme and then a farm income insurance scheme were introduced, but both failed and had to be scrapped.
The Government of Andhra Pradesh implemented the Modified National Agricultural Insurance Scheme (MNAIS) in three districts on a pilot basis from the 2012-13 rabi season for mango, banana and cashew nut plantations. The scheme was compulsory for all the loanee farmers and voluntary for non-loanee farmers. Here the focus was on plantation crops, which carry lower risk on account of weather variations.
The world over, nowhere agricultural insurance is self-sustaining. In America the government subsidises two-third of the premium. It costs the government $9 billion a year. Additionally, the 19 private agricultural insurance companies are paid $1.3 billion with the government being reinsurer. Under the new insurance bill additional $3.3 to 5 billion is expected to be the budgetary cost to the government. It amounts to government absorbing all the production risks of the agriculture sector through private insurers.
Pakistan has also launched a crop insurance scheme through charging 2 per cent extra on the rate of interest charged from farmers. The scheme is available to the loanee farmers only. The scheme compensates 50 to 70 per cent of the loss suffered by the insured farmers. Further this insurance will also cover life insurance for the farmer carrying a compensation of Pakistani rupees 5 lakh. This, inter alia, encourages farmers to go in for institutional credit rather than availing loans from the informal sector. The results will be watched with interest.
Then there is also a success story in India. In 2002, Agricultural Insurance Company of India was set up under the Companies Act which by now has covered 23 states and two Union Territories. The company proved wonderful success and by 2012-13 covered 2.5 crore farmers. Since its inception in 2003-04, the company has been in profit. In 2011-12 the company made a net profit of Rs 502 crore and in 2012-13 Rs.348 crore. The premium collected increased from Rs 455 crore in 2004-05 to Rs 3,297 crore in 2012-13 and claims settled increased from some Rs.277 crore to Rs. 3,297 crore over this period. All this when nine private companies share the market.
This indicates that if implemented diligently, agricultural insurance is not a losing business and can be expanded profitably, benefiting farmers substantially as well as eliminating the need for making budgetary provisions for helping the famers in times of crop failures. However, so far the emphasis of insurance has remained on plantation crops, which are much less prone to weather risks and crop failures. It is only recently that weather-based crop insurance has been introduced for wheat, which will test the viability of the scheme. It is only the insurance of general crops, including wheat, rice and vegetables, that can substantially benefit farmers in the north-western states, which as yet has not been fully tested. Although for wheat an insurance protocol has been developed based on weather and crop vigour parameters, yet such protocols have to be developed for other crops, including rice and vegetables, particularly where the agricultural commodities suffer more from weather risks and market uncertainties.
In case of perishable and semi-perishable commodities it is nearly impossible to fix minimum support prices because purchased commodities cannot be stored for long over crop periods. A viable alternative is crop insurance that will introduce certainty in the production system to a considerable extent. For Punjab, Haryana and western U.P. as well as in other areas where irrigation facilities are available, there have to be different protocols of parameters of weather uncertainties and droughts in terms of costs involved. Here the yields are not allowed to suffer through the application of extra irrigation water to crops. Often the yield rather increases due to abundant sunshine that promotes better photosynthesis. All this results in huge extra financial costs and the depletion of scarce production resources, especially underground water. Crop insurance is the dire need of these areas, yet protocols have to be developed differently based on appropriate weather, crop vigour and cost parameters in order to effectively benefit farmers in these irrigated areas.