Writer who was a conscience keeper
UR Ananthamurthy was not only a powerful writer, brilliant thinker and philosopher but a magnanimous human being who touched many lives. His warmth, generosity and life-affirming presence made even the briefest encounter with him uplifting and special.
Chandan Gowda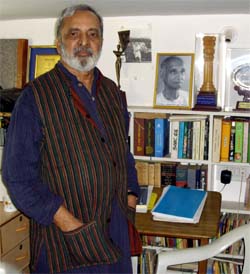 UR Ananthamurthy: He had the courage to challenge entrenched orthodoxy
Udupi Rajagaopalacharya Ananthamurthy or URA is being missed deeply. He was a force. It is difficult to describe him any other way. As a writer, he had found admirers everywhere. As a teacher, he had an ardent student following throughout his university career. The strength of his political convictions endeared him to leading activists from the farmers' and Dalit movements and important politicians in the state. He addressed a variety of audiences on hundreds of occasions: book releases, college events, school functions, academic seminars, political rallies, activist gatherings. He unfailingly took public positions on matters of social and political importance.
Questioning tradition
URA was born to a Madhva Brahmin family in Thirthahalli in 1932. His father, Rajagopalacharya, was questioning of tradition, and the socialist leader, Shantaveri Gopala Gowda, his mentor and friend, were early influences. He completed his BA and MA in English literature at Mysore Univeristy. He later went to the University of Birmingham — on a Commonwealth Fellowship — for his PhD work on the fiction of the 1930s, a period that saw the rise of fascism in Europe. He was at Birmingham at a time when Raymond Williams, Richard Hoggart, Stuart Hall, the founding figures of cultural studies, were active in their work. URA had interacted with them and even assisted in their educational work among the working class children.
After finishing his PhD in 1966, URA returned to teach in Mysore. He wrote his first novel, Samskara, in 1965 while he was a student in England. The novel met with widespread critical acclaim for its daring expose of the degenerate aspects of Brahminical orthodoxy and for pointing at the value of individual creativity and freedom. The novel, which bears traces of French existentialist thinkers like Camus and Satre, is an exemplar of literary modernism in Kannada, which departed from the romanticism of the earlier Navodaya (New Dawn) school of writing. Released in 1970, Samskara, the film adaptation of the novel, which pioneered new-wave cinema in Kannada, was banned initially.
URA's subsequent literary and political concerns reveal a shift: They engage the philosophical problems of liberal social reform and also begin to explore resources within tradition to engage with modern questions. URA often called himself a "critical insider."
Chroniclers of progressive thought in Karnataka will recognise the hugely important contribution of URA's writing and social activism. Ram Manohar Lohia, the socialist thinker, whom he had met in the early 1950s, was a formative influence on him. He noted on many occasions that Lohia mattered to him more than anyone else. This acknowledgement becomes manifest in URA's steadfast commitment to caste equality, to the primacy of Indian bhashas for intellectual work, to the necessity of a decentralised polity.
Of late, he strove to demystify the monstrous appeal of "development" and alert us to the enormous sacrifices that it demanded from the tribal and socially disadvantaged communities. Gandhi's ideals of sarvodaya (welfare of all) and small technology continued to be relevant.
Discussions of religions excited URA. He often complained about the poverty of Indian social science: "How can you say you understand Indian society without engaging the religious imagination?"
Like Gandhi and Tagore, he refused to view India as a nation, and wished to see it as a civilisation instead, as the latter view allowed for a plurality of faiths to live with each other. By extension, a secular politics would fail to adequately engage such a multi-faith society. While he always stood by our secular Constitution, he did not hesitate to embrace ambivalence. In the mid-1980s, the Karnataka Government decided to ban the practice of nude temple worship by Dalit women in Chandragutti, Shimoga district, as it was seen as an exploitative practice. URA was alone in asking that the devotees be allowed to practise their religious faith even when it seemed offensive to modern sensibilities. The state was only obliged to ensure that commercial exploitation and violation of the devotees' privacy did not occur. Another instance of the ambivalence of his thought: URA was consistent in his support for affirmative action for Dalits, lower castes and tribals and for their freedom to choose professions. At the same time, he did not hesitate to say that belonging to a caste meant inheriting unique skills and knowledge whose disappearance in modern times must be seen as loss. Again: he saw formal literacy as necessary for work and life in contemporary times but felt that the so-called illiterates were also the repository of valuable knowledges, which would be lost with formal education. Many have noted their exasperation at such ambivalent positions: Tell us what you want – this or that?! I have never been able to tell if his ambivalence troubled him. But it did allow him to keep public discussions charged and vibrant.
URA was a tireless advocate of the importance of Indian bhashas for creative thought and effective politics. He and many of his writer colleagues outside Karnataka like Nirmal Verma, Dilip Chitre, MT Vasudevan Nair, to name a few, did much to foreground the literary and political importance of bhashas at a time of increasing dominance of the English language in India's intellectual life.
I have heard former students of URA use the metaphors of "sweeping brilliance" and "firebrand" to describe his lectures at the English Department in Mysore University, where he taught till his retirement in 1992. I grew up listening to stories about the many virtues of URA from my father, who had been his student in Mysore in the early 1960s. During URA's visits to our home when I was a school boy, my sister and I would be packed off upstairs, as no interruption was welcome during a serious conversation. My rights of being part of the company came in much later when I was in college. From then on, I was fortunate to get to know him closely.
Generous presence
Krishna Masadi, who had made URA's third novel, Avasthe, into a film in the mid-1980s, adapted his second novel, Bharathipura, into a television serial in 2003. He had been adventurous in casting me, a complete novice at acting, in the lead role of Jagannatha, a modern-day iconoclast who takes on untouchability and religious superstition and comes to later doubt if he had understood those problems correctly. While I was feeling unsure about my acting talent, URA had said: "You look like Jagannatha." He had been generous in his reassurance.
With the support of my university, I designed and co-ordinated an extensive visual documentation of URA at his home in Bengaluru over 10 days between April 2012 and May 2013. In the mornings, he shared his views (in Kannada) on great Kannada writers in the 20th century such as Kuvempu, Bendre, Shivarama Karanth, Masti Venkatesh Iyengar, P Lankesh and Poornachandra Tejasvi. In the evenings, I interviewed him in English on his experiences of childhood days and adulthood and his views on Indian politics, language, and modern Karnataka. He had just started on dialysis at his home at the time our recording sessions began. The dialysis breaks during the recordings might as well have been coffee breaks. Not once did he show fatigue or make me feel that I was disturbing him. His talks on the writers from Karnataka moved seamlessly between personal reminiscences, critical comments and literary evaluation. They also show his enchanting speaking style and the broad canvas of his thought. I cannot remember ever being bored in URA's company. His being fully present whenever he spoke, he could hold listeners spellbound. At the annual Kannada Sahitya Sammelana in 2002, attended by thousands of people, he gave a captivating presidential address where he argued that modern India had wished to satisfy three kinds of hunger: hunger for equality, hunger for spirituality and hunger for modernity.
URA's talks on the Kannada writers were telecast as eight one-hour weekly episodes on Bangalore Doordarshan between June and July this year. He was pleased about the telecast and wished that literary critics reviewed the episodes. He had also felt happy that many could now imagine what his classroom lectures were like.
Select facts about the writer, poet and "critical insider"
UR Ananthamurthy (1932-2014)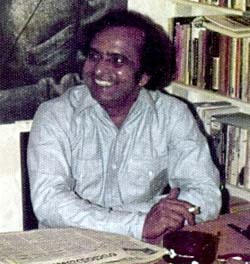 Awards
Padmabhushan (1998)
Jnanapith (1994)
Positions
Vice-Chancellor, Mahatma Gandhi University, Kottayam (1987-1991)
President, Sahitya Akademi (1993-1998)
Publications Fiction
Novels
Samskara (The Last Rites, 1965; Translated by AK Ramanujan, 1978)
Bharathipura (1974; Translated by P Srinivasa Rao, 1996)
Avasthe (The Predicament, 1978)
Bhava (Being/Becoming, 1994; Translated by URA and Judith Kroll, 1998)
Divya (2001)
Collections of short stories (Six volumes)
Yendendu Mugiyada Kathe (The Never-Ending Tale, 1955)
Prashne (The Question, 1963)
Mouni (The Silent One, 1972)
Akasha Mattu Bekku (The Sky and the Cat, 1981)
Suryana Kudure (Stallion of the Sun 1995; Translated by Narayan Hegde (1999))
Pacche Resort (2011)
Poetry (4 volumes)
Mithuna (1972)
Ajjana Hegalina Suttugalu (1989)
Translations into Kannada
Lao Tse's Tao Te Ching (1994)
Selected Poems of WB Yeats (2008)
Selected Poems of Rainer Maria Rilke (2009)
Selected Poems of Wordsworth (2009)
Selected Poems of Brecht (2009)
Plays
Avahane (1968)
Non-fiction (11 volumes)
Prajne Mattu Parisara (Consciousness and Milieu, 1974)
Bettale Seve Yaake Kudadu? (Why not Worship in the Nude? 1996)
Films based on URA's fiction
Samskara (The Last Rites, Dir. Pattabhi Ram Reddy, 1970)
Ghatashradda (The Ritual, Dir. Girish Kasaravalli, 1977)
Bara (Kannada)/Sookha (Hindi) (Drought, Dir. MS Sathyu, 1982)
Avasthe (The Predicament, Dir. Krishna Masadi, 1987)
Diksha (Hindi) (The Initiation, Dir. Arun Kaul, 1991)
Mouni (The Silent One, Dir. B.S. Lingadevaru, 2003)
Prakruthi (Nature, Dir. Panchakshari, 2014)
Questioning spirit

URA wrote Samskara in 1965 (and important short stories like Clip Joint) while he was completing his studies in Birmingham. Samskara evoked immense controversy for its critical portrayal of the oppressive dimensions of Brahminical culture. After completing his PhD in 1966, URA returned to teach in the English Department in Mysore University. He was to work here till his retirement in 1992. During his entire academic career, he wrote little by way of literary criticism in English. The world of Kannada literature and criticism was his home.

Samskara ruthlessly exposed the stultifying effects of traditional orthodoxy and pointed at the necessity of individual scepticism and creativity.

At the annual Kannada Sahitya Sammelana in 2002, attended by thousands of people, he gave a captivating presidential address, where he argued that modern India had wished to satisfy three kinds of hunger: Hunger for equality, hunger for spirituality and hunger for modernity.
The writer is professor of social science, Azim Premji University, Bengaluru. He has translated URA's short story, Bara (Drought). He is presently at work on two books: A book of autobiographical interviews that he did with URA and a book on the cultural politics of development in old Mysore state.