Assassin's brother honoured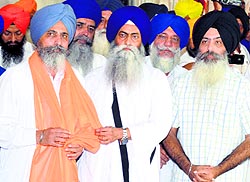 Amritsar, August 31
Radical Sikh organisations today urged the Akal Takht Jathedar, Giani Gurbachan Singh, to install a portrait of Dilawar Singh, Beant Singh's assassin, at the Golden Temple museum. At a bhog ceremony jointly organised by the Dal Khalsa, Akhand Kirtani Jatha, Damdami Taksal, SAD (Amritsar) and Akali Dal Panch Pardhani, Dilawar Singh's brother Chamkaur Singh was honoured with a siropa by head granthi Bhai Jagtar Singh.
Bhai Jagtar Singh honours Chamkaur Singh, brother of Beant Singh's assassin, at the Golden Temple complex on Sunday. Photo: Vishal Kumar

Kidnapping of proclaimed offender
Cops register case against IG Cheema
Mohali, August 31
The Mohali police today booked Punjab Police Inspector General (IT) Gautam Cheema and three others, including Ajay Chaudhary, on charges of kidnapping, trespassing, wrongful confinement and criminal conspiracy in a case of forcibly taking away proclaimed offender Sumedh Gulati from the Phase 1 police station on August 26.
Paper leak: Army exam cancelled, nine arrested
Abohar, August 31
An Army recruitment exam slated for today was cancelled amid reports that the question paper was leaked.
Shanta: Gill's induction into BJP was wrong
Jalandhar, August 31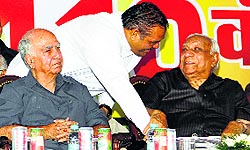 Shanta Kumar, BJP parliamentarian from Kangra (Himachal Pradesh) and the party's Punjab affairs in charge, here today said former Akali Dal leader Paramdeep Singh Gill's induction into the saffron party should not have happened.



(L-R) BJP's Punjab in charge Shanta Kumar, MP Vijay Sampla and Chhattisgarh Governor Balramji Das Tandon in Jalandhar on Sunday. Tribune photo: Sarabjit Singh

Will bounce back, claims AAP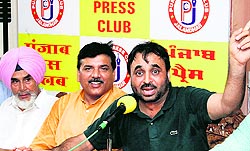 Jalandhar, August 31
With the Aam Aadmi Party (AAP) failing to make a mark in the Patiala and Talwandi Sabo byelections, the party has planned to form a strong organisational set up in the state to contest the 2017 Assembly elections.



(From right) Sangrur MP Bhagwant Mann with AAP national spokesman Sanjay Singh and AAP's state convener Sucha Singh Chhotepur at a media conference in Jalandhar on Sunday. Tribune photo: Sarabjit Singh

250 clerks awaiting posting orders cry foul
Chandigarh, August 31
At least 250 clerks, recruited in various departments in July, are an anxious lot. They are yet to receive their posting orders owing to "technical" issues.
It's a plot to defame him, says Daduwal's family


Faridkot, August 31
Reports that Baljit Singh Daduwal, Sant Samaj leader, has snapped ties with the ad hoc Haryana Sikh Gurdwara Management Committee (HSGMC) by resigning as its member have taken his supporters by surprise.



BS Daduwal. A file photo
Rs 41 lakh aid for terror-hit families
Jalandhar, August 31
Monetary aid worth Rs 41 lakh was disbursed among 164 terrorism-affected families at the 110th Shaheed Parivar Fund function here today.
Children at anganwaris go without food
Ropar, August 31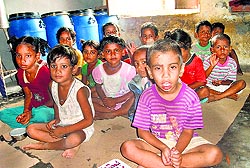 The health of lakhs of children below the in age of six years is being compromised by the state government as no ration has been supplied to 26,652 anganwaris in different parts of state for the past four months. Officials at the Social Security and Women and Children Development Department said the advance bills to purchase ration under the Supplementary Nutrition Programme (SNP) were not cleared by the treasury.

Children at an anganwari in Ropar district.
Activists to intensify campaign against water pollution
Abohar, August 31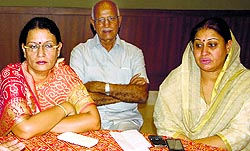 Women activists, who filed a petition in the National Green Tribunal, have decided to intensify their campaign against industries based in Jalandhar and Ludhiana, which dump toxic chemical waste in the Sutlej and the Sirhind canal. "Savera", an NGO, is spearheading the campaign.



Shobha Doodi (L), Shabnam Godara and former Lokayukta PP Singh in Hanumangarh on Sunday. Tribune photo

River interlinking won't help: Patkar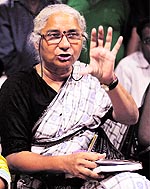 Ludhiana, August 31
Medha Patkar, social-activist-turned politician, has claimed the interlinking of rivers was no solution to the water crisis being faced by several states. She said she was also not in favour of the Sutlej Yamuna Link Canal, a disputed project involving Punjab and Haryana. Patkar was here today to meet the local activists of various NGOs under a programme, "National Alliance of People's Movements".



Social activist Medha Patkar in Ludhiana on Sunday. Tribune photo: Himanshu Mahajan

Reforms in irrigation sector a must: Experts
Chandigarh, August 31
Experts participating in a workshop on "Water-agriculture-livelihood security (WEALS)", organised under a USAID-funded project, have stressed on reforms in the irrigation sector to save the state from turning into a desert.
Badal wants UPSC exam centre in state
Chandigarh, August 31
To facilitate civil services aspirants in the state, the government has urged Union Minister of State for Personnel and Training Jitendra Singh to set up an examination centre either in Ludhiana or Jalandhar.
Pension for soldier's widow after 12 yrs
Chandigarh, August 31
More than four months after the Punjab and Haryana High Court declared that "a false and incorrect stand" was taken during judicial proceedings to deny payback to a soldier's widow and "such deception" amounted to "perjury", special family pension and other benefits have finally been released to her.
ESI norms come in way of infant's treatment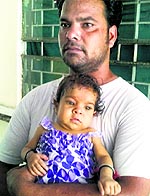 Jalandhar, August 31
Seven-month-old Samridhi Verma is suffering from extra hepatic biliary artesia (EBA). She is struggling for life. Her father, a supervisor in a private factory here, is unable to bear the cost (between Rs 10-Rs 15 lakh) of her liver transplantation in a private hospital as none of the government hospitals, including the PGIMER, Chandigarh, provided the facility. Although Harsh Verma is an Employees State Insurance Scheme (ESI) beneficiary (Insurance No. 2913216292), the department has refused to help him.



Harsh Verma with her 7-month-old daughter Samridhi at the Jalandhar ESI hospital. A Tribune photograph

Bugs attack paddy crop
Fatehgarh Sahib, August 31 Leaf folder bug and other insects have reportedly attacked the paddy crop in the district.
104-year-old building cries for repair
Sangrur, August 31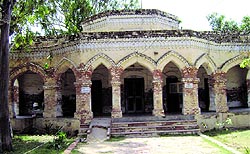 The 104-year-old building of Jind State's "Rivaz-Ranbir veterinary hospital" is in a bad shape due to non-availability of funds for its repair. The office of the Deputy Director, Animal Husbandry, Sangrur, is functioning from this building for the past more than two decades.



The 104-year-old building that now houses the office of the Deputy Director, Animal Husbandry in Sangrur

Merge PRTC with Punjab Roadways, say pensioners
Patiala, August 31
The PRTC Pensioners Association has demanded that the PRTC should be merged with the Punjab Roadways so that the state government becomes directly responsible to pay their pension from the state treasury.
Change in rail route flayed
Fazilka, August 31
Commuters in the region have criticised Northern Railway's decision to change the route of Jammu Tawi-Srigangangar Weekly Express.
Rs 68 lakh govt property damaged in Muktsar: RTI plea
Muktsar, August 31
An RTI application revealed that the treasury office suffered losses of nearly Rs 68 lakh during the monsoon last year.
Sham marriages
Centre mulls tougher law to nail accused NRIs
Chandigarh, August 31
With the process of extraditing a wanted criminal or repatriating an illegal immigrant to his home country taking decades and limited to hardened criminals, the Centre is trying to find means to shorten the process besides bringing NRIs accused of fraudulent or sham marriages under its purview.
HC upholds snapping power to crushers operating sans licence
Chandigarh, August 31
The Punjab and Haryana High Court has made it clear that stone crushers operating without licences will be left powerless.
Remand for cop held with 10 kg heroin
Amritsar, August 31
A Punjab Police head constable who was held along with notorious drug smuggler Angrej Singh was sent to police remand for four days.
Lok adalat quashes PSPCL's demand
Fatehgarh Sahib, August 31
The Parmanent Lok Adalat (PLA) has quashed the penalty of Rs 1.34 lakh imposed by Punjab State Power Corporation Limited (PSPCL) on a resident of Kalour village.
Girl's body found from Bhakra canal
Patiala, August 31
The district police have recovered the body of an 18-year-old student who was pushed into the Bhakra canal allegedly by her boyfriend after an argument near Passiana Chowk on Tuesday.
Two rape cases in Sangrur
Sangrur, August 31
The Chhajli police have registered a case against a boy of Khadial village (near Sunam) after a 16-year-old girl of the same village accused him of raping her.
3 killed in mishap, mob gheraoes car
Abohar, August 31 Bagh Ali (30), his wife Madina (28) and son Ramjan Ali (2) of Suratgarh were killed when their motorcycle was hit by a car near Thukarana village in Sriganganagar district today.