Theatre still a stepping stone to silver screen: Saumya Verma
Dehradun, August 31
Theatre is still a stepping stone to the silver screen. A number of contemporary actors have made it big in the tinsel town only after doing years of powerful theatre work, believes Saumya B Verma, Professor of Film and Cultural Studies at Jamia Millia Islamia University.

Saumya B Verma, Professor of Film and Cultural Studies at Jamia Millia Islamia University, at The Doon School on Sunday. Tribune photo: Abhyudaya Kotnala

Medical check-up of kids at anganwaris a must: DM
Haridwar, August 31
Medical check-up of students at all anganwari centres and primary schools will be made compulsory. Nodal schoolteachers and anganwadi centre supervisors will be held accountable if the check-ups are not organised on a regular basis.
Resentment among ministers, MLAs serious challenge for CM
Dehradun, August 31
Chief Minister Harish Rawat faces another political challenge in the Congress in form of simmering discontent among Cabinet colleagues like Harak Singh Rawat, Pritam Singh, Surinder Singh Negi, and Mantri Prasad Naithani and party MLA Shaila Rani Rawat, besides legislators owing allegiance to former Chief Minister Vijay Bahuguna.
1 killed, houses damaged in canal breach
Dehradun, August 31
One person was killed and several houses were damaged following a breach in the Sharda Canal at Khatima today. The breach in the canal surfaced after water was released into it from a barrage on the Sharda river at Banbasa in Champawat district.
41 forest officers complete training course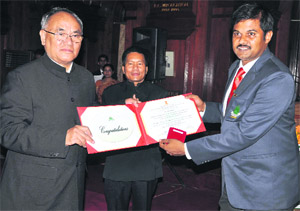 Dehradun, August 31
A passing-out parade of the State Forest Service Induction Course trainees was organised at the Central Academy for State Forest Service here today. The passing-out batch comprised of 41 officer trainees, including 12 lady officer trainees, from Andhra Pradesh, Goa, Himachal Pradesh, Madhya Pradesh and West Bengal. Diplomas were awarded to officer trainees.

Director General Forests Dr SS Garbyal felicitates gold medallist A Khan during the State Forest Services convocation at the Forest Research Institute in Dehradun on Sunday. Tribune photo: Abhyudaya Kotnala

Reconsider eco-sensitive status to Bhagirathi zone, CM urges Javadekar
Dehradun, August 31
Chief Minister Harish Rawat has requested Union Environment Minister Parkash Javadekar to reconsider the Centre's decision of declaring the area along the Bhagirathi from Gangotri to Uttarkashi as an eco-sensitive zone.
'Public at large should pitch in'
Haridwar, August 31
To ensure that the city becomes polythene-free, the District Magistrate on Friday formed a special committee that will look into varied aspects related to the anti-polythene drive. District Magistrate D Senthyl Pendiyan, at a meeting of departmental officials concerned at the City Control Room, appointed Dr Naresh Chaudhari as the nodal officer for the anti-polythene drive, that will be initiated in the city's periphery.
Fruit saplings planted at Rishikesh school
Haridwar, August 31
A tree plantation drive was held at Government Intermediate College, Rishikesh, today. It was conducted under the aegis of the Ganga Action Family, Parmarth Niketan, Rishikesh. Vineet Kumar, coordinator of the plantation drive, said fruit saplings were distributed to a number of schools by the Ganga Action Family.
Sexual harassment case against former MLA
Dehradun, August 31
A zero FIR has been registered against former MLA and Pauri municipality chairman Yashpal Singh Rawat 'Benam' at Dalanwala police station in Dehradun on the complaint by a woman journalist associated with a magazine in Pauri district that he sexually assaulted her on August 23.
CM to inaugurate Shaheed Sthal tomorrow
Mussoorie, August 31
Chief Minister Harish Rawat will inaugurate the renovated Shaheed Sthal in Mussoorie on September 2. The Shaheed Sthal is a witness to the police firing on statehood agitators in Mussoorie on September 2 in 1994 in which seven persons, including the then DSP Umakant Tripathi, were killed. Mussoorie Dehradun Development Authority (MDDA) vice-chairman Meenakshi Sundaram along with Municipal Council president Manmohan Singh Mall inspected the Shaheed Sthal today.
Ration shortage in fair price shops
Haridwar, August 31
Shortage and black-marketeering of foodgrains and kerosene oil at government-run fair price shops is posing problems to the actual beneficiaries. District Food Supply officers and public representatives have received several complaints in this regard.
A treat of Rajasthani folk music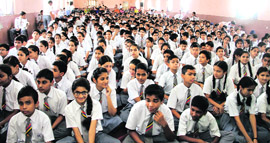 Dehradun, August 31
The students at Heritage School and Institute of Management Studies were given a taste of the world of musical instruments and were explained their significance during a special concert of Rajasthani Sufi music organised by SpicMacay here on Friday.

Students of The Heritage School attend a Rajasthani folk music programme in Dehradun. Tribune photo: Vinod Pundir

Blue House beat Green House in basketball
Dehradun, August 31
An Inter-House Basketball Competition was kicked off at Kasiga School here today. In the first match of the day, Blue House defeated Green House 38-37. Kanishk scored 18 points for Blue House while Prakhar from Green House remained the top scorer with 20 points.
Admissions in evening classes start next week
Pithoragarh, August 31
LMS PG College in Pithoragarh will begin making admissions for evening classes from the next week. Kumaon University has approved running of evening classes to meet the rush of admission-seekers in graduate classes who have been left out after UGC parameters are enforced in colleges, college principal DS Pangti said here on Friday.
Eco-friendly method to celebrate Ganesha Utsava
Haridwar, August 31
Ganesh Utsava is being celebrated in an eco-friendly manner in Haridwar. Idols of Lord Ganesha made of earth are being used. The local administration and the organisers of the Ganpati pandal have ensured that the Ganesha idols do not cause any damage to the ecology of the Ganga when these are immersed.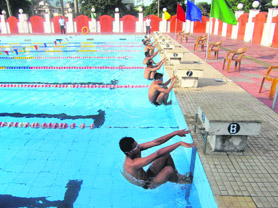 Souradeep, Sai best swimmers
Dehradun, August 31
The Chandragupta section maintained a lead in the first phase of the Rashtriya Indian Military College (RIMC) Inter Section Swimming Competitions which concluded here today. The cadets displayed their swimming skills in the best possible manner in the two-day event. The competition was held in the junior and senior categories.

Swimmers take up position during the Rashtriya Indian Military College Inter Section Swimming Competition at Rashtriya Indian Military College in Dehradun on Sunday. A Tribune photograph

Widespread rain in state
Dehradun, August 31
Most parts of Uttarakhand today witnessed light to moderate rainfall. The rain went on to result in the closure of several inter-connecting roads in various districts spread across the state. A total of 18 small roads were closed in Chamoli district. The Uttarkashi-Lambgaon-Srinagar road was blocked as a result of landslides.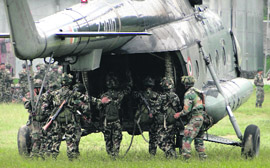 Exercise of India, Nepal armies concludes
Pithoragarh, August 31
A joint military exercise, "Surya Kiran 7th", between the Indian and Nepalese armies concluded here today with exchange of citations and memorials between the commanders of two armies,.

Troops participate in the Indo-Nepal joint military exercise in Pithoragarh. A Tribune photograph

Rishikesh Public School wins debate
Dehradun, August 31
Rishikesh Public School won the Inter-School Hindi Debate organised at Maa Anandmayee Memorial School, Raiwala, here yesterday. The topic of the debate was "should choice of subjects necessarily be made after Class X to achieve targets". All participating teams presented their views for and against the subject. The audience were heartened to see students having much clarity about their career options.
Gautam International pips Gorkha School
Dehradun, August 31
Gautam International School defeated Gorkha Military School 2-1 in a match in the ongoing 16th Colonel Shashi Memorial Inter-School Soccer Tournament at Gorkha Military School here today. Nikhil and Prashant scored goals for Gautam International School in the 22nd and the 43rd minutes, respectively. On the other hand, Ashish scored the lone goal for Gorkha Military School in the 50th minute of the match. In the second match of the day, Doon International School trounced Maa Anandmayee Memorial School 1-0 with Katavya scoring the winning goal in the 7th minute. Wood Stock School defeated Green Land Academy 2-0 with Saksham Jatara scoring the first goal in the 30th minute and Danial Nam scoring the second one in the 50th minute of the match. — TNS
Atul Sharma's book released
Dehradun, August 30
Dharatal, a social and cultural organisation, released the second part of the book, "Wah Re Bachpan", written by poet and writer Dr Atul Sharma here yesterday. The first part of the book was released in January. Speaking on the occasion, Nishant Thapliyal, chairman, Institute of Technology Management (ITM), said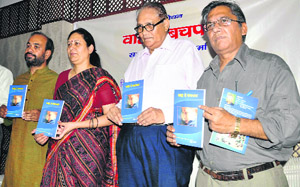 Atul Sharma had thrown light on the childhood of all great personalities of the state. Talking about the book, BJP leader Ravindra Jugran said the future generations would read this book to know about the life and childhood of all those people from Uttarakhand, who had made their name in different fields. Atul Sharma said the book would be liked by people of all ages. TNS

Dignitaries release a book written by Dr Atul Sharma in Dehradun on Saturday. Tribune photo: Abhyudaya Kotnala

SCPCR issues strong letter to Excise Dept
Dehradun, August 31
The State Commission for the Protection of Child Rights (SCPCR) has taken exception to the manner in which the Department of Excise has refused to issue circulars to the district magistrates in the state forbidding the use of children below the age 18 years for picking up chits during the auction of liquor shops and issuing of bar licences to celebrate birthdays of children who are below the age of 18 years. In a strongly-worded letter, Ajay Setia, Chairman of the commission, has said the use of children for the above activities violates child rights and has asked the officials to appear before the commission on September 5 to explain its position. TNS

Saplings planted in Jhajara area of Dehradun
Dehradun, August 31
A group of Dehradun youths planted saplings in the Jhajara area of Dehradun today. They planted several saplings at Panchayat Bhavan, near Shri Balaji Mandir in Jhanjara, on the outskirts of the city as part of the Grow Green campaign. They also interacted with villagers and informed them about the importance of the green cover. Neha, Robin, Tanisha, Himadri and Khushita Jauhari were among some of the schoolchildren who took part in the campaign. The campaign was organised in support of Talent Enablers, an NGO. Rajiv Johari, general secretary, Talent Enablers, coordinated the programme. TNS

Welham Boys' to host TT tourney
Dehradun, August 31
Welham Boys' School is going to host the All-India IPSC Table Tennis Tournament from September 1 to 4 under the banner of Indian Public School Conference for Boys in three age categories: under-14, under-17 and under-19. Eleven schools from across the country have confirmed their participation in the tournament. Notably, DPS, RK Puram, Delhi; Mayo College, Ajmer; Modern School, Delhi; Pestle Weed College, Dehradun; Rajkumar College, Rajkot; Scindia School, Gwalior; The Doon School, Dehradun; Vallabh Ashram School, Gujarat; Welhams Boys' School, Dehradun; YPS, Patiala; and Pine Grove School, Himachal Pradesh, will participate in the prestigious tournament. TNS
Suryakant assures slum dwellers of addressing problems
Dehradun, August 31
State Congress vice-president Suryakant Dhasmana today assured slum dwellers of Dehradun of prompt redress to their concerns. Presiding over a meeting of slum dwellers under the aegis of Uttarakhand Slum Development Board, Suryakant Dhasmana reminded that the Congress poll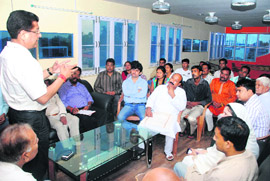 manifesto during the 2012 Assembly election had promised better life for slum dwellers and asserted that the party stood by that commitment. He said the state government had already given its consent to property rights to slum dwellers and it was now for the Urban Development Department to work for its speedy implementation. Babu Ram, Rayees Fatima, Amichand Sonkar and Prabha Naithani were among those who attended the meeting. — TNS

Suryakant Dhasmana, vice-president of the state Congress, addresses a meeting of slum dwellers at his office in Dehradun on Sunday. Tribune photo: Abhyudaya Kotnala

No new methods to identify statehood activists: CM
Dehradun, August 31
Chief Minister Harish Rawat has rejected the demand to adopt new methods for identifying statehood agitators. Rawat said the state government had issued a procedure to identify statehood activists in 2009 and the process was nearing completion and any new method would further delay the process. He met a delegation of statehood agitators here yesterday. Rawat said strict instructions were given to 13 district magistrates to submit a list of statehood activists. He told the delegation that amending standards to identify statehood activists would not prove beneficial for the state. TNS

Balaji Boys beat Garhwal Sporting 2-0
Dehradun, August 31
Balaji Boys defeated Garhwal Sporting 2-0 in the ongoing 5th BS Negi Memorial Football Tournament at the Ambekdar football stadium here today. Sulieman scored the first goal for Balaji Boys in the 10th minute while Patrick scored the second goal in the 55th minute of the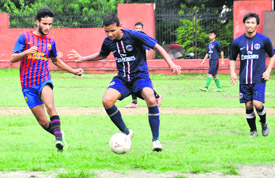 match. In the second match, Dehra Eleven trounced Sunderwala Football Club 3-2. For Dehra Eleven, Suryansh scored the first goal in the 17th minute while Ayush and Gaurav scored the other two goals in the 30th and 65th minutes, respectively. On the other hand, Prateek scored both goals for Sunderwala Football Club in the 16th and 37th minutes of the game. TNS

Players in action during the ongoing 5th BS Negi Memorial Football Tournament at the Ambekdar football stadium in Dehradun on Sunday. Tribune photo: Abhyudaya Kotnala

Heritage quiz: RIMC cadets win zonal finals
Dehradun, August 31
Cadet Pandit Vikas Bhardwaj and Cadet Ravi Kumar of RIMC, representing Dehradun region, won the zonal finals of the INTACH Indian Heritage Quiz-2014. The event was held at India International Centre In New Delhi on August 29. The RIMC team competed with the regional winners from 10 cities of North India such as Agra, Aligarh, Ghaziabad, Faridabad, Meerut, Noida, Gurgaon, etc. The cadets representing Dehradun displayed exceptional quizzing skills and emerged victorious. Now, being the zonal champions, RIMC will participate in the national finals which will be held in New Delhi in October. — TNS