Pakistan's turbulent coming of age
While Pakistanis wait with bated breath for an end to the prolonged political turmoil, many positives have been thrown up. Nasim Zehra

Pakistan's democracy is going through unprecedented convulsions. The acute turbulence promises birth of new content of politics where those in Parliament will no longer be able to ignore peoples' issues but equally and paradoxically this turbulence is also lending robustness to Pakistan's democratic set-up.
Multiple battlefronts have been opened while new alliances too have been formed. The principals in this battle are Prime Minister Nawaz Sharif's federal government, pitted against Pakistan's third force, Imran Khan's Pakistan Tehreek-i-Insaaf (PTI). The cricketing hero is now positioned on a container since August 14 and has declared nothing less than the Prime Minister's resignation is acceptable. Sharif, according to the PTI allegations, is corrupt, has wealth stacked outside Pakistan, has family members in key posts, resists pro-people changes, and rejects merit in appointments. Khan holds Sharif and all "dacoits in Parliament" responsible for a range of problems —unemployment, inflation, energy crisis, lack of education, under development. The PTI began its protests against the Sharif government in May, accusing it of resisting investigation of alleged rigging in the 2013 elections that brought Sharif to power. Siding with Imran Khan is the religious scholar Dr Tahirul Qadri who enjoys dual control over Minhaj ul Quran, a religious seminary and the Pakistan Awami Tehreek (PAT), a political party.
Interestingly, the various parties have not surprisingly dragged the army into the fray, which has largely settled in its Constitutional role. The army remains the ace that most political players like to pull out when confronting each other. Most surprising has been the September 5 assertion by former caretaker Prime Minister and PAT ally, Chaudary Shujaat Hussain, president of the Pakistan Muslim League-Q. He accused former army chief General Parvez Kayani of being involved in a grand rigging plan! Shujaat, a politician who had provided political cover to General Parvez Musharraf, insisted Kayani and a former Chief Justice of Pakistan were both involved in rigging the 2013 election.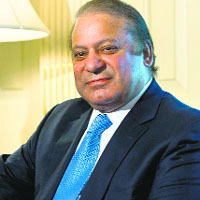 Sharif can no longer afford to be complacent.
The situation appears brittle with no immediate resolution in sight, but with multiple tracks of negotiations between the PTI, government, Opposition and PAT, everyone is convinced that a resolution will be found. The prolonged sense of siege in Islamabad has spread across the nation since all television channels broadcast nationwide Imran Khan and Tahirul Qadri's multiple speeches daily. The psychological and economic costs are colossal. Pakistan's economic standing has slipped in the Moody's ratings and its rupee has slipped Rs 5 to the dollar.
While Pakistanis wait with bated breath for an end to this prolonged period of acute, even if Islamabad-specific, political turbulence, many identify the positives it is throwing up. Five are noteworthy.
One, Pakistan's conventional politics has been challenged. Politicians no longer will be able to put peoples' rights enshrined in Articles 1 to 40 of the Constitution on the back burner.
Two, Nawaz Sharif's government has received a well-deserved hit, a rude wake-up call. While in the last 14 months it has focused on development projects, there are major issues of bad governance, nepotism, incompetence, ignoring Parliament, mishandling of civil-military relations.
Three, street power has been effectively used as a tool of democratic agitation. It was the government's lack of political engagement on the issue of rigging and also Imran Khan's impatience that pushed him to the road. The prolonged protests forced the government to subsequently agree through constitutional methods on electoral reforms, probe into the rigging, and reconstitution of the Election Commission. All these are critical steps needed to ensure that Pakistan's future elections are fair and transparent.
Four, through street agitation finally the legal step of instituting an FIR against the suspects involved in the June 17 killings in Model Town, Lahore, has been taken. The police were seen killing PAT supporters. The Chief Minister of Punjab, brother of the Prime Minister, resisted calls that he quit office to ensure a fair inquiry.
Five, a joint parliamentary session called earlier this week demonstrated unprecedented unity among parliamentarians in resisting any unconstitutional demand made by the PAT or PTI. Equally, the parliamentarians have vowed to resist any military intervention. Many parliamentarians recalled military interventions and the role parties played as the military's B team in the past to subvert elected governments. In the current crisis the military factor was raised by the PTI's elected president Javed Hashemi. He has resigned from the party complaining that Imran Khan's politics could damage democracy and blamed Imran for seeking military support in his present agitation. Imran Khan and the military have rejected Hashemi's assertions.
The crisis may fizzle out but it will have left a deep and positive impact on Pakistani politics. It has jolted all political players out of their complacency. It has also held the non-political players accountable. Democracy will have been left more mature after this turmoil.
The writer is a Pakistan-based columnist and TV anchor.