Quit growing rice in Punjab
Farmers must understand the trap they are in
Suman Sahai
Most farmers in Punjab face a major challenge to their agriculture practices, their prosperity and their lifestyles. Heavy mechanisation, underwritten by loans, has sapped the economic viability of Punjab's farmers and most are heavily indebted. Farmer suicides are not unknown in this granary of the north which feeds the buffer stocks of the country and the subsidised food schemes like the public distribution system (PDS).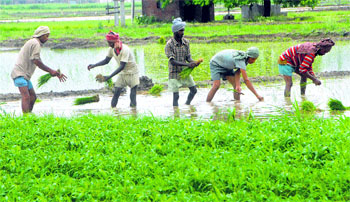 There are more than four lakh tractors in Punjab for about 10 lakh operational farm holdings. Farmers buy tractors after taking loans and end up selling the machines in the second-hand market after two to three years. There is a large market for second-hand tractors in Punjab. Around 20,000 tractors are transacted annually in these markets which are unorganised and unregulated. So the farmer does not always get a good deal for his machine. The over capitalisation of farms is a crushing economic burden but the tractor is a status symbol to the Punjab farmers much like the pair of buffaloes are to their less mechanised brethren in UP.
On the other hand, agriculture is showing ever-decreasing returns as input costs rise disproportionately and the water table sinks so low as to have practically vanished. One of the most perverse developments in Punjab farming has been establishing rice as one of the two principal crops of the state which lies in a semi-arid region. Rice was not cultivated here till well after Independence because the area simply did not have enough water.
Rice is essentially a crop of the more moist Eastern India, which is also the birthplace of this cereal, its centre of origin. Then, came the Green Revolution with its high-yielding varieties and the Punjab farmer moved to make the most of this opportunity. Misled by their scientists who should have known better and by their politicians, all of whom were the sons of the soil and should certainly have known their agricultural history, Punjab adopted rice and cultivated it with ground water. Its political leaders negotiated with Delhi that Punjab's grain would be lifted for the central pool, thus ensuring a market for the produce.
Punjab, which has less than 2 per cent of India's arable land, now produces almost 15 per cent of the country's foodgrain. This is achieved through a relentless wheat-rice double cropping pattern, with no rest for the fields to recover. There is a high, almost staggering level of chemical inputs which the Punjab farmer pours into his fields in every crop cycle. This includes fertilisers, pesticides and water.
The use of water in this essentially semi-arid region has been a recipe for disaster but nobody in policy making seems to notice or to have the gumption to tell the Punjab farmer that the rice crop has got to go. The water-guzzling rice, which should never have been allowed to become a key crop, has become Punjab's major kharif crop, soaking up groundwater at unsustainable rates. Several studies show that Punjab is overdrawing its ground water by almost 50 per cent every year. The groundwater is depleting rapidly, by as much as one metre every year in some areas.
It is not just the kharif rice crop, Punjab has for years cultivated the Garma Dhan or summer paddy which was planted in the blistering heat of summer much before the monsoons came. This crop could only be cultivated with an almost criminal level of groundwater use. Not surprisingly, this led to several blocks of groundwater in the Punjab being declared 'black' or irretrievably exhausted. It is only in the last few years that the cultivation of summer paddy was banned in Punjab. It might have been done too late.
Punjab farmers will have to understand the trap they have created by committing themselves to the rice-wheat-rice-wheat cropping pattern. They must work together with scientists, policymakers and farmers from other parts of India, to find solutions to the situation they find themselves in. Global warming and climate change are all set to seriously damage the wheat crop over the next decades. Wheat, being an extremely temperature sensitive crop, is particularly vulnerable to temperature rise. Its productivity will decline unless temperature tolerant cultivars are developed and deployed soon. This does not appear to be happening.
Diversifying the crop base and the kinds of varieties deployed must assume urgency. There should be no further cultivation of rice in Punjab, not at least in the current manner. Biodiverse agriculture resting on a broad genetic base and investment in improving the severely degraded natural resource base must assume priority. Punjab farmers will have to step back from the intensive, 'without-a-pause' type of agriculture they have practiced these last 50 years and allow their land and water to recover. If they can scale back and build a new model of agriculture that is sustainable, they can enjoy a new lease of productive farming.
The writer is a scientist and founder of the research and advocacy organisation Gene Campaign. She can be reached at www.genecampaign.org