Opposition mocks at govt after Jaitley 'snub'
Chandigarh, September 5
The refusal by Union Finance Minister Arun Jaitley to accept Punjab's demand for a special package has given ammunition to the opposition parties in the state to target the SAD-BJP government.
Reduced to beggar for grants: Navjot


Amritsar, September 5
Chief Parliamentary Secretary Dr Navjot Kaur Sidhu has once again come out against the state government and targeted it for having "misplaced its priorities". She vented out her ire on a social networking site over the plight of Amritsar after the rains.

Dr Navjot Kaur Sidhu, bjp mla
Teacher's Day: Power failure trips Modi show
Chandigarh, September 5

Heavy rain and recurring power failure played spoilsport as schools across the state made arrangements for their students to view live telecast of the Prime Minister Narendra Modi's speech on the Teacher's Day today. Nearly half of the schools in Chief Minister Parkash Singh Badal's home district Muktsar could not show live telecast of the Prime Minister's speech to the students due to heavy rain.

A teacher at a government elementary school in Jalandhar holds a radio as students listen in. Tribune photo: Sarabjit Singh

Despite inclement weather, Patiala students pour in
Patiala, September 5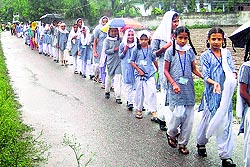 Undeterred by bad weather and heavy rain, students of government schools poured in to listen to the Prime Minister Narendra Modi's live telecast on the occasion of Teacher's Day. Although it had been raining continuously since morning, they did not let their enthusiasm to hear the PM's speech die down.


Students brave rain to walk to a temple for the live telecast of the Prime Minister's speech. Tribune photo: Malkiat Singh

Rural students face tough time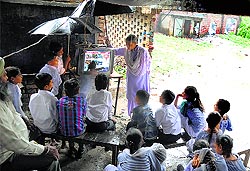 Jalandhar, September 5
Lakhs of students of government schools in rural areas of the state missed their much awaited appointment with Prime Minister Narendra Modi on Teacher's Day. They could not watch the live telecast of the PM' speech due to power failure and poor signal.


Students listen to the PM's speech under a shed at Government Primary School, Field Gunj, Ludhiana. Tribune photo: Himanshu Mahajan


Former MLA Dhanda quits SAD
Ludhiana, September 5
Senior SAD leader Harish Rai Dhanda, a former MLA, who was also Chief Parliamentary Secretary, today quit the party. The resignation comes just two days after the SAD announced its new list of office-bearers. Dhanda did not find any place on the list. He, however, denied his resignation had anything to do with the announcement. Dhanda claimed he had renounced politics and would not join any party.
BJP to chalk out strategy for civic poll on Sept 9


Chandigarh, September 5
A meeting of BJP office-bearers and district presidents will be held here on September 9 to discuss a strategy for the municipal elections. Elections to about 100 municipal committees and six municipal corporations are to be held in November.


Kamal Sharma, state bjp chief
Probe into tree felling in Ludhiana
Ludhiana, September 5
The Forest Department has ordered a probe into felling of nearly 200 trees near Neelon and surrounding villages.
Post-SC order, 100 undertrials may be set free
Chandigarh, September 5
About 70 to 100 undertrials are likely to benefit in Punjab from the Supreme Court order directing the release of all inmates who had served over half of their prospective maximum punishment.
New vocational courses from Sept 8: Cheema
Jalandhar, September 5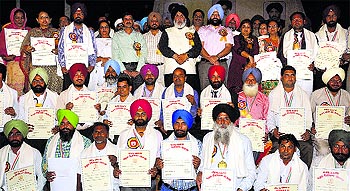 The state government is set to start a Rs 31-crore project under which skill development courses would be introduced for students of Classes IX to XII in 100 government schools of the state from September 8.



Awarded teachers pose for a picture with Education Minister Daljit Singh Cheema, CPS Inderbir Singh Bolaria and officials in Jalandhar on Friday. Tribune photo: Malkiat Singh

State govt orders closure of 7 schools
Phagwara, September 5
The state government has ordered that seven Government Middle Schools in Kapurthala district be shut down since the number of students was found to be less than 30.
Govt to set up fund for prominent Punjabi writers: CM
Patiala, September 5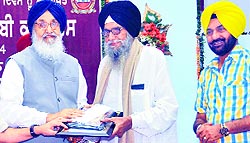 Chief Minister Parkash Singh Badal today announced a dedicated fund for the welfare of litterateurs, folk singers and other personalities who have promoted Punjabi language and culture.



Chief Minister Parkash Singh Badal honours Jasdev Singh Jassowal in Patiala on Friday. Tribune photo: Rajesh Sachar

Houses collapse; Armymen begin relief operation
Abohar, Sepember 5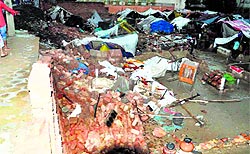 The authorities in the border district town of Sriganganagar, 40 km from Abohar, in Rajasthan today sought help from the Army as about 85 per cent of the residential areas were inundated and hundreds of houses collapsed due to rains.


A woman was killed when a wall collapsed on dwellings in Raisinghnagar, Sriganganagar. Tribune photo

Tax hike unfair: Lottery operators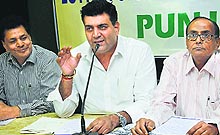 Chandigarh, September 5
Lottery operators in Punjab have demanded that the state government should "withdraw the arbitrarily hiked tax" on them as it was rendering their business unviable.



President PAN India Network Rahul Tangri (C) at a press conference in Chandigarh on Friday. Tribune photo: Manoj Mahajan

Missing persons: Panel calls for bandh on September 12
Faridkot, September 5
The Jabar Virodhi Action Committee, which was formed to protest the failure of the police to find missing persons, has given a call to observe a complete bandh in the area on September 12. Meanwhile, the Punjab and Haryana High Court has summoned the Faridkot Senior Superintendent of Police to explain the increasing number of such persons in the area on September 15.
241 e-kiosks set up in Ferozepur area
Ferozepur, September 5
The Union Government, under its Universal Service Obligation Fund Scheme, has set up e-kiosks (cyber cafés) in various villages. At these kiosks, villagers can access internet at a cost as low as Rs 5 per hour.



Daduwal's remand extended
Faridkot, September 5
After the expiry of his 12-day judicial remand, the Faridkot police produced Baba Baljit Singh Daduwal, Sant Samaj leader, in the court of Duty Magistrate Satish Kumar this afternoon. The court extended his judicial remand for 14 days.

Gallantry awardee booked for rape
Tarn Taran, September 5
Balwinder Singh Bhikhiwind, who was presented a gallantry award by the President, has been booked on the charge of rape.
Four killed in accidents
Abohar, September 5
Pradeep Jain (53), an officer working with the Indian Oil Corporation (IOC), was killed and two others, Kailash Kumawat (42) and Mohammad Anees (37), were hurt when the car they were travelling in rammed into a JCB machine on the Hanumangarh-Pallu road on Friday evening. The injured persons have been referred to a Bikaner hospital, the police said.