Excise Dept detects Rs 770 crore billing scam
Patiala, September 1
The Punjab Excise and Taxation Department has detected a fraud expected to be over Rs 770 crore spanning over the past few years wherein traders from Gujarat sold ceramic tiles to firms in Punjab without proper billing. The state officials are in touch with their Gujarat counterparts to get to the root of the scam.
Litigation over Delay in Six-laning of Panipat-Amritsar national highway
SC sets deadline, 70 bridges to come up in seven months
Jalandhar, September 1
The work on six-laning of the 291-km-long Panipat-Amritsar National Highway which has remained stalled for more than a year owing to a pending litigation has finally gained momentum.


Parkash Utsav observed
The Golden Temple complex illuminated with special lights and candles to mark the Parkash Utsav of Sri Guru Granth Sahib in Amritsr on Monday. Tribune photo: Vishal Kumar

The Parkash Utsav, observed to mark the installation of the Guru Granth Sahib, was celebrated with fervour in Amritsar on Monday
A 'nagar kirtan' (religious procession) was organised, which started from Gurdwara Sri Ramsar Sahib and concluded at the Golden Temple after passing through various parts of the holy city
Led by Panj Piaras, the kirtan saw various events, including gatka performance and playing of college and school bands
Sikh devotees standing on the roadside chanted religious hymns and showered rose petals on the palanquin carrying the Guru Granth Sahib


---
Contempt proceedings against DGP dropped
Chandigarh, September 1
The Punjab and Haryana High Court has dropped contempt of court proceedings against Punjab Director-General of Police Sumedh Singh Saini in a protection case. Contempt proceedings were sought to be initiated in the matter by Mohali-based real estate businessman Davinder Singh.


BSP leaders told to work for J&K, Haryana poll
Jalandhar, September 1
Following directions from party chief Mayawati, most of the BSP leadership from Punjab would head to Jammu and Kashmir to work for the party's candidates in the poll-bound state. BSP national general secretary and Punjab affairs in charge Narinder Kashyap said the party activists from Sangrur, Patiala and Chandigarh Lok Sabha constituencies would work in Haryana, another state where the Assembly elections are due this year.
BJP MLA hits back at Bajwa
Jalandhar, September 1
Reacting to PPCC president Partap Bajwa's statement that the BJP should part ways with the Akali Dal, former Minister and BJP MLA Manoranjan Kalia has said Congress leaders should not meddle in the affairs of the coalition partners. "Whether the Punjab BJP will contest the 2017 Assembly election independently or in alliance with the Akali Dall is our internal matter… The alliance is time-tested, traditional and historical," he said in a statement issued here today. Kalia said instead of showing concern about the future of the Punjab BJP, Bajwa should concentrate over his alleged wrangling with Amritsar MP Capt Amarinder Singh. — TNS


Farmers' body seeks better deal, demands loans waived
Chandigarh, September 1
At its first national conference, the All-India Kisan Federation (AIKF) discussed the drought-like situation in certain states, damage to crops because of floods and capital investment in the farm sector. More than 200 delegates from Kerala, Andhra Pradesh, Telagana, Tamil Nadu , Bihar, Haryana and Punjab are taking part in the three-day conference.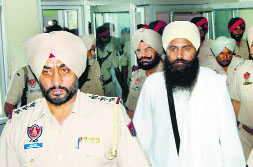 Daduwal made to sign on blank paper, allege kin
Faridkot, September 1
Baba Baljit Singh Daduwal's family members, supporters and associates in the Haryana Sikh Gurdwara Management Committee (HSGMC) visited him in the Central Jail here today. The Baba is in judicial custody in two criminal cases. He was arrested by the Jaito police on August 22 for possessing illegal firearms.

Baljit Singh Daduwal in police custody. A file photo
Yet-to-be released film available on Net
Jalandhar, September 1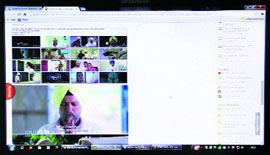 The Ministry of Information and Broadcasting seems to have failed to uphold the ban on the release of Punjabi film "Kaum De Heere", which allegedly glorifies the assassins of former Prime Minister Indira Gandhi. A pirated version of the film is available for download on file sharing website Bit Torrent.

The webpage of the site that has released pirated version of film "Kaum De Heere".

Attari ICP goes hi-tech for managing data
Amritsar, September 1
The Customs Department has introduced the EDI (electronic data interchange) system for imports at the Integrated Check Post (ICP) at Attari to bring efficiency in the documentation procedure for trade between India and Pakistan.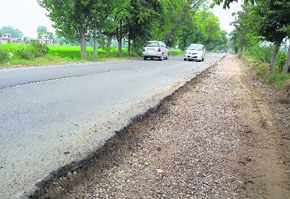 Govt lethargy: Muktsar-Kotkapura road widening at a snail's pace
Muktsar, September 1
Two years after Deputy Chief Minister Sukhbir Singh Badal laid the foundation stone of the Muktsar-Kotkapura road widening project, the work is still in the initial stage. Other than the uprooting of trees, nothing much seems to have been done on the ground.

A view of the Muktsar-Kotkapura highway that has to be widened. A Tribune photograph

Donors accuse blood banks of bungling funds
Jalandhar, September 1
Many donors who have been regularly donating blood in various government hospitals have accused the blood banks of embezzling the refreshment funds. The National AIDS Control Organisation (NACO) has made it mandatory for the blood banks to allocate Rs 50 per donor for refreshment.
Normalcy returns to Tapa after clash
Barnala/Sangrur, September 1
People have started raising their voice against the worsening sanitary conditions in cities and towns of the state even as the government continues to turn a blind eye to the strike by sanitation workers for the past four weeks.
Kidnapping case: Raids on to nab IG Cheema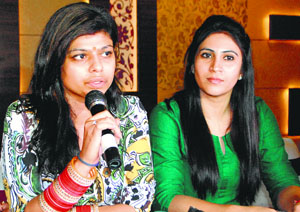 Mohali, September 1
The district police today said Inspector General of Police (IT) Gautam Cheema and his accomplice Ajay Chaudhary had been hiding in some other state. Police teams have been conducted raids at the possible hideouts of both accused in a case of forcibly taking away a proclaimed offender, Sumedh Gulati, from the Phase 1 police station in Mohali on August 26.

Krispy Khaira and Maninder during a press conference in Mohali on Monday. A Tribune photograph

Farmers protest shortage of water
Abohar, September 1
Hundreds of farmers today held a dharna near the city bypass terminal on the Abohar-Hanumangarh highway to protest shortage of canal water supply. They resented that the Irrigation Department had not budged from releasing water through distributaries in Balluana segment of Abohar sub-division on rotation basis.
Protest over Congress worker's murder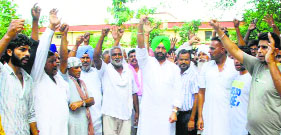 Kapurthala, September 1
Congress supporters, led by the Punjab Pradesh Congress committee spokesperson, Sukhpal Singh Khaira, today demonstrated in front of the Civil Hospital here against the murder of a party worker at Raipur Arayian village near Subhanpur yesterday.

Sukhpal Khaira and party activists protest in Kapurthala on Monday. A Tribune photo
Efforts to raise storage capacity suffer setback
Amritsar, September 1
With the Centre halting subsidy under its Private Entrepreneurs Guarantee (PEG) Scheme, the state government's efforts to increase storage capacity have suffered a setback. Most foodgrain in Punjab is stacked in the open owing to scarcity of warehouses. This has resulted in storage losses, poor grain quality and procurement bottlenecks.
Minister pays tributes to martyrs
Nawanshahr, September 1
Minister for Jails, Tourism, Cultural Affairs, Printing and Stationary Sohan Singh Thandal today paid tributes to the martyrs of the Babbar Akali Movement, which originated from the Doaba region, at Daulatpur village.The "Shardhanjli Samoroh" was organised by Babbar Karam Singh Editor Memorial Trust.
Fazilka residents seek heritage status for building
Fazilka, September 1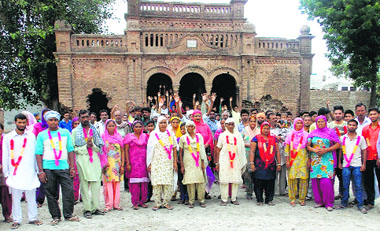 Residents of slum areas along the railway track on the Old Abadi Road, while intensifying their agitation, today started an indefinite hunger strike seeking heritage status for the 113-year-old Raghuvar Bhawan. The protesters had been holding dharna for the past few days to press their demand.

Eleven Fazilka residents (wearing garlands) on a fast at Raghuvar Bhawan. Photo: Praful Chander Nagpal

SAD leader threatens to quit post over illegal mining
Kiratpur Sahib, September 1 Youth Akali Dal vice-president and Labourfed managing director Nazar Singh Shahpur today alleged that rampant illegal mining was taking place in the district, particularly in the area represented by a senior BJP leader.
Teachers demand PUTA poll
Patiala, September 1
Teachers of Punjabi University have demanded the revival of Punjabi University Teachers' Association (PUTA) elections. They said their grievances had remained unaddressed for a long time in the absence of PUTA.
Woman deserts twin daughters
Patiala, September 1
An unidentified woman allegedly abandoned her two-month-old twin girls in the paediatric ward of Rajindra Hospital. The condition of the infants is said to be stable. Dr KD Singh, principal, Government Medical College, said the woman had brought the girls to the hospital as they were unwell and required emergency treatment. "When she was asked to get a file prepared for their medical record, she abandoned the children in the ward and fled. The doctors waited for sometime and later informed the police. The infants are being taken care of. We have asked the doctors to depute a staff nurse for their care," he said. Sources said the woman's appearance hinted at her poor economic status. TNS
Book on Abohar's history released
Abohar, September 1
A book titled "Abohar-kal-aaj-kal" was released here last evening by Swami Avdheshanand Giri, who heads the Juna Akhara. The book talks about how Abohar emerged as one of the most beautiful towns of Punjab, but then lost its glory during the past two decades due to neglect in all spheres. The book has been edited by noted writer Chander Trikha and Sumedha Kataria, Additional Director-cum-Special Secretary, Secondary Education, Haryana — both of whom belong to this town. Sumedha's bilingual poetry book titled "Main sharnagat, mere sahib" was also released during the function that was attended by literary personalities from different towns. OC


Age controversy
Singer Nooran is 17, says report
Chandigarh, September 1
In yet another twist to the controversy shrouding Punjabi folk singer Jyoti Nooran's age, the ossification test has revealed that she is 17 but has not ruled out the possibility of variation of up to two years.
Forest Dept to move court against marriage palace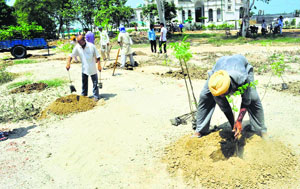 Patiala, September 1
The Punjab Forest Department has reportedly foiled an attempt by owners of a marriage palace to encroach forest land on the Patiala-Nabha road in connivance with junior officials. The department has initiated a probe to find out if the officials had accepted a bribe.

Officials of the Forest Department plant saplings after taking back possession of forest land at Roani village on the Patiala-Nabha road, on Monday. Tribune photo: Rajesh Sachar



Cases filed against 14 passport applicants for giving wrong info
Jalandhar, September 1
The Regional Passport office (RPO), Jalandhar, today filed criminal cases against 14 persons in different districts of the state for submitting wrong information pertaining to their birth/death record while applying for passports. The Jalandhar office caters to residents of nine districts in the state.

7 of robbers' gang held
Muktsar, September 1
The Lambi police today claimed to have busted a gang of robbers with the arrest of seven residents of Tarmala village, including a woman, from near Mehna village. The gang members allegedly looted people by taking lift in their vehicles and later killing them.
Driver ends life after killing wife, son
Khamano September 1
A resident of Barwali Kalan village allegedly committed suicide after killing his wife and a minor son. The deceased have been identified as Daljit Singh (27), his wife Rajdeep Kaur (25) and three-year-old son Harmehtab Singh.
Suicide by former panch
Sangrur, September 1
Jaswant Singh (34), a former panchayat member of Mehlan village, "committed" suicide by consuming some poisonous substance at Mehlan, about 10 km from here, today. He is survived by wife, a son and a daughter. A case has been registered under Section 306 of the IPC against Jeewan Singh, Gill Singh and others at the Chhajli police station on the statement of Jaswant's wife Jaswinder Kaur.
Man detained near border
Abohar, September 1 The Border Security Force (BSF) last night detained a man near a border outpost (BoP) in the Anoopgarh (Sriganganagar) sector.
Three held with drugs
Abohar: Gaurav Bajaj and Manpreet Singh of Nai Abadi in Abohar and Kripal Singh of Dharamkot (Moga) have been arrested under the NDPS Act. — OC