Canal breach floods 12 villages in Mansa
Mansa, September 2
Heavy rainfall in the district yesterday led to waterlogging in a number of villages forcing people to leave their houses.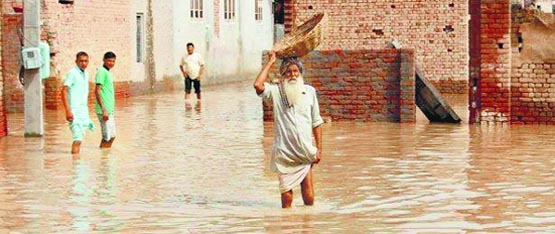 Residents wade through A flooded street at Jherianwali village in Mansa district on tuesday. A Tribune photograph


AAP expels two leaders
Patiala, September 2
The Aam Aadmi Party (AAP) has expelled two local leaders, including former district convener Kundan Gogia and Capt Rajpreet Singh Aulakh, for anti-party activities.
Phoolka writes to NHRC, seeks probe
Ludhiana, September 2
Aam Aadmi Party leader HS Phoolka has written to the National Human Rights Commission (NHRC) that the detention of Bikram Singh, who had hurled a shoe at the Chief Minister, amounted to "violation" of human rights.
Left parties protest against property protection Act
Sangrur, September 2

Hundreds of activists of the CPI, the CPM, the CPI ML Liberation and the CPM Punjab (Pasla) staged a protest in front of the Deputy Commissioner's office here today. They were protesting against the Prevention of Damage to Public and Private Property Act, 2014.



Activists of Left parties stage a protest in Sangrur on Tuesday. Tribune photo: Sushil Goyal

State has ignored MC staff: Jakhar
Abohar, September 2
Leader of the Opposition Sunil Jakhar today slammed the state government for failing to address the issues raised by the safai sewaks, who have been on a month-long strike across the state. He said it was a pity that in such conditions the Modi Government was celebrating its 100 days in power.


3 years on, SGPC House in a limbo
Amritsar, September 2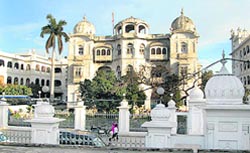 Three years after the Shiromani Gurdwara Parbandhak Committee (SGPC) elections were held, the fate of the new House continues to hang in balance due to legal wrangling over voting rights to Sehajdhari Sikhs. The House has already lost three of its five-year tenure to the controversy.




The SGPC headquarters
Baldev Singh Sirsa, SAD Panch Pardhani leader, today accused the SGPC of barring women from performing 'kirtan' at Gurdwara Santokhsar Sahib here, contending they dyed their hair, an act that was against the Sikh tenets.

Farmers seek separate agri budget
Chandigarh, September 2
The All India Kisan Federation has urged the Union Government to present a separate budget for the agriculture sector on the pattern of the Railway Budget.

Safai sewaks foil admn's attempt to lift garbage
Hoshiarpur, September 2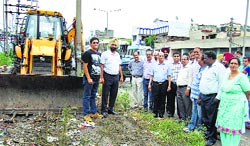 The Municipal Corporation Employees' Union leaders today foiled the administration's attempt to lift garbage from Jalandhar Road. Large piles can be seen dotting the city due to the month-long strike by MC employees. When JC Sabharwal, MC Commissioner, Anand Sagar Sharma, Sub-divisional Magistrate (SDM), Ramesh Kumar, Executive Officer of the MC, members of a local NGO along with police personnel, began lifting garbage from Jalandhar Road, safai sewaks protested.

Officials in Hoshiarpur on Tuesday. Tribune photo
Loan not paid, bank attaches Singla's assets

Bhatinda, September 2
The Ludhiana branch of the Corporation Bank has taken 'possession' of the properties of Punjab Chief Parliamentary Secretary Sarup Chand Singla and his partners for defaulting to pay a loan of Rs 4 crore. The bank had extended a cash credit limit to Mohali-based M/s Zantra Traders Private Limited and had declared the firm as a defaulter when it failed to clear its debts amounting to Rs 6.91 crore.

Sarup Chand Singla, CPS

PSPCL mulls importing coal worth Rs 1,100 cr
Patiala, September 2
The board of directors of Punjab State Power Corporation Limited (PSPCL) and government officials today decided to move a proposal for purchasing 12 lakh tonnes of imported coal to be used only if the situation turns alarming next summer. Meanwhile, spells of rain in the past two days have come as a relief for the power corporation which has shut its thermal units following a drop in demand.

Agreement on cards to end Balad Kalan land controversy
Sangrur, September 2
The two-month-old controversy over the land reserved for SCs under the Balad Kalan panchayat could not be settled today as the three Dalits (out of total nine) cultivating the land during kharif season could not sign the document. They would reportedly put their signatures on the document on September 4.

UK may reveal names of Kalianwala Khu martyrs


Amritsar, September 2
The UK Government may soon reveal the names of Kalianwala Khu martyrs, claimed the president of Gurdwara Shaheed Ganj Committee, Ajnala, Amarjit Singh Sarkaria, today.

Students protest against pvt bus operators
Alleging misbehave by the staff of private buses, a number of students today blocked the Sherpur-Dhuri road at Jahangir village for more than two hours. They raised slogans against private bus operators. They were joined by scores of villagers.

61 teachers found absent
Chandigarh, September 2
Special teams of the Education Department today conducted surprise visits in Jalandhar, Faridkot and Nabha and found 61 teachers absent.

Don't extend internship: IMA
Hoshiarpur, September 2
The Indian Medical Association (IMA), Punjab, today supported the medical students agitating against the reported MCI move to increase internship tenure to two years.



In a spin over Punjabi words, candidate moves High Court
Chandigarh, September 2
When Manmit Singh appeared for the Punjab State Teacher Eligibility Test (PSTET), little did he realise that he would end up with the wrong answer just because the Punjabi translation for both rotation and revolution is "ghumdi".

Suspend services of Amritsar SSP, orders HC
Chandigarh, September 2
In an embarrassment to the Punjab Police, the Punjab and Haryana High Court today directed placing under suspension the services of Amritsar Senior Superintendent of Police (Detective) and four other policemen in an illegal detention case. Justice TPS Mann gave the Punjab Government two weeks for the same. The officers are Superintendent of Police (Detective) Rajeshwar Singh, CIA in charge Rashpal Singh, Jandiala Guru SHO Paramjit Singh Sidhu and two constables.

Delhi HC vacates stay on PTU admissions
Jalandhar, September 2
Even as the Delhi High Court today vacated a stay on admissions to the distance education programme of Punjab Technical University, the relief has only been partial. The Ministry of Human Resource Development (MHRD) has already clipped the wings of the varsity by ordering it to run its distance education centres within the state only.

Lok Adalat attaches bank account of PSPCL XEN
Ropar, September 2
The Permanent Lok Adalat headed by Jagroop Singh Mahal has attached the bank account of the Punjab State Power Corporation Limited (PSPCL) XEN at Anandpur Sahib to pay compensation to a farmer.

Chetan Mittal is Asst Solicitor-General
Chandigarh, September 2
Senior advocate Chetan Mittal was today appointed Assistant Solicitor-General of India. He replaces senior advocate Anmol Rattan Sidhu, who resigned from the post soon after the change of guard at the Centre. As Assistant Solicitor-General, Mittal will head a team of lawyers handling cases involving the central government.

IG Cheema booked for molestation
Mohali, September 2
Two days after registering a case of kidnapping against Inspector General of Police Gautam Cheema and two others, the Mohali Police today booked them on the charge of molesting Krispy Khaira, realtor Davinder Singh Gill's wife.

Forest guard, 2 others booked for theft
Fatehgarh Sahib, September 2
The Mullepur police have booked three persons, including a forest guard, for stealing forest range property. They allegedly cut trees and them submitting a false report of theft to the department.

5 agents again in Nawanshahr police custody
Jalandhar, September 2
The Nawanshahr police have taken five travel agents on five-day police remand again in connection with the case of Afghanistan refugees who allegedly got passports issued by submitting fake identification documents.

Five booked for raping 3 of a family
Abohar, September 2
The police have booked five persons for allegedly raping three minor girls belonging to a Dalit family. The complainants alleged armed miscreants raped two of their daughters, aged 15 and 16 years, in the last week of July. They alleged the miscreants sedated them before raping their daughters. They further alleged three persons raped their youngest daughter on August 23.

Firing at Gogaji Peer fair leaves one dead, 6 hurt
Abohar, September 2
Babu Lal Jat (21) died on the spot and six others got hurt when gun wielding men rammed their vehicles into devotees at the Gogaji Peer fair in Mainasar village in Rajasthan today. The irate mob then nabbed and thrashed Prahlad Singh Jat, while several of his accomplices fled. The police have booked 11 persons.