Global tourism conclave to bring spotlight on Shimla
Shimla, September 2
The International Tourism Conclave and Travel Awards (ITCTA) in the state capital on September 27-28 will boost tourism in Himachal Pradesh with hoteliers, travel agents and representatives of the civil aviation and Railways from across the country expected to converge here.
Six lakh pilgrims visit Manimahesh shrine
Chamba, September 2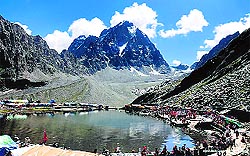 About 75,000 devotees of Lord Shiva had a holy dip in the icy waters of the sacred Manimahesh Lake at an altitude of 4,170 m in Chamba district today. The pilgrims also saw Mount Kailash (the abode of Lord Shiva) at an altitude of 5,656 m on the occasion of Radhashtami, the concluding day of the Manimahesh pilgrimage, today.

A view of the Manimahesh lake with Mount Kailash in its backdrop

HIV kids not to be denied admission
Shimla, September 2
To ensure that there is no discrimination with children afflicted with AIDS or HIV in admissions to educational institutions, the government today issued a notification so that no child is deprived of the rights under the Right of Free and Compulsory Education Act, 2009.
CPS reviews relief work in rain-hit areas
Mandi, September 2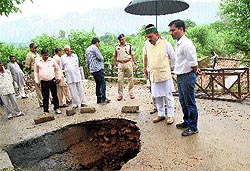 Inderdutt Lakhanpal, Chief Parliamentary Secretary (CPS), today reviewed various relief works being undertaken in rain-hit areas in Dharampur block of the district. Later, he held a meeting with officials of various departments on the issue.


Inderdutt Lakhanpal, Chief Parliamentary Secretary, visits a cloudburst-hit site at Dharampur in Mandi on Tuesday. Photo: Jai Kumar

Take benefit of grievance redressal camps: Minister
Mandi, September 2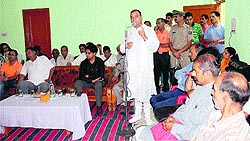 Excise and Taxation Minister Prakash Chaudhary today said grievance redressal camps were a process to solve people's complaints at their doorstep. Presiding over a camp at Rewalsar in the district, the minister said the camps were being organised to resolve complaints within a timeframe.

Excise and Taxation Minister Prakash Chaudhary addresses a meeting at Rewalsar in Mandi on Tuesday. Photo: Jai Kumar

Land losers seek exclusive transportation work from Ambuja's Rouri plant
Solan, September 2
Land losers of three societies, including Baghal Land Losers (BLL), Golden Land Losers (GLL), Ambuja Darlaghat Kashlog, Mangu (ADKM) have demanded exclusive transportation work from Rouri plant of Ambuja Cement Limited (ACL) on the plea that the company had bought land for a song in 1992 for setting up this plant.
3 houses collapse in Chamba
Dalhousie, September 2
At least three houses collapsed due to inclement weather at Bharduin village in Churah subdivision of Chamba district yesterday, a delayed report said here today.
CWC panel reviews work on irrigation project
Nurpur, September 2
A monitoring committee of the Central Water Commission (CWC), headed by Director P Dorje Gymba, along with Manmohan Jassal, section officer from the Irrigation-cum-Public Health (IPH) Secretariat, Shimla, visited and reviewed the ongoing work on the Rs 205-crore Phina Singh Irrigation Project at Nurpur today.
Probe sought into sadhvi's death
Dalhousie, September 2
The Himachal Pradesh Sri Sanatan Dharma Math Mandir Suraksha Samiti has sought a probe into the death of a sadhvi, Gian Giri (85), under mysterious circumstances at a Shiva temple at Kakira village in Bhattiyat subdivision here recently.
Vet dispensary inaugurated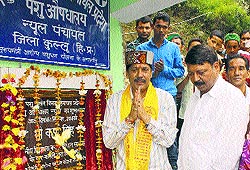 Kullu, September 2
Banjar MLA Karan Singh inaugurated a veterinary dispensary, constructed under the Mukhya Mantri Arogya Pashudhan Yojna, at Kalijan village under the Neul panchayat here yesterday. Speaking on the occasion, the MLA said the state government was committed towards the uplift of women in rural areas.


MLA Karan Singh inaugurates a veterinary dispensary at Kalijan village in Banjar subdivision of Kullu on Monday

SP educates students on traffic rules
Kullu, September 2
Superintendent of Police Surender Verma presided over a seminar for students and teachers of La Montessori School, Kalheli, 12 km from here, yesterday.
HLP submits memo to Guv on Assembly session
Shimla, September 2
The Himachal Lokhit Party (HLP) today submitted a memorandum to Governor Urmila Singh, urging her to convene the Assembly session which was adjourned sine-die following disruptions.
11 panchayat assistants to be recruited in Kullu
Kullu, September 2
The Kullu Zila Parishad has invited applications to fill posts of 11 panchayat assistant.
Power project workers protest sacking of 22 colleagues
Palampur, September 2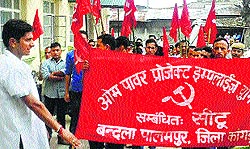 Hundreds of workers of the 15-MW Om Power Project on the Neugal river near Palampur today took out a rally to protest the termination of the services of 22 workers by the management.


Workers of the Om Power Project hold a procession in Palampur on Tuesday. Photo: Ravinder Sood

60 surgical camps to be held in Mandi dist
Mandi, September 2
At least 60 surgical camps will be held in 10 Rural Health Centres (RHCs) of the district soon.
Dr Bhano Awasthi is TAMCOT president
Kangra, September 2
In the general body meeting held at the DRPGMC, Tanda, today, Dr Bhano Awasthi, Head of Orthopaedic Department, was unanimously elected president of the Teachers' Association Medical College Tanda (TAMCOT) for two years.
Husband, kin booked in dowry case
Mandi, September 2
The Jogindernagar police have registered a case against a man and his relatives for allegedly beating his wife and demanding dowry.
Man booked for raping married woman in Nurpur
Nurpur, September 2
Following a complaint by a married woman from a Dalit family of Gudli village in Khanni gram panchayat, the local police registered a case against Harpal Singh of the same village here yesterday.
2 held for cruelty to animals
Una, September 2
The police arrested two residents of Saharanpur district in Uttar Pradesh under the Prevention of Cruelty to Animals Act, 1960, at Rampur village, 2 km from here, on Sunday night.
Man held for duping youths
Una, September 2
The Una police arrested a resident of Gagret on Sunday night for allegedly duping some youths by assuring them recruitment in the Indian Army and the Indian Railways.
11 students injured in accident
Solan, September 2
As many as 11 schoolchildren sustained minor injuries when the bus (HP-14-B-0684) they were travelling in hit a pile of bricks at Tatul village near here this morning.
Man gets 10-yr jail for smuggling
Nahan, September 2
Special Judge, Sirmaur, Baldev Singh today sentenced Nihal Singh of Chopal in Shimla to 10 years' rigorous imprisonment and a fine of Rs 1 lakh under the Narcotic Drugs and Psychotropic Substances Act, 1985.
Kabaddi players get rousing welcome in Nalagarh
Solan, September 2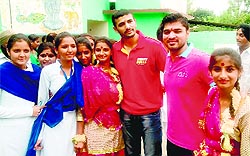 Pro-kabaddi stars Ajay Thakur and Rohit Rana received a rousing welcome at Dhabota village in Nalagarh today, where the duo arrived after participating in the tournament which concluded at Mumbai on Sunday. While Rohit Rana's Jaipur Pinks walked away with the Pro-Kabaddi trophy, Ajay Thakur's Bengaluru Bulls stood fourth.

Pro-kabaddi stars Ajay Thakur and Rohit Rana being welcomed at Government Senior Secondary School, Dhabota, in Nalagarh on Tuesday

Badminton teams leave for nationals
Una, September 2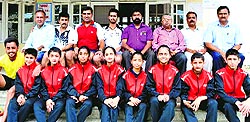 The state sub-junior badminton teams left for Rohtak, Haryana, today to participate in the National Badminton Championships, to be held from September 4 to 7. The players were attending a training-cum-conditioning camp at the Indira Gandhi Indoor Stadium, which concluded today.
State sub-junior teams of boys and girls, along with officials, before leaving for Rohtak, in Una on Tuesday. Photo: Rajesh Sharma

Pinegrove boys triumph in soccer
Solan, September 2
The boys football team from Pinegrove School, Subathu, trounced Mayo College, Ajmer, to lift the Mayo College Invitational Football Tournament held at Mayo College Boys' School, Ajmer, yesterday.