SAD trying to expand urban base, not to rely solely on BJP
Chandigarh, September 4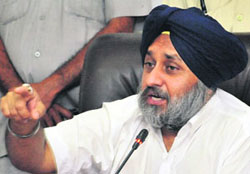 The Shiromani Akali Dal (SAD) is no longer a party with a rural base alone. In a well-thought-out strategy, it is now spreading its wings in urban areas too. With elections to Punjab's civic bodies around the corner, Deputy Chief Minister and Akali Dal president Sukhbir Singh Badal is clearly preparing to widen the party's reach by setting up urban units in small cities and towns. Even in big cities, where the party already had its urban units, the party plans to set up several units.

Deputy Chief Minister Sukhbir singh Badal

Cong sees red as govt puts prime Ludhiana land on sale
Chandigarh, September 4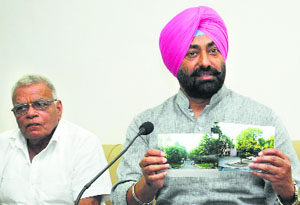 The state government is in the process of selling about 32 acres of prime land owned by Punjab State Power Corporation Ltd (PSPCL) in Ludhiana for setting up an entertainment hub, named Down Town, consisting of malls, multiplexes etc. While there is no dearth of such facilities in Ludhiana, land owned by the government is on the decline and so is the highly polluted city's green cover.

Congress spokesperson Sukhpal Khaira and Ludhiana-based environmentalist Jatinder Moudgill at a press conference in Chandigarh on Thursday. Tribune photo: Manoj Mahajan

Jails to install system to monitor telephone calls by prisoners
Muktsar, September 4
In an effort to curb crime in jails, the Prison Department will introduce prison special call and smart e-purse cards at a cost of Rs 1.75 crore in all jails this month. With the implementation of these systems, inmates will no longer be able to use coupons. The prisoners will only be able to call two numbers provided to the authorities. With smart cards, inmates could purchase eatables and other items from jail canteens.
Gandhi meets Badal, discusses Patiala's woes
Patiala, September 4
Aam Aadmi Party MP Dharamvira Gandhi met Chief Minister Parkash Singh Badal at his residence to discuss various problems being faced by residents of the Patiala parliamentary constituency. Demanding improvement in railway connectivity between the Malwa region and Chandigarh, Gandhi said the rail link between Rajpura and Chandigarh could reduce traffic on the route substantially.


Hoshiarpur, September 4
Dal Khalsa today slammed the SAD for appointing former Director-General of Police (Prisons) Izhar Alam as party vice-president. The party president, HS Dhami, alleged that mainstream parties had become a safe haven for perpetrators of human rights violations. "It is unfortunate that persons whose hands are smeared with the blood of innocent Sikhs are being accommodated in the party that claims to represent the aspirations of the Panth. It is an irony that the person responsible for the killing of innocent Sikhs through "Alam Sena" is vice-president of the SAD," Dhami said.

Paddy growers count losses after rain
Amritsar, September 4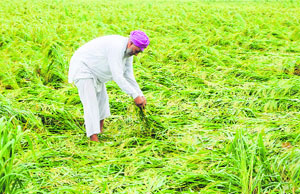 Though the region witnessed the season's first heavy and widespread rainfall over the past 48 hours, it has failed to bring cheers to many farmers. The rain accompanied by strong winds has flattened early varieties of paddy crop in different pockets of Amritsar and Tarn Taran districts. The late varieties, however, stand to benefit.

A farmer takes stock of his paddy crop at Pandori village near Amritsar on Thursday. Photo: Vishal Kumar

Hopes of cotton farmers drown in waterlogged fields
Chandigarh, September 4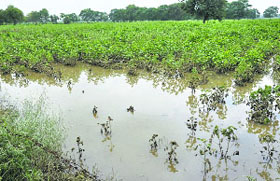 The Punjab Agricultural University (PAU), Ludhiana, today said the heavy rain in several parts of the state could affect paddy yield and cause considerable damage to the cotton crop. SS Gosal, Director of research at PAU, said farmers should immediately drain out water from cotton fields. He said waterlogging could adversely hit the crop, which was at the flowering stage. The cotton crop is mainly grown in the Malwa region of Punjab.

A waterlogged cotton field at a village near Mansa. Tribune photo

State-level function for teachers overshadowed
Jalandhar, September 4
The state-level function for teachers at the DAV Institute of Engineering and Technology seems to have been overshadowed by the hullabaloo over the telecast of PM's speech on Teachers' Day tomorrow.
PM's address: Schools banking on watchmen, panchayats for TV sets
Phagwara, September 4
With Prime Minister Narendra Modi's Teacher's Day speech to be beamed across the nation tomorrow, officials of the state Education Department are at tenterhooks. They are banking on watchmen and village panchayats to arrange TV sets for students in most schools.
Six officials chargesheeted for lapses in using grants
Chandigarh, September 4
Social Security Minister Surjit Kumar Jyani today chargesheeted six District Programme Officers, four of them accused of embezzlement and two of lapses in disbursal of grants during the last financial year.
Hit by canal breach, Mansa residents shift to safer places
Mansa, September 4
The residents of waterlogged villages of Mansa have been forced to shift to other villages or take shelter in dharamshalas. Crops on more than 5,000 acres have been affected due to waterlogging.
DIET employees not paid for months
Sangrur, September 4
The teaching and non-teaching staff members of various District Institutes of Education and Training (DIETs) in the state have not been paid for the last four months. Sources said the teaching and non-teaching employees of Ropar, Kapurthala and Sangrur DIETs had not got their salaries since April. Moreover, the employees of Nabha and Deon (Bathinda) DIETs have not been paid since May.
Mandatory viewing flouts govt notification
Chandigarh, September 4
In its zeal to show Prime Minister Narendra Modi's live speech and interaction with children on Teacher's Day tomorrow, the state government has forgotten its eight-year-old notification that had termed the involvement of students in such activities as "bonded labour" and "social crime".
6 IAS, 1 PCS officer shifted
Chandigarh, September 4
The Punjab Government today transferred six IAS and one PCS officers. Baldev Purushartha, Director, Technical Education and Industrial Training, has been given the additional charge of Director, Mining. Gurdev Singh Ghuman has been posted Joint Development Commissioner, Integrated Rural Development, in addition to Special Secretary, Rural Development and Panchayats.
Cong distributes fake currency coupons in protest
Sangrur, September 4
Punjab Youth Congress activists here today distributed coupons resembling Rs 500 notes among the people to protest the Centre's failure to bring black money from foreign banks.
Hoteliers won't set up sewage plants
Gurdaspur, September 4
The Gurdaspur Association of Hotels and Restaurant Owners (GAHRO), in a meeting held here recently, said there was no need to install Sewage Treatment Plants (STP) as the Municipal Council (MC) was duty-bound to lift solid waste from their premises. The hotel and restaurant owners have refused to follow the directive of the Punjab Pollution Control Board (PPCB). They say installing STPs was not financially viable for them.
Schools, hospitals fail to meet fire safety terms
Muktsar, September 4
In a recent survey conducted by the local fire safety office, it has been found that hardly any school or hospital fulfilled the minimum fire safety conditions in Muktsar town. Fire department officials said in a survey of all schools within the municipal limits, it was found that not even a single school fulfilled the criteria.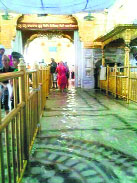 Water level in 'sarovar' reduced
Amritsar: A heavy spell of rain on Thursday led to an increase in the water level at 'Har Ki Pauri' of the 'sarovar' at the Golden Temple. Sources said the SGPC authorities subsequently reduced the water level in the 'sarovar'. 'Har Ki Pauri' is the spot from where the devotees partake 'amrit' or 'jal'. However, the move to reduce water level was not officially confirmed as none of the top SGPC officials could be contacted despite repeated attempts. The heavy rainfall also left the 'parikarma' of the holy shrine submerged.
A view of waterlogged 'parikarma' of the Golden Temple on Thursday. Tribune photo

Custodial death: Villagers block traffic in Goraya
Phagwara, September 4
The relatives of an undertrial, Gurpreet alias Gopi, who had allegedly died in police custody in July, today sat on a dharna in the middle of the national highway near the Goraya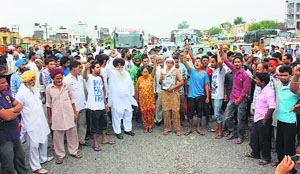 railway station. They were protesting the alleged police inaction in the case. They demanded the arrest of policemen responsible for Gopi's death. Harkamalpreet Singh Khakh, SP (D), pacified the protesters by assuring them of an early action. The matter is being probed by Judicial Magistrate, Phagwara. Earlier also, the residents of Mahal village had blocked traffic in Goraya and Phagwara in support of their demands. OC

Protesting residents block highway in Goraya on Thursday. A Tribune photograph

Coal-starved PSPCL heaves sigh of relief
Patiala, September 4
Incessant rain in certain parts of the state in the past two days has brought relief for PSPCL as the demand for power has gone down considerably. With more rain forecast, the PSPCL is expecting a further dip in power demand, which will help ease some pressure off power plants with dwindling coal stocks. The peak power demand, which till last week was over 22 lakh units per day, is at present hovering around 1,300 lakh units. Coal stocks at state's thermal plants had reached an alarming level on Monday. But the situation has improved with eight units of thermal plants shut due to less demand. Only six units are at present operational and that too at low load. It has been a tough paddy season for the PSPCL which saw the peak power demand touching over 2,300 lakh units. TNS
Election Commission drive to ensure authentic electoral rolls
Chandigarh: The Election Commission of India would launch a fortnight-long campaign to weed out duplicate entries in the electoral rolls from September 26 to October 10. An official spokesperson of state Chief Electoral Office said: "In this exercise, the commission's emphasis is on having error-free rolls which form the basis for free and fair elections. — TNS


Indian contribution during WW-I grossly understated, Amarinder tells Londoners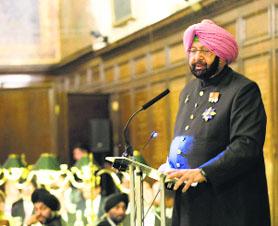 Patiala, September 4
The year 2014 marks the centenary of World War I (1914-1918) and it was a perfect timing for the "Patiala Maharaja" Captain Amarinder Singh to be there in London and recall the erstwhile Patiala state and India's contribution to British war efforts. Amarinder Singh highlighted the contribution of Indian soldiers in the World War I and the fact that their contribution was still "grossly understated" in history.
Capt Amarinder Singh addresses a gathering at Royal Hospital Chelsea in London. A Tribune photograph