Poor link roads lead to traffic jams on NH-22
Solan, September 4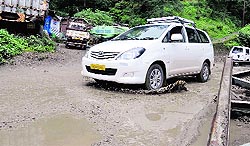 The poor maintenance of several alternate routes, which can reduce the inflow of traffic on the National Highway (NH)-22, is leading to frequent traffic jams, especially between Parwanoo and Dharampur. Heavy influx of tourist vehicles during the weekends cause traffic jams on NH-22. Apple-laden trucks also block the roads leading to long-hour traffic jams.
Vehicles cross a potholed road at Lalpani in Shimla. A file photo

Contractor, PWD officials challaned in bridge collapse case
Palampur, September 4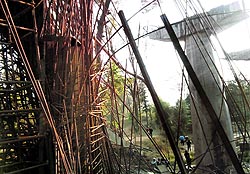 The local police today filed a challan in the court against a contractor and the Public Works Department (PWD) as they were found guilty in a bridge collapse case in December 2011. A senior officer told mediapersons that the Pathankot-Mandi national highway collapsed in December 2011 in which one person was killed and five others were injured.


A view of the collapsed bridge on the Pathankot-Mandi national highway. Photo: Ravinder Sood

Central Investment Subsidy Scheme
Ministry of Commerce relaxes norm of not considering expansion activity
Solan, September 4
The industrial units eligible for the Central Investment Subsidy (CIS) scheme have been provided relief by the Union Ministry of Commerce and Industry by relaxing the earlier norm of not considering expansion activity undertaken after the registration.
Residents demand road connectivity
Chamba, September 4
Residents of Bharian Kothi and Jatkari panchayats of Mehla development block here have urged the state government to link their areas with roads.

100 days of Modi's rule the best: BJP
Shimla, September 4
Terming the 100 days of the Modi government the best, the state BJP today congratulated the Prime Minister and his Cabinet ministers for their efforts to meet the expectations of the comman man.

Narendra Modi
Minister gives relief cheques for Rs 87 lakh
Una, September 4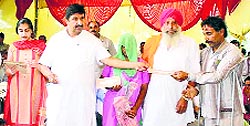 Industries Minister Mukesh Agnihotri today distributed relief cheques amounting to Rs 87.42 lakh to victims of natural calamities, beneficiaries of various welfare schemes and people suffering from various ailments as the cost of treatment at a programme.


Industries Minister Mukesh Agnihotri distributes cheques to beneficiaries at Haroli in Una on Thursday. Photo: Rajesh Sharma

BJP Mahila Morcha meeting in Kullu from September 6
Shimla, September 4
A three-day meeting-cum-training camp of the BJP Mahila Morcha will be held at Kullu from September 6 for organisational skills.
State to hold camps to detect, prevent lifestyle diseases
Kangra, September 4
Early detection can lead to the modification of underlying unhealthy behaviours such as inappropriate diet, inadequate physical activity, tobacco and alcohol use.
Shelter homes set up for victims of domestic violence
Una, September 4
The Una district administration has set up four shelter homes for women who are victims of domestic violence in different parts of the district.
Lecturers' result out
Shimla, September 4
The HP Public Service Commission (HPPSC) today announced the results for the recruitment, on a contract basis, for the seven posts of lecturer in civil engineering (polytechnic) Class I (gazetted) in the Department of Technical Education.
Govt to utilise development policy loan for green growth
Shimla, September 4
Rapid degradation of environment due to industrialisation, power projects, unauthorised constructions, illegal mining and unregulated traffic are posing a grave threat to the tourism industry in the state notwithstanding the state government has received a development policy loan of $100 million from the World Bank.
'Save crops from monkeys'
Chamba, September 4
Monkeys have been playing havoc with crops day and night in about a dozen villages adjacent to Chamba town. The villages are Bharuin, Gatyaan, Maua, Kathet, Bhonh, Bain, Hasnuin and Chamui.
Architects to have map approval power
Shimla, September 4
Urban Development and Town and Country Planning (TCP) Minister Sudhir Sharma today directed the department to formulate a master plan to bring uniformity in map approvals and prepare a policy for delegating powers to all empanelled architects in the state for approvals through self-certification.
Bharmouri honoured for contributions in politics
Shimla, September 4
The India International Friendship Society (IIFS) honoured Forest Minister Thakur Singh Bharmouri with the Rashtriya Gaurav Puraskar for his contributions in the field of politics in New Delhi today.
Sharma is Asst Solicitor General


Shimla, September 4
Ashok Sharma will be the new Assistant Solicitor General of India. He has been appointed by the President of India for defending the cases of the Union of India before the HP High Court.


Ashok Sharma
HPCA moves HC against demolition of academy
Shimla, September 4
The Himachal Pradesh Cricket Association (HPCA), headed by BJP MP Anurag Thakur, today moved the High Court for seeking a stay on the orders of the Municipal Corporation, Shimla, to demolish the "illegal building" constructed at the cricket academy at Lalpani here.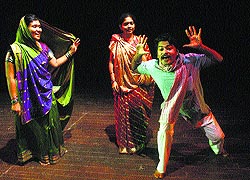 Artistes perform in a play 'Batware ki Aag' at the Gaiety Theatre in Shimla on Thursday. Tribune photo

Tata Motor Finance told to pay Rs 2 lakh
Sundernagar, September 4
While deciding an appeal under the Consumer Protection Act, the HP State Consumer Disputes Redressal Commission, Shimla, headed by Justice (retd) Surjit Singh, has ordered Tata Motor Finance Ltd to pay Rs 2 lakh, along with interest at 9 per cent per annum, to a complainant for forcefully taking into possession his truck.
Four booked for cruelty to animals in two cases
Una, September 4
The police booked four persons under the Prevention of Cruelty to Animals Act, 1960, in two separate incidents here last night.
Woman commits suicide in Karsog
Shimla, September 4
A woman, Krishna of Charahi village in the Karsog area, allegedly committed suicide by jumping into the Sutlej at Pandoa, 70 km from here, today.
Biker killed in mishap
Shimla, September 4
A person was killed when the motorcycle he was driving collided head-on with a truck coming from the opposite direction near Vajir Bavri in Rampur, 132 km from here, today.