| | | |
| --- | --- | --- |
| | ARTICLE | |
Need to be a generous neighbour
Benefits of sub-regional cooperation
Jayshree Sengupta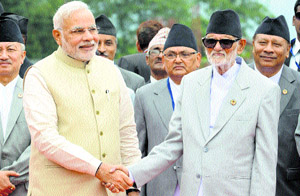 Prime Minister Narendra Modi has started well by giving signals to the regional leaders and the aim seems to be greater cooperation between India and the SAARC countries.

Whether it is 100 days or 1,000 days, Indiaís problems are too big be solved any time soon. Even identifying the core problems is difficult. Unfortunately, promises and slogans are only palliatives and do not offer credible or lasting solutions. What Mr Modi has done is to talk about some of the problems like lack of toilets and sanitation openly. But how he will overcome huge obstacles in making India a world economic power ó supposedly his aim ó is something to be watched.
No one has been shedding copious tears for his dismantling of the Planning Commission. Many, however, have wondered what would replace it. But on the whole, it was increasingly being perceived as a white elephant that offered plum jobs to Ďvery importantí people who could not be accommodated in the main ministries.
The real problem will arise when inter-regional problems begin to surface. There will be a lot of acrimony when the weaker states will not be able to cope with their own problems and ask for help from the Centre. There wonít be a Planning Commission to come to their rescue because no one would have carried out the exercise of assessing inter-state regional disparities and the measures to solve them.
Every power, on the other hand, will be delegated to the state and Modi has spoken of cooperative federalism. But states, especially in the north and northeast, require special attention and do not have the means to solve their problems. They are the border states with Nepal and Bangladesh as neighbours. Across the border of the weaker Indian states a similar situation exists in the neighbouring countries. All are struggling with high youth population looking for jobs but lacking skills, lack of infrastructure and poverty. If only there could be more regional cooperation within the SAARC region ó a joint solution to problems would be a possibility then.
Modi has started well by giving signals to the regional leaders and the aim seems to be greater cooperation between India and the SAARC countries. This will lead to much better regional investment climate which foreign and domestic investors are looking for. There would be better management of smuggling, illegal migration and cross border terrorism if our neighbours became our good friends. Sharing of water and power is a very important need in the region and this can be achieved with amicable ties between the neighbours.
It is the unemployed youth from Nepal and Bangladesh who cross over to India in search of jobs. If there is regional cooperation, EPZs could be started in the border areas and young people could be trained in institutes along the border for recruitment in them. Also better trade and investment facilities would enhance job opportunities and enrich the surrounding areas. The welfare of the people would be enhanced and income inequalities could be narrowed.
Even with Pakistan efforts should be made on the economic front for greater cooperation in trade and investment. Often economic relations are easier to manage and the fruits of cooperation can be realised immediately. Economic cooperation will bring benefits to the people of the region that is struggling economically.
There would always be a large number of people who will point fingers at the dangers of such cooperation. It is up to the NDA government to resolve the problems by taking a bold initiative, keeping in mind the welfare benefits and trade creation aspects of economic cooperation. Let there be more business delegations between the two countries and more people-to-people contact. But, of course, politics will always hold sway over economics.
Similarly with Bangladesh, the river-water sharing issue is something that should be resolved at the earliest and this would improve economic and political relations. Bangladesh has withdrawn the transhipment facilities through its territory to the Northeast because of the Teesta water sharing dispute between the two countries, and Mamata Banerjee has taken a stern stand. Thus, the important question of water sharing has been kept on hold. Water is the life source for millions of farmers in Bangladesh and the Teesta water sharing issue is of critical importance for Bangladeshi agriculture.
Transhipment of goods through Bangladesh will not only reduce costs for India in transporting goods to its Northeastern states but will also create jobs in Bangladesh along the roadways in diverse service-oriented industries. Poverty and deprivation, lack of jobs and amenities is what is the common feature between West Bengal and Bangladesh.
Regarding trade in goods between India and her neighbours, tedious inspections and certifications are needed for goods to cross the borders which really slow down trade between the neighbouring countries. It raises transaction costs, making the traded goods expensive. One should not be surprised to see Nepal and Bangladesh markets full of Chinese goods that are cheaper, although in both countries people prefer Indian goods.
With Nepal too, despite the recent overt bonhomie, lots of problems remain. A small country like Nepal has tremendous difficulty in exporting to India though there is an open border between the two countries. Similarly, Pakistan also has a lot of difficulty in exporting to India. All our neighbours run huge trade deficits with India which is not good for promoting harmonious relations. Basically, the whole South Asia is India-centric and instead of playing the Big Brother India can afford to be generous. It will be beneficial to us in the long run to have peace and prosperity in the region. In fact, trade with the entire ASEAN region is of great importance. It is indeed surprising why the Commerce Minister did not go for the important India-ASEAN meeting recently.
India has to have better connectivity with its neighbouring countries to promote trade and investment. It would be good for attracting FDI to the region and more Indian investment could also go to Nepal and Bangladesh. Constant security threats and the problem of transferring money are spoiling the investment climate.


| | | |
| --- | --- | --- |
| | MIDDLE | |
Case of the mysterious nocturnal visitor
Col ips Kohli

I got married on 9/11 1983. My life too changed in many ways just like that of the Americans changed on 9/11/2001. While America rose from the ashes and dared the world to try the 9/11 dare again, I am risk averse and cannot afford further annihilation and hence have no intention of trying it again. We plan to holiday in America this year. On 9/11 we will visit the memorial at 'The World Trade Center' and, observe a much needed and long overdue two-minute silence.
Our marriage was the typical big fat Punjabi wedding with dhol-dhamaka, sharaab and kebab. A memorable event. After honeymooning at a few popular places, I took my bride to my place of posting at a high altitude Army base where wives are allowed for just two months in a year.
There are some things which the Army does with much style and ťlan. Literally in the middle of nowhere, a reception for a newly wedded couple is laid out which will make the glitz and chrome of a similar reception in a city look pale. My wife new to the ways of the Army, till today remembers the day we arrived in our unit. Two ladies helped her drape her sari. I stood fuming nearby. Being late by so much as a minute is sacrilegious even if it is your own 'wedding reception.' You will be feted, wined and dined and the next day taken to task for being late.
My wife was to stay for four days in my unit before she returned to Chandigarh. As per my mother's instructions, 10 almonds were to be soaked in water before we went to bed. In the morning these were to be blanched and we were to eat five each. Her instructions were followed dutifully.
When we woke up the first morning after arriving in the unit, we found that the almonds had been eaten and the peel was lying nearby. Quite puzzling since both of us had not eaten them. It happened again the second day. Part of the welcome given to a newly married couple is a few pranks which normally junior officers indulge in. It must be that rascal Bindra I told my wife. She was horrified at the prospect of somebody sneaking into our room at night. I cornered Captain Bindra in the Mess and told him what I thought of him and his cheap pranks. He pleaded innocence. When it happened yet again I reported the matter to the 'Officer Commanding' the unit. Somebody was invading the privacy of a newly married couple. While he agreed that it was completely unacceptable, he advised me to stay awake in the night and nab the person who was doing this.
We were rather still for newlyweds. At about 3 in the morning, two big rats soundlessly crept up to the bowl and one by one ate the almonds neatly leaving the skins. May be, they too were following their mom's advice.


| | | |
| --- | --- | --- |
| | OPED DIPLOMACY | |
Modi inaugurates the Asian era
S. D. Muni
In the first 100 days, the SAARC invitation and Prime Minister Narendra Modiís visits to neighbouring capitals have greatly improved the atmospherics of the bilateral discourse and created hope for greater regional cooperation and synergy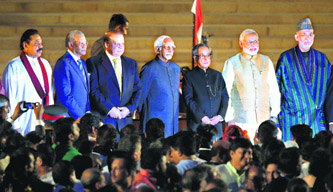 It is hoped that Prime Minister Modiís diplomatic efforts are streamlined to move with greater care in pushing forward the new approach of pro-active engagement with the neighbours. Photo: PTI

Modi governmentís neighbourhood initiative, which started even before the government was sworn-in, in the form of invitation to SAARC heads of Government and State, has widely been acclaimed. Prime Minister Narendra Modi established personal contacts with the SAARC leaders, including Pakistan Prime Minister Nawaz Sharif and paid two official visits to Bhutan and Nepal. Foreign Minister Sushma Swaraj reactivated India-Nepal Joint Commission meetings after 23 years by visiting Kathmandu and paid visits to Bangladesh and Myanmar. Foreign Secretary-level talks were scheduled between India and Pakistan despite violations of ceasefire on the Line of Control and international border, ignoring Modiís campaign position that while bombs and guns boom, we cannot talk meaningfully.
India, however, pulled back from these talks as a result of the PMO-led intervention, which insisted on Pakistan discontinuing its parleys with Kashmirís separatist Hurriyat Conference leaders on the eve of the talks.
The SAARC invitation and the visits to neighbouring capitals greatly improved the atmospherics of the bilateral discourse and created hope for greater regional cooperation and synergy. It gave Indian leaders the feel of political terrain as well as developmental expectations from India, in the neighbouring countries through personal contacts with the diversity of local leaders. In Bangladesh, Sushma Swaraj set at rest her hostsí anxieties on the BJP campaign rhetoric against illegal immigrants and promised that Land and Teesta Agreements would be expeditiously concluded. Modiís eloquent addresses in Bhutanís Parliament and Nepalís Constituent Assembly not only sought to bridge the trust deficit with India but gave assurances that India would stand by these countries in their respective searches for security, stability and development. His use of catchy phrases like B 4 B in Bhutan i.e. Bharat for Bhutan and Bhutan for Bharat, and in Nepal, Youdh se Bhuddha, (from war to peace) and Shastra se Shastra (from arms to scriptures/Constitution) to hail Nepalís peace process of the Maoists joining the mainstream, promised a new Indian approach towards neighbours.
There were, however, no major breakthroughs in the neighbourhood initiative, and the withdrawal from talks with Pakistan was indeed amounted to be a breakdown. With settling of the euphoria of the visits, voices of sceptics and critics in the neighbouring countries as also within India, have started rising. The Modi government has come under strong criticism on the cancellation of talks with Pakistan. The Kashmir Assembly has even passed a resolution urging for restarting the talks and engaging Pakistan to promote bilateral ties. In Bangladesh, anxiety continues to centre on the critical pending agreements on Teesta water sharing and the Land Border. In Nepal, much-hyped Power Trade Agreement (PTA) and the Project Development Agreement (PDA) could not be signed. Modi has promised to renegotiate with Nepal, the Treaty of 1950, but there is no meaningful response from Nepal yet as to what it really wants in the revised treaty. There is no progress on a host of other issues, too, related to trade and transit, pending border demarcation and border management and rail and road link projects.
As for Sri Lanka, while bilateral ties are smooth, Modiís firm reiteration of the implementation of the 13th Amendment in his one-to-one meeting with President Rajapaksha did not go well with the latter. The high-profile subsequent visit of Tamil delegation from Jaffna and Sushma Swarajís emphasis on accommodation of Tamil rights has not eased Colomboís anxieties.
It is indeed unrealistic to expect major developments in Indiaís neighbourhood policy in 100 days. However, the gaps between promise and performance in Modiís initiatives can be accounted on two factors. To begin with, there was a clear lack of careful planning and preparations on Indiaís part. It is unfair to blame Modi for calling off talks with Pakistan on account of the Hurriyat issue. It was wrong on Indiaís part to concede to this practice to begin with, where Pakistan is allowed to speak on behalf of the people of Kashmir, and that, too, through Hurriyat briefing. Modi governmentís sensitivity to discontinue this practice was expressed to Nawaz Sharif when he was visiting to attend Modiís oath taking. Neither Pakistan understood this sensitivity properly nor was the Indian diplomatic establishment alert to caution Pakistan well in advance of the talks. Modi had done well to issue a statement before his visit to Japan that India remains prepared to talk to Pakistan on all issues, implying including Kashmir, if Hurriyat dimension is abandoned. One hopes that Modiís this insistence is not confined to electoral calculations in coming Kashmir elections.
In case of Bangladesh, anxieties aroused on account of Modiís campaign could be set at rest through diplomatic channel but Sushma Swaraj should have delayed her visit and prepared to resolve at least one of the two issues of Teesta and Land Agreement in view of the governmentís comfortable parliamentary majority. Here again, the Modi government seems to be in a bit of a bind. The BJP wants to consolidate and expand its base in West Bengal and, therefore, it is in no mood to accommodate Bangladesh on the pending issues, lest Mamataís TMC exploits such accommodation. In case of Nepal, the hurriedly prepared text of PTA sent on the eve of Modiía visit did more harm then good. Modiís omission of Ďsecularí qualification for Nepalís evolving Constitution and his robust projection of Hindu identity through special prayers in Pashupatinath temple, has left Nepalís minorities a bit uncomfortable.
One hopes that Modiís diplomatic establishment is streamlined to move with greater care in pushing forward the new approach of pro-active engagement with the neighbours. But a bigger challenge to this approach, in fact, lies in the neighbouring countries. All these countries are politically deeply polarised with approach towards India being a major fault line in all of them. Pakistanís internal conflict between the civilian regime and the army is perhaps the biggest of such divides. But divide on India policy is not insignificant even in Nepal, Bangladesh, Sri Lanka and Maldives. Unless this polarisation is softened and India is taken out of the internal power rivalries, competitions and prejudices in these countries, there may be no easy way ahead.
ó The writer is a Professor Emeritus, JNU, Delhi