AGM — A rubber stamp event or report card?
Market regulator SEBI calls for enhanced monitoring mechanisms
Shreenivas Kunte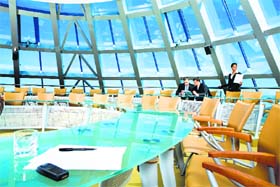 From a shareholder's point of view, a company's annual general meeting (AGM) is perhaps the most significant recurring milestone that a company can offer. Not only as a score card keeping forum to objectively assess the company's financial health but also in bringing opportunities for shareholders to understand and vote on the innermost workings of the company. From Dhirubhai Ambani's mass shareholder following to Warren Buffett's annual shareholder letters, the AGMs have sparkled and shaped investment thought.
India's AGMs, however, at least in the recent past, have lacked the vitality to deepen confidence. A very high promoter dominance (50% plus) has bound the minority shareholder to the role of a spectator without effective voting rights for bringing change. The annual meetings have been seen to be ritualistic, vulnerable to the risk of turning into rubber stamp events for promoter control.
The SEBI's circular earlier this month indicates the regulator's growing discomfort on the AGM practices followed by some of the corporates. SEBI's August 1 circular has critically remarked against companies who have been allotting just 15 minutes toward conducting the AGMs. The regulator has recommended enhanced monitoring mechanisms for exchanges so that corporate governance standards are followed in letter and spirit.
Barring this one incident, the AGM season this year in India has been uncontroversial. Earlier last month, Tata Motors' promoters lost out on their executive compensation resolution to shareholder activism.
But the company's AGM later on July 31 was fairly quiet. So far this year, from among India's top 200 market-cap companies, over 70% companies have held their AGMs. Over the next financial year, however, the new Companies Act (2013) and SEBI's initiatives could significantly enhance the reporting environment and corporate governance culture in India. The shareholder community can directly benefit from these changes. Three important takeaways at different stages in AGM stakeholder engagement emerge.
Analysis
Pre-AGM stage: In the pre-AGM stage, a listed company is required to send a notice to its shareholders for conducting the AGM along with a copy of the company's financial statements, proxy forms and items of special business that the company would like to transact at the AGM.
At this pre-AGM stage, it is important that shareholders attempt to understand the results and build a critical appreciation on the company's overall performance. Formulating well considered questions and sending these questions in advance to the company can give the company's management time and space to prepare a comprehensive response to the queries.
During AGM: The second aspect is about discussions on issues and shareholder voting rights at the AGM. With regard to general conduct and discussion on issues, shareholders are encouraged to promote constructive engagements with the company. For example, obstructive behaviour and/or frivolous questions can make the AGM counter-productive to everyone involved. Voting is another important mechanism for exercising shareholder viewpoints. Nomination and election of Board members and management compensation are some of the key corporate governance decision points where shareholder votes could influence outcomes. In a routine AGM resolution, a simple majority of the votes cast is required. But events such as takeovers need a special resolution and a 75% winning vote. Shareholders should note that electronic voting has been made compulsory for listed companies (fully effective after December 2014). E-voting is expected to be very convenient to the shareholders as they will not be required to be physically present to cast their votes.
Post AGM: Lastly, shareholders and investors should put in effort to review their investment concerns in view of the documents shared by the company before the AGM. Researching important financial indicators — from performance to growth, profitability, market share, operations, risk, related party transactions and accounting policies can help the shareholder recognise more clearly the sources of risk and return. The ability to understand the financial performance that the company has delivered is a function of both knowledge and experience. But at a minimum, shareholders are encouraged to view the company's key financial attributes, both as absolute benchmarks as well as relative to the company's peers.
India is yet to re-attract the shareholder attention and overwhelming support that Reliance founder Dhirubhai Ambani cultivated or the trusteeship that Nani Palkhiwala's ACC AGMs fostered. But the infrastructure investment that is being committed in terms of positive regulatory change may help expand, deepen and democratise India's shareholder base.
The author is a Member of Advocacy Committee, Indian Association of Investment Professionals — Member, Society of CFA Institute and Adjunct Faculty, In charge Trade/Research Lab, SP Jain Institute of Management & Research. The views expressed in this article are his own