Two youths targeting ATM customers held in Panchkula
Panchkula, September 7
A three-member gang targeting ATM customers, especially women, was busted by the Panchkula police this evening, The accused, identified as Amandeep and Suraj (in their 20s) have confessed to have committed eight such incidents in the city.

The two nabbed accused are habitual offenders. Tribune photo: Nitin Mittal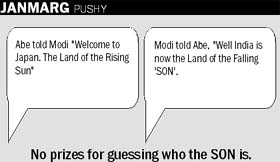 CHB to tighten noose around its employees
Chandigarh, September 7
To fix accountability for any delay in handling cases, the Chandigarh Housing Board (CHB) authorities have sought record of all the cases handled in the last three years. All the employees, dealing with files in routine cases, be it transfer of property, conversion of leasehold to free hold or giving no dues, have been asked to give status report on the total cases disposed of or pending in a time-bound manner.


Open House response
Need-based changes are the need of the hour
The present rate of penalty for violation in commercial property in Chandigarh is so high that a violator is compelled to shut his business activities, instead of rectifying the infractions. If the Administration is to follow the Capital of Punjab (Development and Regulation) Act and Rules of 1952, then there cannot be a suitable solution to the problem.
Showrooms in Sector 17, Chandigarh. A File photo
comment
Admn must adopt pro-active approach
Adhocism continues to plague the functioning of the Chandigarh Administration, especially when it comes to public-related issues. A typical example of this approach is the controversial Estate Rules 2007, under which the Chandigarh Administration, over the last four years, has issued over 1,500 penalty notices for misuse and building violations to the owners of residential and commercial property.

Strike by Haryana Roadways employees
Passengers remain a harried lot
Panchkula, September 7
Hundreds of passengers continued to remain a harassed lot on the second day of the sudden strike by employees of Haryana Roadways, leaving the bus services crippled. General Manager of the Haryana Roadways, Pradyuman Singh said, "The strike has still not been called off."
Commuters come out of a bus stand due to non-availability of buses in Panchkula on Sunday. Tribune photo: Nitin Mittal
Corruption creeps into UT police dept
Chandigarh, September 7
Even as the recent arrest of inspector Rajesh Shukla, SHO of the Sector 34 police station, has caused embarrassment to the police, statistics available with the police reveal that police officers encompassing all ranks have landed in the CBI net in corruption cases in the past.


lack of infrastructure
Residents, MLA stage dharna at Naya Gaon
Mohali, September 7
Congress MLA Jagmohan Kang along with his supporters and residents of Naya Gaon village staged dharna in the main market this evening. The protestors were up in arms, as the state government has not been approving the layout plans of the area, which comes under the Notified Area Committee.
MLA Jagmohan Singh Kang and residents stage a protest at Naya Gaon village in Mohali on Sunday. Tribune photo: Vicky Gharu
Co-op housing societies
Residents served with inflated water bills
Chandigarh, September 7
In the absence of completion certificates, hundreds of residents of cooperative housing societies have been served with inflated water bills by the Municipal Corporation. Over 5,000 flat owners in around 90 societies have been affected.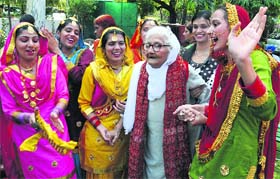 Bringing smile on their faces: Students of Gian Sagar Medical College and Hospital shake a leg with a senior citizen on Grandparents Day at an old-age home in Sector 15, Chandigarh, on Sunday. Tribune photo: S Chandan
7 health centres to be set up
Mohali, September 7
To provide up-to-the mark primary health care facilities to residents, the Mohali Administration has announced to establish seven new urban Primary Health Care centres in the town and its periphery.
Dip in veggie prices
Chandigarh, September 7
In a relief for city residents, restoration of supply of most vegetables has resulted into a slight dip in prices. The cost of tomato, for instance, that had touched rooftop a few weeks ago costing as high as Rs 90 per kg in some parts of city (in retail), has tumbled to Rs 40 per kg now.


Awareness walk
Kirron Kher pledges her eyes for donation
Chandigarh, September 7
During an awareness walk organised by the Eye Bank, Department of Ophthalmology, GMCH-32, MP Kirron Kher pledged her eyes for donation here today. The walk was organised in collaboration with the Lions Club Central from Rock Garden to Sukhna Lake.
Residents take part in an awareness walk in Chandigarh on Sunday. Tribune photo: S Chandan

Fire breaks out at dhaba
Mohali, September 7
A fire incident was reported at Puran Singh Da Dhaba at Shahi Majra village in Mohali in the wee hours today. Infrastructure, including air-conditioner, fridge and furniture, worth Rs 5 lakh was gutted in the fire.

The dhaba where a fire broke out at Shahi Majra village in Mohali on Sunday. Tribune photo: Vicky Gharu


Builder accuses Mansa police of false implication
Zirakpur, September 7
A local builder has accused Mansa police for illegally arresting and implicating his son in a false case. Gulshan Rai alleged that a police party from Mansa forcibly took his son Prateek on Saturday. He alleged that the police party was accompanied by Jagtar Singh, a resident of Mansa.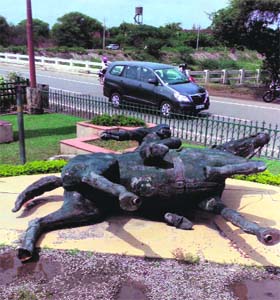 Fallen warrior: A statue of a martyr lies at the entrance to Patiala. Another statue is missing from the spot. A Tribune photograph
Book on Ayurveda wisdom for modern life released
Chandigarh, September 7
A book on Ayurveda wisdom for modern life titled 'Healthy living through Dosha healing' (Ayurveda) written by Dr Sonica Krishan was released by the Governor of Chhattisgarh, Balramji Dass Tandon.
HEALTH NOTES
PGI to launch teaching website
Prof YK Chawla, director, PGIMER, will inaugurate the 'Immunopathology teaching website' on Monday. The website has been developed by the Department of Immunopathology. As the subject is complex and intimidating the archived lectures of the department will be available on an interactive website for students, all over the country. Lectures for BSc MLT students are available online.


REPORTERS' DIARY
Reaping what he sow
While he spent the past over two years sending criminals to jail in his capacity as the SHO of the Sector 34 police station, Inspector Rajesh Shukla, who has been arrested by the CBI, will now spend time in a jail with the same inmates in the Burail Jail. With the court sending him to judicial custody, the inspector is having a trying time.
A cyclist rides to his destination on a cloudy Sunday in Chandigarh. Tribune photo: S Chandan





Assault on GMHS-38 student
Two Class IX students suspended
Chandigarh, September 7
Two students of Government Model High School (GMHS), Sector 38-D, who had allegedly bashed a Class VIII student, have been suspended from the school. The victim, Nikhil, alleged that his seniors, students of Class IX, had thrashed him during school hours on September 3, following which he sustained a head injury.
Summit to focus on life skills, wellness
Chandigarh, September 7
The Central Board of Secondary Education has set the ball rolling for the third International Life Skills, Values, Gender, School Health and Well Being Summit. The summit that will be held across 14 regional centres nationwide and in the Middle East will see the participation of various schools affiliated to the board.


Cultural programme gives message of saving girl child
Chandigarh, September 7
"Naari Shakti", a 10-minute play, was the highlight of a cultural programme held at Tagore Theatre here today. Organised by Chandigarh Art Theatre and Omika Creation, the programme was based on the theme "Save the Girl Child".

Children strike a pose after a fashion show organised during a cultural programme at Tagore Theatre in Chandigarh on Sunday. Tribune photo: Vicky gharu
Meritorious students, teachers honoured
Panchkula, September 7
The Forum of Senior Citizens in Education (FSCE), Panchkula, today organised their annual day along with Teacher's Day at Doon Public School, Sector 21. The event was attended by around 200 teachers from Panchkula district. Vivek Attray, Director, School Education, Haryana, was the chief guest.
Annual system to stay for old students at PU
Chandigarh, September 7
Despite the introduction of semester system for the first-year undergraduate courses at the varsity, the old students who need to reappear or sit for an improvement exam or have a compartment in any subject will continue to follow the old annual examination system.


TEACHER'S DAY CELEBRATIONS

PU NOTES


Children present a cultural programme at Doon International School on Teacher's Day in Mohali. Tribune photograph

Students present flowers to their teachers at Ashmah International School and Shemrock Senior Secondary School. Tribune photographs