More breaches, thousands stranded
Abohar, September 7
More than 200 acres of agricultural land has been inundated in Ramsara village on the Abohar-Hanumangarh highway because of four breaches in the Abulkhurana nullah, each 20-ft wide. Residents alleged that water drained out from Lambi had been diverted to the Abulkhurana nullah that passes through the Balluana segment.
Flood-hit take shelter in schools
Abohar, September 7
As many as 3,000 persons today reportedly took shelter in various dharamshalas and schools as houses in Regar Mohalla, Balmiki Mohalla, Guru Nanak Basti and Indira Colony remained flooded. Trade in 13 grain markets in the district may resume on Monday.
Akali Dal, Congress trade barbs over Jaitley's letter
Chandigarh, September 7
The Shiromani Akali Dal (SAD) today said Congress MP Capt Amarinder Singh should show interest in his home constituency Amritsar, and that he should tell what he had done for the state when he was the CM.
Badal deputes officer to take up MSP issue with Union Govt
Chandigarh, September 7
Denied a special package by the Centre, Chief Minister Parkash Singh Badal today sought a revision of MSP (minimum support price) for various crops. He deputed Financial Commissioner Development (FCD) Suresh Kumar to take up the matter with the Centre.
BJP faction wants Sharma removed as party chief
Chandigarh, September 7
A BJP faction, that had earlier demanded that the BJP ministers in the state Cabinet be shuffled, has now trained its guns on the state chief, Kamal Sharma. Leaders of this faction want Sharma to be removed from the post.
Little money, yet govt spending Rs 3 lakh a day on helicopter
Bathinda, September 7
The cash strapped Punjab government spends nearly Rs 3 lakh a day on using the official helicopter in addition to the one taken on lease from M/s Pawan Hans Limited. The total amount spent on this account since 1995 comes to around Rs 117 crore.
D-Day for handing over shrine today; Amritsar cops on alert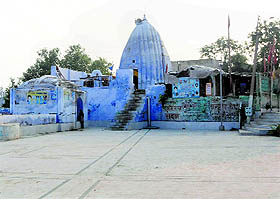 Ram Tirath (Amritsar), September 7
With only a day left for handing over the possession of the disputed portion of ancient Ram Tirath Temple to the Mahant Baldev Giri faction, an uneasy calm prevails at the shrine. The state government has mobilised police force from five districts of the border range.





The disputed site at the Ram Tirath Temple in Amritsar. A tribune photograph
SAD rejig tilts equations, Babbehali left in the cold
Gurdaspur, September 7
The SAD's new organisational set up has changed the political permutations in Gurdaspur. Chief Parliamentary Secretary and Gurdaspur MLA GS Babbehali has been left out in the wilderness while his political foes former Speaker Nirmal Singh Kahlon and former Cabinet Minister SS Langah have been given more powers.
Hopes dashed, Mansa farmer kills himself
Mansa, September 7
A 62-year-old debt-ridden farmer of Chehlanwala village in the district allegedly committed suicide by jumping before a train. Sources said Roop Singh's cotton crop over 3.5 acres of land was damaged due to waterlogging. A father of three daughters, Roop Singh owed Rs 2 lakh each to a bank and a private money lender.
Border villages hit too, link roads damaged
Dera Baba Nanak, September 7
The overflowing Basatar drain spread misery in six villages. At least 250 villagers were trapped. Vast tracts of agricultural land were washed away, said sources. But the Gurdaspur DC, Abhinav Trikha, and senior BSF officials denied such reports. The DC said only 18 had been trapped and all had been evacuated.
Drain bane: Muktsar still waterlogged
Muktsar, September 7
The state government has failed to initiate measures to solve the perennial problem of waterlogging in the district. A high-level panel set up by the government on the matter had recommended construction of new drains and widening of the existing ones, but nothing has been done till date.
CM to dedicate hospital to Nawanshahr residents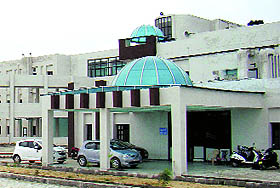 Jalandhar, September 7
Punjab Chief Minister Parkash Singh Badal will dedicate "a state of the art" district hospital to Nawanshahr residents on September 9. Nawanshahr Deputy Commissioner (DC) Anindita Mitra said the 100-bed hospital had been built at a cost of Rs 18 crore. The new hospital, spread in five acres, has 147 rooms.
The 100-bed hospital that will be inauguarated by Chief Minister Parkash Singh Badal at Nawanshahr on Tuesday. A Tribune Photograph

Water samples from Ropar schools fail
Ropar, September 7
Around 30 per cent of the 140 water samples taken from various government schools in the district have failed laboratory tests. Ropar Civil Surgeon Surinder Ganger said bacteriological contamination and high fluoride content were reported in many samples.
RMOs divided over move to shift them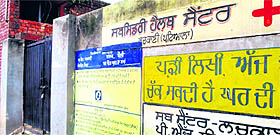 Jalandhar, September 7
With the state government contemplating to shift the Rural Medical Officers (RMOs) working under the Department of Rural Development and Panchayats to the Department of Health and Family Welfare, the RMOs across the state seem divided over the issue.


A file photo of a rural dispensary in state.
41 MBBS seats still vacant at Adesh college
Faridkot, September 7
At least 41 of the 150 MBBS seats remained vacant at the Adesh Institute of Medical Sciences and Research after the last round of counselling today. Seats in all other medical colleges have been filled, said Dr SS Gill, vice chancellor, Baba Farid University of Health Sciences.
Web portal for driver's licence
Fatehgarh Sahib, September 7
The Transport Department today launched web portal "SARATHI" for providing driving licences in the district. Inaugurating the service under the e-governance reforms launched by the state government on Thursday, Transport Secretary Anurag Aggarwal said the online service would bring transparency into the prevailing system and root out corruption.
Now grow sugarcane at lesser cost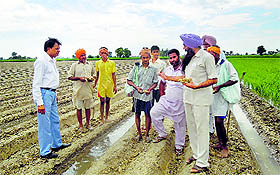 Moga, September 7
The state government has begun encouraging farmers to cultivate sugarcane in widely spaced rows, giving room for intercropping. Experts said this would increase profit and save water. Officials are demonstrating the new technique on a 10-acre plot at the government seed farm in Raonta village in the district.


Sugarcane being planted at a government seed farm in Raonta village in Moga district. Tribune Photo
Traffickers hand confirmed in Sikh stowaways
London, September 7
The involvement of human traffickers in the case involving 35 Afghan Sikh stowaways, found inside an airtight shipping container on a dockyard in British port, has been confirmed with the arrest of a third person, a media report said today.
Now, bougainvillea to beautify Badal village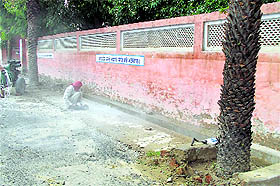 Badal (Muktsar), September 7
Deputy Chief Minister Sukhbir Singh Badal has directed the state Forest Department officials to plant nearly 1,000 bougainvillea trees along the roadside in his native village Badal. The officials have also been told to plant some ornamental trees alongside the date palm trees.





The date palm trees in Badal village. Tribune photo
Punjabi killed by co-workers in Boston
Bhogpur, September 7
A youth from Lohara village in Kapurthala district was murdered by his two co-workers in a hotel they worked at in Boston. Jaswinder Singh had gone to Canada with a group of kirtan perfomers but had reached Boston some time ago and was working in the Golden Swan hotel owned by Malkit Singh.
Release BPL pensions in a month, HC tells state
Chandigarh, September 7
The Punjab and Haryana High Court has set a month's deadline for the state government to release the pending pension for the families living below poverty line (BPL).
Lok Adalat quashes PSPCL demand notice
Fatehgarh Sahib, September 7
Giving relief to a 70-year-old villager, the Permanent Lok Adalat (PLA) quashed the demand notice of Rs 70,255 raised by Punjab State Power Corporation Limited (PSPCL) for allegedly tempering with his domestic power meter. The adalat also directed the PSPCL to pay Rs 2,500 to the petitioner towards cost of litigation.
Two arrested with Rs 45-crore heroin
Fazilka, September 7
The Special Operation Cell of the Punjab Police have recovered 9 kg of heroin, worth Rs 45 crore in the international market, from a smuggler's house in Minnewala village in Fazilka district. The police arrested Sukhchander and his accomplice Satnam Singh of Jalalabad town.
Stopped at naka, van driver attacks excise officer
Abohar, September 7
Excise and taxation officer Varun Nagpal and his subordinate staff were allegedly attacked at a naka near Khuyiansarwer village on Abohar-Sriganganagar road last evening. The naka had been set up to check the evasion of VAT.