M A I N N E W S
4 lakh trapped in Valley, rescue ops in full swing
Flood toll rises to 195

47,000 evacuated

Weather conditions improve

More boats, helicopters deployed in Srinagar
Ravi Krishnan Khajuria
Tribune News Service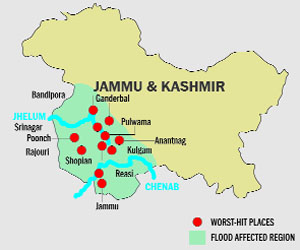 Map not to scale
Jammu/Srinagar, September 9
The death toll from the worst floods to hit Jammu and Kashmir in nearly 60 years rose to 195 today, with about four lakh people still stranded in the Valley where massive multi-agency rescue and relief efforts were on.
More than one lakh troops equipped with 170 boats have been engaged to evacuate those marooned in the Valley. The Army, IAF and NDRF have so far rescued over 47,000 persons from different regions of the state where floods, landslides and house collapses triggered by torrential rains have wreaked havoc.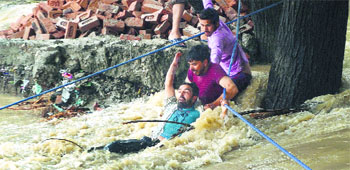 People assist a stranded man with ropes during floods in Srinagar on Tuesday. AFP
"A massive rescue and relief operation is on. More helicopters and boats were pressed into service today. So far, 47,227 persons have been evacuated in different regions," said defence spokesman Col SD Goswami. The weather conditions were improving and the water level had receded in Srinagar and other towns in south Kashmir. "Security forces are working round-the-clock to reach out to the stranded people," said Goswami. The Army has deployed 220 columns of its personnel in the state for rescue operations. A total of 61 IAF choppers and transport aircraft undertook 354 sorties non-stop overnight to carry men and relief material to submerged parts of the Valley, said the defence spokesman.
Authorities were also trying to fix the telecommunication links snapped since Sunday afternoon on a war-footing and hope to restore it in a phased manner.
Road connectivity to the flood-hit Valley has been restored from the Leh side.
Four bodies, including that of a girl, were recovered from Manjankote and Kandi Budhal areas of Rajouri on Tuesday. The body of a police constable, who was swept away in the Chenab, was also found in the Arnas area of Reasi district, said an official.
The defence spokesman said 7,200 blankets and 210 tents have been distributed among flood -affected people along with 42,000 litres of water, 600 kg of biscuits, 7 tonnes of baby food and 1,000 food packets. Additional water bottles are being airlifted from Delhi and Chandigarh, he said.
To provide speedy medical aid to the flood victims, 80 teams of the Armed Forces Medical Services, too, have also swung into action.
Goswami said rescue teams were focusing on Srinagar and the south Kashmir belt. "The rescue efforts have picked up pace in Srinagar with induction of more boats and increased operations by helicopters. Since this morning, 4,923 people were evacuated," he said.
In Srinagar alone, 4,000 persons were evacuated. They include the Ambassador of Nepal and a 28-member Pakistani golf team. Most patients have been moved out from the GB Pant Hospital.
As many as 263 persons rescued from Indranagar, Shivpora, Jawahar Nagar and Rajbagh have been airlifted to Jammu today. At least 135 Army boats and 148 inflatable boats of the NDRF were actively involved in the rescue operation.
There are 67 boats with rescue teams operating in Shivpora, Batwara and Indranagar whereas the localities of Rajbagh, Jawahar Nagar and Gorji Bagh are being covered through operations launched from the airport end of the city.

More than 47,000 people have been rescued by security forces so far. The Army has deployed 20,000 soldiers, 65 medical and 15 special teams of engineers in the state. A 700-strong NDRF team is also on the ground


The Air Force has deployed 61 helicopters and aircraft. The Marine Commandos (Marcos) have been deployed to bring people to safer places. 150 tonnes of ration has been moved to the affected areas


Hundreds of vehicles and more than 3,000 people are still stranded in Banihal, Qazigund, Ramban, Chanderkot, Batote, Kud, Udhampur, Dhar Road and Nagrota bypass in Jammu