Hefty fee keeps MBBS mgmt seats vacant
Faridkot, September 9
Though eligible, over 250 medical students from Punjab have not been to opt for the 41 MBBS seats vacant this year. The reason: These seats fall in management category and the tuition fee for the five-year course stands quite high at Rs 40 lakh.
Peddler's kin accuse cop of seeking Rs 20 lakh bribe
Patiala, September 9
The role of a Patiala police team is under the scanner after its officers, led by a Sub-Inspector, allegedly picked up a youth from his house in Shahbad (Haryana) and later claimed he was arrested near Ghanaur. The police claimed to have seized smack and psychotropic tablets from him. Surjit Singh, the accused's father, has approached the Punjab and Haryana High Court. Surjit alleged that Sub-Inspector Karnail Singh demanded a bribe of Rs 20 lakh. He owns a petrol pump in Shahbad.
Pathankot medical students seek migration, hold protest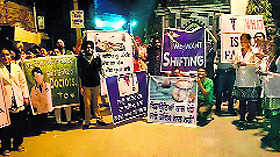 Faridkot, September 9
Over 100 students of Chintpurni Medical College (CMC), Pathankot, today staged a dharna in front of Baba Farid University of Health Sciences (BFUHS) in Faridkot. They demanded they be shifted to other medical colleges as the college they were enrolled in had poor infrastructure. They held a candlelight protest march.

Students of Chintpurni Medical College, Pathankot, hold a candlelight march in Faridkot on Tuesday. A Tribune Photograph
Sukhbir sets up Solid Waste Mgmt Authority
Chandigarh, September 9
Deputy Chief Minister Sukhbir Singh Badal today formed a Solid Waste Management Authority to administer the functioning of all proposed eight solid waste management clusters in the state. He has also fixed deadline of December 2015 for the completion of this unique statewide project.
Rs 60 lakh spent on Sangat Darshans in 7 years in Muktsar district: RTI
Muktsar, September 9
The state government has spent about Rs 60 lakh on tents and seating arrangement at Chief Minister Parkash Singh Badal's Sangat Darshan programmes in his home district Muktsar in the past seven years.
5 more Cong MLAs ready to join SAD, says Sukhbir
Chandigarh, September 9
The Shiromani Akali Dal (SAD) today claimed that the INLD-SAD alliance would form the next government in Haryana and that the SAD's fight was with the Congress and not the BJP.
BJP leaders want more seats for municipal poll
Chandigarh, September 9
No longer willing to play second fiddle to the Shiromani Akali Dal (SAD), district BJP leaders today sought more seats for the forthcoming municipal elections. Some leaders favoured severing ties with the SAD if it continued to be denied due importance. They were here for a two-day party meeting.
At Chhapar Mela, Badal all praise for Jaitley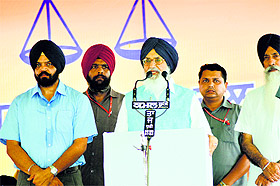 Chhapar (Ludhiana), September 9
Chief Minister Parkash Singh Badal here today claimed Union Finance Minister Arun Jaitley was trying to ensure overall development and prosperity of the states, without any bias or prejudice, to make the nation strong.





Chief Minister Parkash Singh Badal at Chhapar Mela in Ludhiana on Tuesday. Photo: inderjeet verma

Cong says Centre has begun pinning down Badals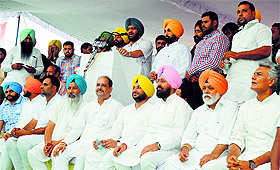 Mandi Ahmedgarh, September 9
The Congress has accused the Akali Dal of compromising on the interests of the state for meagre political and personal gains. "But the people will not let Akalis grab power in the 2017 Assembly elections," said PPCC chief Partap Singh Bajwa while addressing a gathering at Mela Chhapar near here.


Congress leader Jassi Khangura speaks at Chhapar Mela. Also seen in the picture are MP Ravneet Singh Bittu, PPCC chief Partap Singh Bajwa and CLP leader Sunil Jakhar. Tribune photo

Will rationalise property tax, says SAD-BJP panel
Chandigarh, September 9
The issues that the joint coordination committee of Shiromani Akali Dal (SAD) and the BJP wants to address and resolve on a priority basis is the rationalisation of property tax and regularisation charges for illegal colonies. It also wants to ensure that the common man gets access to sand and gravel.
3 days on, 46 Muktsar villages still flooded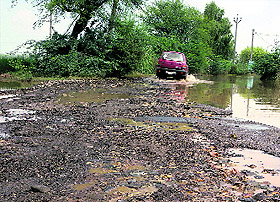 Muktsar, September 9
Three days on, the rainwater is yet to be drained out from a number of Muktsar villages. Nearly 60,000 acres of agricultural land in 46 villages is under water. With several drains overflowing, the situation can turn serious if there is more rain. Roads, especially the Muktsar-Panniwala stretch, have been damaged. Link roads in Gidderbaha and Muktsar subdivision have been washed away.

A damaged road at Chak Duhewala village in Muktsar.
row over rainwater diversion
200 protesters booked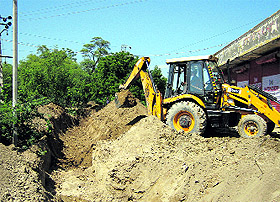 Abohar, September 9
To crush dissent over the diversion of rainwater from a dozen villages, including that of Health Minister Surjit Jyani, the police today booked 200 persons, including 25 women. A group pf protesters had turned violent last night, throwing stones at policemen and their vehicles.




A JCB machine digs a water course to divert rainwater in Abohar. Tribune Photo
Cops helped Pinki from the beginning, says victim's father
Chandigarh, September 9
Nearly three months after former "cat" commando Gurmeet Singh Pinki was "prematurely released" after serving sentence for just over seven years in a murder case, the victim's father, Amrik Singh, today accused the state of Punjab and the Punjab Police of helping the convict from the beginning.
Gandhi seeks fiscal package from Centre
Chandigarh, September 9
The Aam Aadmi Party (AAP) today said it would not remain a mute spectator to the "negative" attitude of the Modi government towards Punjab. "If need be, our party MPs will stage a dharna in front of Parliament to seek justice for the state," said Dr Dharmvira Gandhi, AAP Leader in the Lok Sabha. Dr Gandhi appealed to all MPs from Punjab, irrespective of their political affliations, to come together on one platform to press the Centre to address Punjab's fiscal concerns.
Liquor seized from BJP leader's car; driver fined
Hoshiarpur, September 9
The Sadar police station witnessed high drama on Monday night when the police seized a BJP leader's car containing seven cases of country-made liquor. When asked about it, the said BJP leader named a local BJP stalwart, saying the consignment was being carried to his home.
Dry parts to get more rain, says expert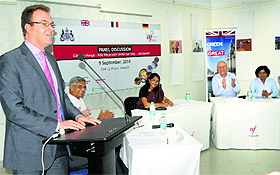 Chandigarh, September 9
Punjab and State Council for Science and Technology executive director Neelima Jairath said a major impact on climate change has been caused due to agriculture in the state. "There have been 29 deviations in precipitation in 110 years. However, there is no specific trend for it," she said during a panel discussion on climate change here.


D Lelliott, British Deputy High Commissioner in Chandigarh

NRIs sell plots gifted to poor 10 yrs ago; DC orders probe
Jalandhar, September 9
A decade after a Non-Resident Indian (NRI) couple of Mehrumpur village, Nawanshahr, gifted plots to needy villagers in the presence of then Deputy Chief Minister Rajinder Kaur Bhattal and other senior leaders, the duo have sold the them to someone else. These allegations were levelled by "beneficiaries", who have now filed a complaint with the Deputy Commissioner (DC), Nawanshahr.
Delhi nurse gangraped in Budhlada
Mansa, September 9
A nurse working at the Safdarjang Hospital in Delhi was allegedly gangraped in Budhlada. The 33-year-old victim told the police that she arrived at Budhlada on September 7 to meet Rama Kaur who had been hospitalised. She said she had met Rama in Delhi earlier.