Sleeping with history
Patrick J. Finn
Indian quilts and quiltmakers are part of a living tradition that goes back 4,000 years. Many textiles and techniques have made their way into Gujarati quiltmaking, which is firmly established in the region's culture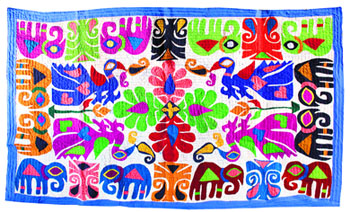 Outside the ornate Dwarakadhish temple dedicated to Krishna in Dwarka, Saurashtra, a sign overlooks the Arabian Sea and proclaims, "From this point a direct line of sight, unbroken by land, leads to the South Pole." Its location by the open sea places ancient and modern Gujarat at the heart of Indian international trade and commerce.
Dharki
From: Bet Village, Dwarka. Size: 42" x 72"
Crafted by: Bhopa Rabari Community. Description: Appliqué-on-appliqué

---
fitness
Good health
Eating healthy on a budget
Dr Naini Setalvad
Healthy eating need not have exotic and expensive foods that can mess up your budget. Many fresh and local foods can also provide several health benefits
Healthy food is the way to succeed in life. It is the sole way to improve one's performance, memory, and mood, increase immunity, prevent diseases, putting on or losing weight. The secret of so called "fountain of youth" lies in lots of healthy food. It is also a myth that healthy eating needs to have many exotic expensive foods that can mess up your budget. There are many fresh and local foods that have a large number of health benefits.
HEALTH CAPSULES
Spinach extract aids weight loss
A spinach extract containing green leaf membranes can dramatically decrease cravings for unhealthy foods and increase weight loss, says a new study. The study at Lund University, Sweden, found that the extract decreases hedonic hunger with up to 95 per cent and increases weight loss with 43 per cent.

Daily breakfast may protect kids from diabetes
---
SOCIETY
Growing up too soon
With young children behaving and dressing up as adults, the childhood is losing out
Aditi Garg
High heels — check, fishnet stockings — check, thigh high slit dress — check, chandelier earrings — check, lipstick and nail polish — check...couple it with an attitude the size of a diva and you have — not a supermodel, but a pre-teen vying to be an adult. Tune in to any channel and you have girls as young as three swaying to suggestive dance numbers in outfits that would put a cabaret queen to shame. The winner on the pedestal is actually a loser, and at stake is childhood.
Soul talk
Shy people use Facebook longer but share less
Washington: It's not the person posting back to back pictures who's the big-time Facebook user, instead it's the quiet ones who are logging in longer! Shy people spend more time on Facebook (FB) but disclose little information, says a new study by the University of Alabama. The research shows that introverts spend more time there than extroverts. "Shy and lonely people who are more lonely use FB to pass the time," Sheldon said.
---
TRAVEL
The lost city
Sujoy Dhar
The architecture of rocks and sandstone of Petra in Jordan transports visitors to ancient times. This vast city was carved into the sheer rock face by an industrious Arab tribe
A walk following the trail of dimly lit candles on either sides of a stony pathway between cliffs is a thrilling, somewhat other worldly experience, for a tourist if you visit Petra by night. It could have been an eerie, scary experience, too, but for the throngs of tourists who take the night walk to visit the ruins from antiquity. You cannot almost see each other in the darkness but the rattle of shoes of so many others walking in the same inky night is re-assuring.

Globetrotting
---
ENTERTAINMENT
Rani plays by her own rules
Nonika Singh
Each time critics want to write her epitaph, Rani Mukerji silences them with yet another mind-blowing performance. Post-Mardaani as she is reveling in the adulation, Rani shares notes on what it takes to hit the right chord in portraying complex characters