Jammu flood-hit areas allege bias in relief work
Jammu/Rajouri, September 14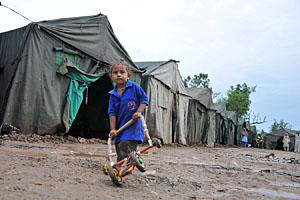 Amid rescue and relief operations in the Kashmir valley, flood victims in Jammu have accused the administration of adopting a discriminatory approach in distribution of material. Political parties have joined the victims in criticising the state government for allegedly ignoring flood-affected areas while airlifting and distributing relief in the state.

A child at a relief camp set up by the Army in Jammu. Tribune Photo: Inderjeet Singh

Displacement continues to haunt West Pakistan refugees in Jammu
Sura Chak (Tawi Island), September 14
Displacement continues to haunt octogenarian Beero Devi who, along with her family, has now taken shelter in a make-shift camp set up by the Army for flood-affected families of the "Tawi island" at Government High School, Sura Chak. It is her fifth displacement since she came to India as a refugee from Pakistan's Sialkot area in 1947.

A relief camp set up by the Army for flood-affected people in Jammu. Most of the inmates in the camp are refugees from West Pakistan. Tribune Photo: Inderjeet Singh

Vital Srinagar highway being realigned
New Delhi, September 14
Days after floods ravaged the northern state of Jammu and Kashmir, the strategically vital 293-km Jammu-Srinagar National Highway is being realigned as over 250 metres of the road is missing between Ramban and Banihal. The road is closed since September 4.
Sadhotra, Rana interact with flood-hit in Reasi, assure all help
Jammu, September 14
Minister for Planning and Development Ajay Sadhotra and National Conference provincial president for the Jammu region Devender Singh Rana today reassured the flood-hit people of all possible help, saying the government is alive to their problems and taking all measures to mitigate these.


Minister for Planning and Development Ajay Sadhotra and provincial president of the National Conference Devender Singh Rana during an aerial survey of flood and landslide-hit area of Jammu on Sunday. A Tribune photograph

Now, epidemic threat biggest worry for Srinagar
Srinagar, September 14
Eight days have passed since the floods hit most parts of the Kashmir valley and marooned it from the areas in the immediate vicinity and the world as well. Most of the property stands completely or partially damaged in the flood-ravaged areas. The biggest problem now is neither loss of property or of people who have left for good but of the threat of epidemic for it's over 12 lakh people in Srinagar.
Rural Development Ministry tells J-K to use VSAT at block level
Jammu, September 14
The Ministry of Rural Development (MoRD) has directed the state for Very Small Aperture Terminal (VSAT) connectivity at the block level for e-Governance application (NREGASoft) under the Mahatma Gandhi National Rural Employment Guarantee Act (MGNREGA).
DSGMC airlifts 25 flood victims to Delhi
New Delhi, September 14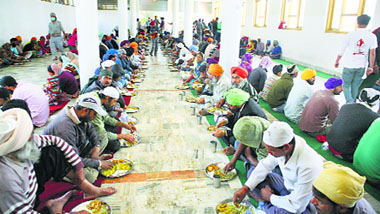 Kuldeep Kaur, who was marooned in Srinagar for the past many days, started weeping as soon as she landed and met her sister at the IGI airport here saying that the situation in flood-affected Srinagar is pathetic. "There is no help from the state government to rescue the victims," she added.

Flood victims eat at a gurdwara in Srinagar. Tribune photo: Yawar Kabli

Power dept in Jammu suffers Rs 30-crore infrastructural loss
Jammu, September 14
Unprecedented floods and landslides have caused extensive infrastructural loss to the debt-ridden Power Development Department (PDD) across Jammu province. The department has pegged the preliminary losses at Rs 30 crore. The losses may further go up as several teams of the department are still assessing the damages and have not visited some inaccessible areas of the region.
HC Chief Justice reaches out to flood victims in Jammu
Jammu, September 14
Chief Justice of the Jammu and Kashmir High Court MM Kumar today visited the relief camps for flood-affected people at Yatri Bhawan, Bhagwati Nagar and Khatika Talab in Jammu to take stock of the facilities being provided to them by the district administration.



Nowhere to go: Victims row their makeshift boat in a flooded area in Wazir Bagh of Srinagar on Sunday. Tribune photo: Yawar Kabli

Report back on duty, Chief Secy tells staff
Jammu, September 14
With a number of Jammu-based government employees posted in Kashmir still untraceable, the Chief Secretary on Sunday issued a directive to all employees to report on duty. The Chief Secretary's message to employees caused confusion because families of a large number of employees were yet to establish communication with them.
Flood-hit illegal colonies being rebuilt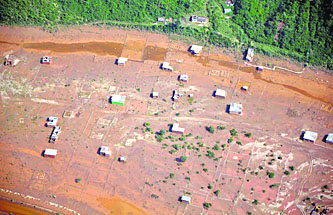 Jammu, September 14
The devastation by floods has been massive, leaving hundreds of houses damaged in Jammu city, but rather than taking steps to shift people and discourage construction again on the banks of the Tawi river, the government has started reconstructing infrastructure in illegal colonies.

Illegally constructed houses on the banks of the Tawi submerged in floodwaters in Jammu. Tribune Photo: Inderjeet Singh

Navodaya Vidyalayas told to meet student registration target for test
Jammu, September 14
The Navodaya Vidyalaya Samiti (NVS) on the directions of the Union Ministry of Human Resource and Development (MHRD) has directed the regional office and Principals of all Jawahar Navodaya Vidyalayas (JNVs) to increase the registration of students for JNV Selection Test (JNVST) for admission to Class VI for the 2015-16 academic session.
Bank spreads awareness on schemes for rural masses
Jammu, September 13
Jammu and Kashmir Grameen Bank organised an awareness-cum-financial literacy camp at Sorore village (Bishnah tehsil) in Jammu district. The camp was aimed at uplifting the rural masses and briefing them about Prime Minister's Jan Dhan Yojana (PMJDY).
Ex-MP calls for attention to Rajouri, Poonch dists
Jammu September 14
Former Member Parliament (MP) Madan Lal Sharma today said Rajouri and Poonch were "doubly" affected by the natural calamity due to floods and landslides and so, needed more attention of the Central and state governments.
Tributes paid to Kashmiri Pandits killed by militants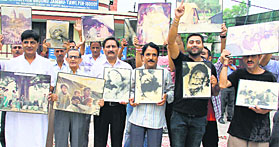 Jammu, September 14
The Joint Forum of KP Organisations observed the Kashmiri Pandit Balidan Divas. A joint protest was observed to mark the 25th death anniversary of prominent Pandit and BJP leader Tikalal Taploo, who was gunned down by militants in 1989.

Kashmiri Pandits protest to mark 25 years of their migration to Jammu, on Sunday. Tribune Photo: Inderjeet Singh

Hindi Pakhwada begins at Powergrid
Jammu, September 14
The General Manager (Leh Projects), NRTS-II, SD Joshi, has inaugurated Hindi Pakhwada at the Jammu regional headquarters of the Powergrid. Speaking on the occasion, Joshi highlighted the efforts of the Powergrid in the usage of Hindi and appreciated its employees for earning recognition from various official agencies for exemplary work in the usage of the language.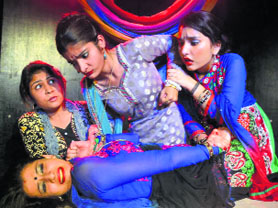 DRAMA QUEENS: A scene from the play 'Rehearsal', directed by Neeraj Kant, being presented at Natrang Theatre in Jammu on Sunday. A Tribune Photograph

250 patients examined at medical camp in Simbal
Jammu September 14
A medical camp for the diagnosis and management of cardiovascular diseases was organised at Simbal Camp. More than 250 patients were examined and given medicines at the camp. This camp was organised with the help of the Shiromani Gurdwara Parbandhak Committee. It was organised under the supervision of Dr Sushil K Sharma, Head of Department of Cardiology, Government Medical College (GMC), Jammu, along with a team doctors. "There has been a tremendous increase in the number of cardiovascular diseases among people of this region," said Dr Sushil Sharma. He said the aim of the camp was not only to examine and diagnose patients of cardiovascular diseases but also to create awareness about their causes such as hypertension diabetes, hyperlipidaemia, obesity, stress and sedentary lifestyle. — TNS
Schools not hit by floods to reopen tomorrow
Srinagar, September 14
The government has passed directions to the Valley schools which do not come in the submerged areas to reopen on September 16. Minister of State for Irrigation and Flood Control Nazir Ahmad Gurezi said the schools that were submerged would continue to remain shut till further orders. Even as the state administration has drawn flak from the public for not coming to their rescue after being hit by the floods, the Chief Secretary has issued directions to all government employees to report to their duty to mitigate the problems in the time of crisis. The government has also warned of action under rules against the absent employees. — TNS
Social activist seeks speeding up of relief work at Kalakote
Jammu, September 14
A social and political activist, Abdul Gani Kohli, today visited several flood and landslide-affected areas of Kalakote and took stock of the situation in the area where the administration and the Army are trying to provide relief material to people. He has urged the administration to speed up the relief work, especially the provision of food grains and tents, in the area. Kohli visited Dalogra, Androla, Poth and surrounding villages on Sunday. "Hundreds of people have been displaced due to the recent rainfall. The administration has to speed up the relief process," Kohli said. — TNS