GB Pant Hospital starts partial operations, opens OPD
Srinagar, September 22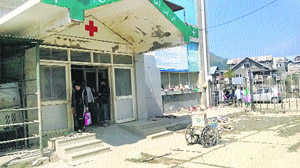 GB Pant Hospital, the only children's hospital in the Valley, has started partial operations by opening the out-patient department (OPD). It will take at least another fortnight before it can be made fully functional. The hospital remained inundated for over a week and shut for two weeks. The water damaged hospital infrastructure, machines and equipment.

The GB Pant Hospital in Srinagar was made partially operational on Monday. A Tribune photo

Doctors go for 'op clean' in medical college
Srinagar, September 22
Doctors and students of Kashmir's oldest and largest medical institution have decided to pitch in with clearing the litter and mud water from their prestigious college. Government Medical College is located in the posh Karan Nagar area of central Srinagar, which was one of the worst hit areas in the recent floods.

Police assist hospital admn in cleaning
Srinagar, September 22
The police pressed its personnel into service to assist the hospital administration for cleaning city hospitals in the city. In order to make the city hospitals functional, the Srinagar Police deputed scores of jawans for assisting the hospital administration at SMHS Hospital in cleaning the premises.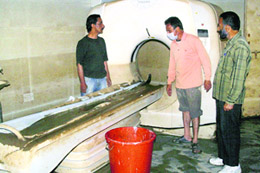 Minister reviews pace of reopening of hospitals
Srinagar, September 22
Immunisation has picked up in Srinagar and other flood-hit areas even as Shri Maharaja Hari Singh (SMHS) Hospital, GB Pant Hospital and other city hospitals are expected to start their OPDs today after these were badly hit by waterlogging.

Doctors check a damaged CT scan machine inside the flood-hit Shri Maharaja Hari Singh Hospital in Srinagar on Monday. PTI

'Team Jammu' reaches out to Saddal village survivors
Panchari (Udhampur), September 22
Members of the "Team Jammu", a group of intellectuals, technocrats, medicos and writers, today reached out to inhabitants of ill-fated Saddal village, the worst-affected in the recent catastrophe, and distributed relief material to express solidarity with them in this hour of crisis.
JKCA members resent BCCI decision of shifting matches to Mohali
Jammu, September 22

Members of the working committee of the J&K Cricket Association (JKCA), former cricketers, coaches, parents/players have expressed resentment over the decision of the Board of Control for Cricket in India (BCCI) to shift the national-level matches scheduled to be held in J&K to Mohali in Punjab.

The J&K Cricket Association office at the GGM Science College hostel ground in Jammu. Tribune photo: Inderjeet Singh

Post floods, Indo-Pak meet on LoC to chalk out return of stranded nationals
Jammu, September 22
India and Pakistan will hold a special meeting on September 24 on the Line of Control near the Kaman post to facilitate the return of nearly 60 residents of Pakistan-occupied Jammu and Kashmir as well as those stranded in PoJK.
BSNL fails to find reason for snag in mobile network
Jammu, September 22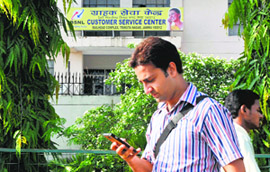 Bharat Sanchar Nigam Limited fails to find out the reason for the technical snag, which had interrupted the mobile services in Jammu for more than 10 hours on Sunday. Due to poor maintenance of the technical infrastructure of the BSNL, the mobile services of the BSNL remained hit for more than 10 hours on Sunday, which was later restored at around 9 pm, but subscribers still complained of bad connectivity in the network today.

Poor maintenance of infrastructure by the BSNL leads to technical snags in mobile towers in Jammu. Tribune photo: Inderjeet Singh

Hit by calamity twice, family thankful for no loss of life
Srinagar, September 22
For the Gadda family living in an interior area of the city, the floods that wreaked havoc in Jammu and Kashmir were a grim reminder of the tragedy that had befallen them earlier this year when the Valley witnessed heavy snowfall. The family deals in carpets and other furnishing items at its showroom and warehouse in Batamaloo area of the summer capital Srinagar.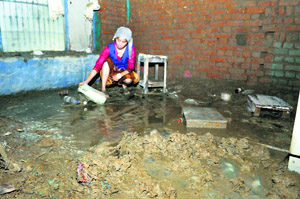 A woman cleans her house post floods on the outskirts of Srinagar on Monday. Tribune photo: Amin war

JK High Court issues notices to insurance companies
Srinagar, September 22
Acting on a PIL filed by the Kashmir Chamber of Commerce and Industry (KCCI), the Jammu and Kashmir High Court today issued notices to all major insurance companies operating in the state to file their objections to the petition. In the PIL, it has been alleged that the insurance companies operating in Kashmir are adopting a "casual approach" in the assessment of losses and settlement of claims.
Gadkari meets Guv, promises all help for J-K
Srinagar, September 22
Union Minister for Surface Transport, Highways and Roads, Nitin Gadkari, accompanied by MOS, Prime Minister's Office, Dr Jitendra Singh, met Governor NN Vohra here at Raj Bhawan today. Gadkari and the Governor discussed issues relating to the aftermath of the devastation caused by the floods, particularly the damage caused to the road network and washing away of several important bridges.
German Embassy to hold charity concert
New Delhi, September 22
The German Embassy has decided to organise the charity concert 'Ehsaas-e-Kashmir' at Ambassador Michael Steiner' residence to raise funds for the flood-ravaged state. Acclaimed music maestros Bhajan Sopori and Abhay Sopori will perform sublime Kashmiri music at the concert. The concert will aim to show solidarity with and mobilise support for Kashmiris in need.
Omar inspects dewatering operations
Srinagar, September 22
Chief Minister Omar Abdullah visited the civil secretariat, Assembly complex and the High Court here today and ascertained the latest situation of dewatering of these complexes. He directed the departments concerned to
further intensify the efforts so that normal functioning of these institutions takes place soon. The Chief Minister along with various ministers and senior officers reviewed the process of relief and rehabilitation work in a meeting, he chaired in the civil secretariat. He directed the officials concerned to gear up the men and the machinery at all levels to reach out to the affected people in all flood-hit areas. He said more attention should be paid for dewatering of waterlogged areas, particularly Srinagar city. TNS

Chief Minister Omar Abdullah visits the civil secretariat and the Assembly complex to review the situation in Srinagar on Monday. A Tribune Photograph

Army veterans hold rally in Kishtwar
Doda, September 22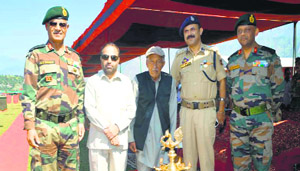 A veterans rally was organised at ALG Complex in Kishtwar, today under the Delta Force. The General Officer Commanding, Delta Force, speaking on the occasion, expressed his solidarity for flood victims of the state and reiterated that the Indian Army is always the first responder and had launched "Operation Megh Rahat" for providing relief to the needy.

Army veterans attend a rally at the ALG Complex in Kishtwar on Monday. A Tribune photograph

Installation of gamma ray telescope begins in Ladakh
Jammu, September 22
Work on installation of the giant Major Atmospheric Cherenkov Experiment (MACE) gamma ray telescope, also called India's eye into universe, has started at Hanle in the Ladakh region.
2 peddlers held with drugs
Jammu, September 22
The Jammu police have constituted a Special Task Force (STF) to put an end to drug menace in the city. In its first action, the STF apprehended two drug peddlers with a huge quantity of drugs.

Police officials show the seized intoxicants from two drug peddlers at the Gandhi Nagar police station in Jammu on Monday. Tribune photo: Inderjeet Singh
Classical instrument contest organised at Jammu varsity
Jammu, September 22
Under the ongoing "Display Your Talent" event, the Department of Students Welfare organised a classical instrument competition at Brig Rajinder Singh Auditorium. The performance of Mithlesh Wanchoo from the Acharya Shri Chander College of Medical Sciences (ASCOMS) and Hospital on violin got him the first prize and performance of Amit Anand from the Institute of Music and Fine Arts, Jammu, on tabla, enabled him to get the second prize.
J&K Bank opens ATM in Kulgam
Srinagar, September 22
J&K Bank network of automated teller machines (ATMs) expanded to 851 when it threw open an ATM for public in Kulgam district at DK Marg today. The machine was inaugurated by cluster head Malik Shabir Ahmad at a function. Out of 491 ATMs in the Kashmir region, 13 such machines are now in Kulgam district. Almost 750 transactions took place through these machines in the district and card holders almost withdrew Rs 25 lakh today.
Governor lauds devotion of Raj Bhawan staff
Srinagar, September 22
Ever since September 8, after Srinagar and large parts of the Valley were flooded, the Governor has been personally reviewing the staff attendance every day, to know whether any staff member, or their families, needed to be rescued or provided any other kind of help.
State seeks liberal allocation of annual plan funds
Jammu, September 22
With Jammu and Kashmir battling its worst ever natural calamity in a century, Omar Abdullah government is seeking relaxation in norms for utilisation of annual plan funds and want liberal allocation for reconstruction of the state.
Sectt staff donate a day's salary to CM relief fund
Srinagar, September 22
The employees of the Assembly Secretariat have donated a day's salary towards the Chief Minister's Relief Fund for the relief and rehabilitation of the victims of the recent floods in the Kashmir valley. The decision to this effect was taken by Speaker of the Legislative Assembly Mubarak Gul in a meeting of officers of the Assembly Secretariat today. The meeting expressed solidarity with all those people who were hit by this unprecedented disaster. TNS
GDC-Ramnagar beat Bishnah college in volleyball match
Jammu, September 22
Government Degree College (GDC), Ramnagar, defeated GDC, Bishnah, by 2-0 sets in the ongoing Inter-Collegiate Volleyball (men) Championship today. In another match, GDC, Samba, beat GDC, Doda, by the same margin. The SPMR College of Commerce lost to GDC, Akhnoor, by 1-2 sets in a close contest. The matches were officiated by Roshan Sharma, Amit Sharma, Sangita Bhatt, Suman Lata, Priya Charak and Prabhleen Kour. All the matches were conducted under the supervision of Prof Dhian Singh Bhau, Director, Directorate of Sports and Physical Education, University of Jammu. Meanwhile, the Inter-Collegiate Basketball (women) Championship 2014-15 also commenced today at MA Stadium. Seven teams of different colleges are participating. TNS
NPSU burns effigy of Billawal Bhutto
Jammu, September 22
Activists of the National Panthers Student Union (NPSU) today held a demonstration at the University of Jammu (JU) and burnt an effigy of Pakistan People Party (PPP) leader Billawal Bhutto protesting against his statement over Kashmir during a rally in Pakistan. Led by union president, Thakur Virender Singh students raised anti-Pakistan slogans and said the people of Jammu and Kashmir are against any interference in the internal affairs of India. Speaking on the occasion, Virender Singh criticised Bhutto for his highly inflammatory comments and said Kashmir is an integral part of India and will always remain so. He said J&K is the crown of India and no power on earth can take it away. TNS
Army officer found dead in Akhnoor
Jammu, September 22
An Army officer was found dead in his room in the Pallanwala area of Akhnoor subdivision of Jammu today. He was a resident of Delhi. "Major Raman Baghla, who was officiating Commandant, ADS, 410 Field Hospital, was found dead in his room in the Pallanwala area this morning," said a defence spokesperson. A court of inquiry has been initiated, the spokesperson said. The Akhnoor police, which has initiated inquest proceedings under Section 174 of the CrPC, are also probing whether the officer committed suicide. TNS
Students block road, demand bus service
Samba, September 22
Hundreds of college and school students from Khada Madana and Purmandal villages disrupted traffic near Khada Madana on the Purmandal road this morning in protest against the non-availability of transport to their villages. Students said permit-holder private transporters had been assigned the routes via the villages but they preferred to ply on more profitable roads. They said they had complained to the authorities many a time, but no action had been taken. After nearly an hour, senior police officers from Badi Brahmana reached the spot and assured the students that action would be taken against the erring bus operators and transport services would be restored to the villages soon. Following the assurance by the police officers, the protesting students dispersed. — OC
State portal launched
Jammu, September 22
Minister of State for Information Technology Feroze Khan launched the state portal at the civil secretariat here today. The portal will provide people a single-window "anytime anywhere" access to the information and services of various departments of the Jammu and Kashmir Government at all levels of governance. The portal will provide comprehensive, accurate and reliable information about the state and its various facets. — TNS
Carmel Convent School celebrates Peace Day
Jammu, September 22
Carmel Convent High School, Kunjwani, today celebrated International Peace Day on the school premises. The function was coordinated by Peace Club members of the school, Kunjwani, and animated by Mamta Jamwal, Peace Club coordinator. After a prayer, a dance performance on "Jyot se jyot jalate chalo, prem ki Ganga bahatey chalo" mesmerised the audience. Aradhita Manhas shared her thoughts on peace. The Principal of the school, Kunjwani, Sister Maria Suzette, lauded the efforts of the Peace Club members. — TNS
IKST to send relief for flood victims
Jammu, September 22
The IFFCO Kisan Sewa Trust (IKST) will send relief material to flood-affected people in Jammu and Kashmir. The flood relief material of 26.5 kg per family for 1,800 families worth Rs 20 lakh is being despatched in the affected areas. Six vehicles, containing flood relief material, will be flagged off by Minister for Housing and Horticulture Raman Bhalla. The material was handed over by Shakti Singh, state Marketing Manager, IFFCO, J&K. — TNS
DC suspends three AEEs
Budgam, September 22
Deputy Commissioner, Budgam, Manzoor Ahmed Lone today suspended three Assistant Executive Engineers (AEE), Vijay Kumar Koul (Khan Sahib division), Satish Kumar Koul (Chadore division) and Mushtaq Ahmed Saleh (Beerwah division) with immediate effect. The officers will remain attached with the office of the Superintending Engineer, Hydraulical circle, Budgam, till further orders. — TNS
Haj pilgrims' Sept 24 flight postponed
Srinagar, September 22
The pilgrims who were to proceed for the Haj on September 24 on the second flight will now proceed on September 27. This was communicated by the Haj Committee of India. All these pilgrims are requested to report at the Srinagar airport at 7am on September 27. This was conveyed by the Chief Executive Officer, State Haj Committee, Fayaz Ahmad Lone. TNS