Seema Antil Punia (discus throw) and Mary Kom (boxing) are both 31. Yogeshwar Dutt (wrestling) would be 32 next month. The youngest of the four individual gold medallists is the shooter Jitu Rai, who is 27.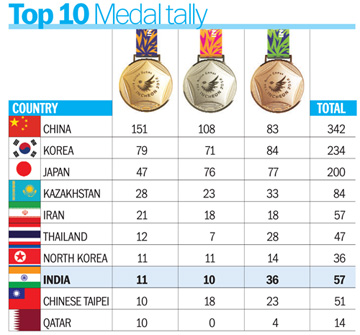 The first three of them would be the first to admit that the road ahead is much shorter than the road they've already travelled.
India's other gold medals, all in team events, came from the men's compound archery, women's 4x400m relay, men's hockey, men's and women's kabaddi, men's squash, and mixed doubles in tennis.
Terry Walsh, the men's hockey team coach, is concerned that the same old players have been part of the team, or at the edge of selection, for a very long period of time. He says that the talent pool is not big or deep enough, and that the juniors who're coming up to the senior level have got their basics wrong. "We started with a team that didn't move in harmony, but now we've got a pretty controlled group of players who can play at the very highest level," he said last week. "It's progress, but the fact is that we need at least five-six players to step up and challenge the players who've been in the team for a long time."
This problem, of the lack of replacements, ails other sports, too.
Squash was a huge success for India, with one gold, two silver and one bronze. At 28, Saurav Ghosal is a veteran, and had participated in two Asian Games before here. Joshana Chinappa is 28, and Dipika Pallikal is 23; not exactly over the hill, but the expert opinion is that their dominance is based on their skills, yes, but also because young talent does not challenge them enough.
The 4x400 metres relay women have been around for a long time — Priyanka Panwar is 26, Tintu Luka is 25, Mandeep Kaur is 26, and MR Poovamma 24. Again, they may not seem very old, but in sporting terms, they're not really young. They've been around for a bit – Mandeep participated in the 2007 World Championships, for instance, and Tintu Luka was in the team in the 2010 Guangzhou Asiad. The bench strength isn't good, younger athletes aren't challenging for position in the squad. It would be very difficult for them to improve their timings from here on — they've probably peaked.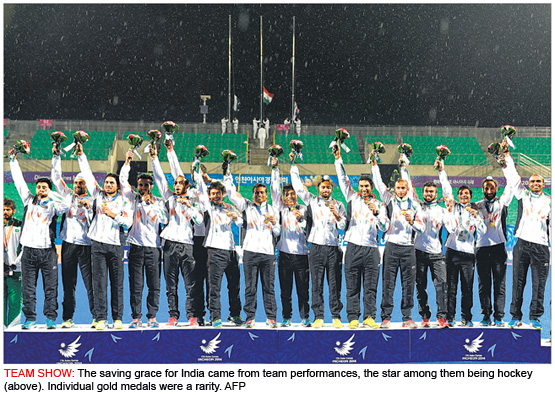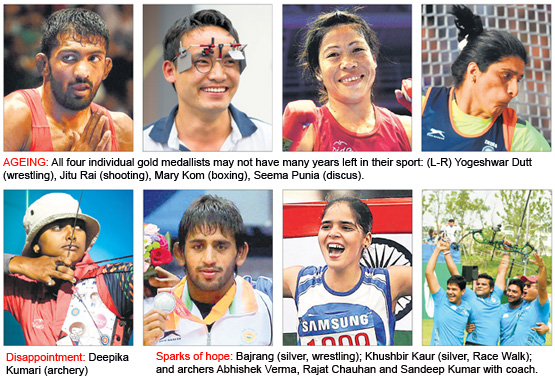 Official non-support?
From December 2012 to February 2014, the Indian Olympic Association (IOA) had been suspended by the International Olympic Committee (IOC) for violating the Olympic Charter and allowing tainted officials to contest and win its elections.
The IOC had kicked the IOA out when Lalit Bhanot, tainted by corruption, was elected the IOA secretary general. The IOC insisted that persons against whom criminal charges had been framed in a court of law must not be allowed to hold office in the IOA. The IOA officials insisted that Indian law did not disbar officials until they were convicted in a court and given a jail term of over two years.
This caused great harm to Indian sport, for in the quest for power, the athletes were left out in the cold.
Much energy was also spent by the Sports Ministry to force/convince the sports association in the country to adopt its Sports Code.
Where do we stand?

In the 1951 Asian Games, India were second on the medals tally with 15 gold, and a total of 51 medals. In the 1982 New Delhi Asiad, India were 5th with 13 gold, and a total of 57 medals.



The 2010 Asian Games in Guangzhou are counted as a relative high for Indian sport — India won 14 gold medals, for a total of 65.



Numbers, again, don't lie — deeper scrutiny shows that India's figures have become very puny since 1951. In 1951, a total of 169 medals (57 gold, 57 silver and 55 bronze) were awarded. India's share thus was 30.17 per cent of the total medals available, including 26.31 per cent of gold, 28.07 per cent of silver, and 36.36 per cent of bronze.



In Guangzhou four years ago, India finished fifth, but they won only 2.9 per cent of gold medals (14 out of 476 available). That's massive underperformance. In Incheon, India have won 2.5 per cent of the gold medals up for grabs — 11 out of 439.



Clearly, India's decline has been steep and precipitous over the years, even as China has become a superpower; and the nations that have emerged from the old Soviet Union have become sporting powers of Asia, most prominent of which is Kazakhstan.
Sports in India falls between several stools — there are too many stakeholders who are working at cross-purposes. They seek power for themselves, and they want their egos to be massaged.
In this mix, the IOA, Sports Ministry and the Sports Authority of India (SAI) are the prominent players — they've been in conflict over several issues pertaining to the organisation of sports in India, or preparation of this year's Commonwealth and Asian Games.
Let's examine just one of the problems of the women's hockey team — they were practising on a damaged Astroturf pitch in Patiala. India's High Performance Director Roelant Oltmans warned that this could affect India's preparation for the Asian Games. This led to a sparring in words among the various stakeholders of Indian sport — but no one had taken care to ensure that the facilities for India's elite players were nothing less than perfect.
Confusion existed over several issues — funding, exposure trips, and even the size of the Indian squad for Incheon. Two weeks before the Asian Games, for instance, there was confusion about who'd make it to Incheon. The IOA sent a list of 944 athletes and officials for approval to travel for the Asiad. SAI wanted to send only the medal hopefuls to Incheon, and recommended to the government that the athletes for only 26 disciplines be sent. The IOA insisted that all athletes recommended by it would be sent to South Korea — even if the national sports associations had to foot the bill.
Athletes suffered, of course – many of them didn't even know if they'd be able to participate in the Asian Games. "How could they prepare for the Asian Games if they were mentally unsure?" an athletics coach says. "Many of the athletes were completely unsure, and they were crestfallen when reports emerged that they could be dropped."
For those who did make the government's pruned list, the trip to Incheon was not full of comforts. Many of the shooters arrived in Incheon just the night before they were to compete for a gold medal because they were forced to apply for a visa in New Delhi. Only seven of the 43 shooters of the Indian team had their Asian Games accreditation cards available to them before landing in Incheon. The accreditation cards are visa-waivers for athletes; and because they didn't have the cards, 36 shooters had to apply for their visas in the South Korean embassy in New Delhi.
The details were never really clarified, but either the cards weren't ready because the details of the shooters had not been sent to the organisers; or the cards had been prepared, but they had not reached the shooters.
"This was quite ridiculous," said one of the affected shooters. "And they could have booked us on better flights — there are direct flights from New Delhi to Incheon, but we were not put on direct flights and were exhausted in long transit stops."
Letdowns
India hoped much from many of those who made to Incheon — many of them served India nothing but disappointment.
Deepika Kumari is 20 and some great days could still be ahead of her, but the Asian Games, yet again, turned out to be a huge disappointment for her. She was a huge hopeful for India at the 2012 London Olympics – she lost in the first round, to Amy Oliver of Great Britain.
Deepika could not make it to even the quarterfinals here, losing her pre-quarters elimination match to Indonesia's Diananda Choirunisa 0-6. Her Asian Games jinx/non-performance continues.
The shooters disappointed, too — only one gold medal from a team of 43, many of whom are former world champions or world No. 1 in their event.
The boxing squad picked up one gold and four bronze medals — with a bit of luck and more fair/honest scoring, it could well have been three gold. This is a good achievement, because the Indian boxers had been underprepared, ignorant of the boxers from other nations – the boxing association had been banned due to the election malpractices of its association.
Hope floats
The older order isn't changing, but Khushbir Kaur, a 21-year-old from Rusulpur Kalan village in Amritsar, was one of the young stars for India.
Khushbir won the silver medal in the 20km Race Walk event, setting a new national record. Khushbir's time of 1 hour, 33.07 minutes was an improvement on her own national record, 1:33:37.
Bajrang, the 20-year-old freestyle wrestler, is another rare young Indian who rocked Incheon – he tested Iran's most excellent Masoud Esmaeilpoorjouybari in the final of the men's 61kg event. With 40 seconds to go, the scores were tied, and Bajrang lost only in the dying seconds of the bout. Bajrang's performance was terrific, because Esmaeilpoorjouybari had been crushed badly by the Indian in their previous bouts.
The men's compound team of Abhishek Verma, Sandeep Kumar and Rajat Chauhan won a very creditable gold, too; though it's not an Olympic event, and the Koreans, the best archers in the world, don't focus much on this event.
Playing to get a job
The New Delhi Commonwealth Games – whose motto was 'Come out and Play' – were supposed to herald an era of sporting ascendancy in India. That still might happen, for the kids and the teens who may have been inspired to take up sport due to the 2010 CWG may still be very young. But the big problem in Indian sport is systemic – just as the academic life is important mainly to get jobs to improve one's life, people become sportspersons mainly to improve their economic condition.
"We need to inculcate a culture in which sports are encouraged," says Maneesh Bahuguna, Anglian Medal Hunt, which helps young players train. "Currently we do sports in India to ensure vocation, unlike Europe or North America, where they do it for the love of sport."
Bahuguna says that once the athletes achieve a vocation, get a comfortable job after reaching a certain standard of sporting achievement, they become contended. "They think 'I win a medal at the Asian Games, I'd get a job in ONGC or the Railways'. That's one of the challenges we're facing — how to keep the athletes motivated."
Motivation — that's the perennial problem the Indian athlete faces, in the face of problem of resources, apathy of the officials, systemic problems. Sport needs young men and women, hopefully the 'Children' of New Delhi CWG will show us a better time in the future.