Happy-go-lucky

He is happy…he feels new and this has definitely been a good year for him. Stylish without a tinge of extra effort, candid without any political crutches, actor Sonu Sood is every bit the person we have known except for the number of projects that keep adding weight to his kitty. In Chandigarh, talking about the new look that Godrej Interio gave to his house, Sonu sees dreams turn to reality, in real as well as reel life.
GOOD GOING: Sonu Sood

Seeds of rebellion
Intense disposition, meaningful perspective... journalist and cinematographer by profession, Clément Montfort has already worked with channels like Arte, France 2, France 3 and France 5. In Chandigarh to screen his first documentary titled The Seeds War at Alliance Francaise, he shares notes about the film and more. Co-directed with his colleague, Stenka Quillet, The Seeds War essentially dissects the process of agricultural produce while questioning the relevance of seeds as a commodity or a vital resource to be shared for the benefit of humanity.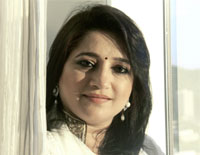 Simply Sufi
Some things are destined to be…just like Kavita Seth was destined to be a Sufi singer; only that she took a circuitous route to getting there. As the singer, made famous by Iktara (Wake Up Sid) and Tumhi ho bandhu (Cocktail), gears up for her album Trance with Khusrow's release, she is content that the years of work have paid off.

Melody maker: Kavita Seth

the 'in' side

Let's go to the movies!
If we had the space, most of us would say yes to a dedicated home theatre. The sound and picture quality can be equally impressive as that of a multiplex. And food, I guess whatever we order mum to cook! But in order to experience those perfect few hours, initial planning of the home theatre is most essential.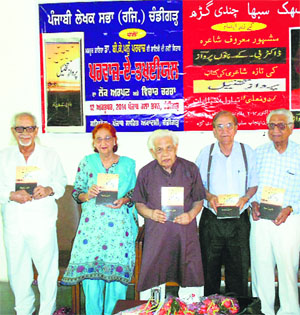 Of pain & reflection
Sometimes, creativity flourishes in adversity and lends an expression to the chaos within. Last year, Dr BK Pannu's husband, who was diagnosed with cancer, passed away; and for two months while he was shuttling between hospitals and treatments, Pannu's constant companion remained her worry, sadness and a pen, which translated her emotions into words on to a few sheets of paper. Little did she know that those couplets would form the content of her new book, Parwaz-e-Takhyan, a compilation of poems in Urdu.



Penning thoughts: Dr BK Pannu (second from left) at the launch of her book

Doc Talk


Flaunt a gorgeous back
With the festive season almost here, it is just about time to take out that gorgeous backless blouse from the closet that you had been saving for a special occasion. But before you decide to assemble your outfit, you need to ensure the 'back' that you are gearing up to flaunt, needs to look its perfect best!
Flower power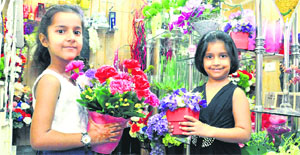 Ferns N Petals (FNP), the largest retailer of flowers in India, has further strengthened its retail presence in Punjab with the launch of its first exquisite store in Mohali. Located in Phase VII, Sector 61, the shop is just like the company's other stores across the country. The company has established a network of 190 retail stores across India keeping in mind the rising demand in tier I and tier II cities.
An inside view of the store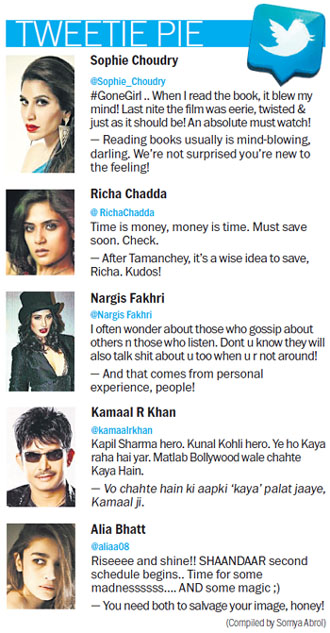 Soul satisfying
Oregano, the Italian eatery at JW Marriott, brings forth an eclectic dining experience as part of Soulful Saturdays, a new addition to the dining experience at Oregano. Soulful Saturdays is a weekly all-dayer of soul music, art, and soft rock played by renowned artistes. Discover the trattorian spirit of dining and satiate the gastronome in you with delicacies at JW Marriott's authentic Italian restaurant Oregano.
star track
Super hard, super fun...
There was great buzz in September of Lorde's new song for the latest movie in the Hunger Games series. The song titled Yellow Flicker Beat debuted on the Billboard Charts just a day back and shot straight to number 2 in a matter of few hours. The latest news however is that the talented singer and song-writer, Lorde has put together a dream team of musical artists such as Grace Jones, Duran Duran's Simon Le Bon, Diplo and Charli XCX for the film's complete soundtrack which will be released soon. Lorde's association with the movie starting back in 2013 with her cover version of the classic song Everybody Wants to Rule the World by Tears for Fears. However, the new single Yellow Flicker Beat is an original composition for which Lorde herself penned the lyrics.



Pitt pays tribute to Jolie through T-shirt


Look, who's back!


Kareena is a blessing in my life: Karisma Kapoor


In search of true love


Getting real
chatter box
To a dreamy beginning
Punjabi actor Navi Bhangu will be starring in Ekta Kapoor's latest show, Yeh Dil Sun Raha Hai, which starts from October 16, on Sony Pal. In a quick chat, he talks about his new show and more.



Sticking to principles


Watch and win!


Parineeti's tribute to jawans


Drawing to a close