Male exclusive spaces promote patriarchy
While sociologists attribute urban women's education to be the strongest factor behind India's growth story, the all- male spaces in rural Haryana are maintained to keep a vigil on women's confinement to hearth and home
Prem Chowdhry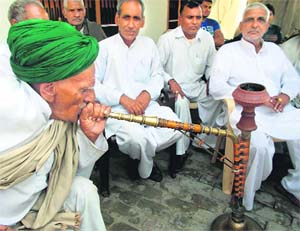 Reserved and used exclusively by men, these are the spaces where legitimacy of masculinity is cemented and displayed. tribune photo
The exclusive all-male spaces in the Haryana region are noticeably thriving. These masculine spaces where men congregate more commonly than women, provide men a distinct advantage regarding the deployment of power, which extends from home to the outside public domain encompassing the village, community and wider society.
Reserved and used almost exclusively by the male population, these are the spaces where legitimacy of masculinity is cemented and displayed. This masculinisation of space means an access to and control over resources of various kinds; material, socio-cultural, political and ideological. Exclusive male spaces connote sharpening of certain aspects of masculinities like male bonding, group solidarity, swearing, drinking, fighting and using aggressive and sexually explicit language with abundant use of female body related abuses being freely exchanged. Women are extremely vulnerable in these spaces as inviting attention, ridicule, sexual harassment and even greater violence. Indeed, all such male gatherings act as means of controlling women. The existence of 'male spaces' is a good index to the measure of strength and extent of patriarchy in a given region and society.
Identity assertion
Spatially, men dominate the village which they declare to be, 'hamara gaon' (our village). In strong patrilineal societies like that of Haryana, the village and its land is taken to belong to the male descendants of ancestors who originally settled in the village. This usage effectively excludes the women of the village, whether the daughters or the daughters-in-law. Basing their claim on patrilineay men claim that it is they who are 'indigenous' to the village, i.e. born and grown up there. All women are 'outsiders': the betis (daughters), who are born there, go away from the village after their marriage making them essentially 'temporary members'; the brides who marry-in are not born in the village; they are 'outsiders' to the 'biradari' (community) or bhaichara (brotherhood) which controls the village affairs. It is significant that the village biradari or bhaichara are in essence 'male' concepts as women stand excluded from them. For cementing this male collectivity the overarching ideology of 'izzat' or 'honour' is used; fundamentally a male concept permeates every aspect of Haryanavi life and is basic to its culture. It is regulated and enforced not infrequently through the use of violence in relation to individuals or family or a group or even a community.
Gendered geography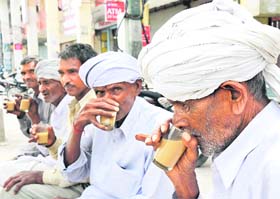 The private sphere consisting of the household is a highly gendered space. In most households of the landowning caste groups the popular ground plan has at its heart a dominant masculine space, called baithak (sitting room). Located in the frontal portion of the house, baithak is the most imposing part and extends to the street-the public space outside-linking the two spaces. Baithak is where power is wielded and it may rightly be called the nerve centre of the household where all decisions are made.
This emphasis on the acquisition of a baithak exclusive of ghar (living quarters), and the gher (place for cattle) underlines the idea of men as negotiators with the extended world and women as custodians of domestic culture within home. A man's maximum part of the day is spent here where he entertains, transacts business, does other agricultural and market related work. As this space assures the material and symbolic survival of the family it becomes the source of resources and prestige and hence superior to the domestic. Exclusion of women leads to minimizing the interaction between men and women and depriving the latter of discussing, rationalizing, questioning, partaking or influencing the decision making process of the men in any way.
This geographical segregation of sexes gets an extra edge as men are weary of staying too long in the ghar; they fear the risk of being feminized. Even the unemployed male youth, who constitute a very large proportion of men in Haryana, do not wish to spend time in the domestic sphere lest derogatory charges are levied against them which treat them as feminized.
Loafing about in the streets they act as if the street belongs to them. They can also be violent or aggressive in their use of sexually explicit language and abuses especially towards those women who may wittingly or unwittingly breach the unwritten code of space and time socially recognized and observable for them in the streets. By focusing on 'danger' of these spaces for women they not only reserve this privileged space for themselves but also emphasize women's space at home.
Chaupal is the public extension of the baithak. If baithak is the power centre of a household the chaupal is the heart of the village. Traditionally, chaupal like the baithak has been a reserved space for males. Although considered a joint property of all the villagers, women can lay no claims to its usage. Women are very rarely called or allowed in the chaupal, unless they are summoned or are a part of an official delegation or official panchayat etc.
One of the most important bastions of male space and power is the institution of traditional panchayat. In this a large collection of males come together for a certain specific purpose, to solve disputes relating to property rights or inheritance, or caste and inter-caste matters, transgressions in marriage or otherwise and other sundry disputes which threaten the peace of the village or the immediate region. On many occasions, one of the concerned parties is not even present or is too thinly represented. Women are not even allowed to enter the panchayat premises although, more often than not, the decision involves them in important ways. More recently, in view of the large scale media and civil society criticism the Khap panchayats have attempted to get some women to be a part of this all male assemblage. The co-opted women have essentially a token presence and are brought in, for all intents and purposes, to quieten the rising criticism against these traditional bodies. There is absolutely no evidence of rewriting the male-only-rule of the panchayats.
Places for pleasure
Due to the popular association of agriculture and other productive work with men and not women, who toil harder and longer, men can be seen to have ample leisure time in the rural areas. A common sight in the villages is a group of men smoking hukka while playing cards, surrounded by a couple of young boys peering over the players' heads to watch them play. Other leisure activities include sitting round the fire in winter, or drinking alcohol.
Places where alcohol is sold or where drinking takes place are exclusive male spaces. In such spaces men's community and power is displayed unabashedly. Alcohol is well known to be consumed even by school going boys, being available in small pouches or in glasses priced at Rs. 2 and 5 and sold in the vegetable and tea shops. The ever increasing numbers of sharab ke adde (liquor joints) and dhabas (local eateries), have enlarged the nuclei of male assemblage in the public spaces. The constant presence of so many men reinforces the ideology of segregation of sexes and control of female mobility.
Another pleasurable activity enjoyed by the Haryanavi males, is that of sports. Popular sports that have traditionally existed in this region are located in combat and contact games like Kushti (wrestling), boxing, kabaddi, lathi ghumana (staff-wielding) and athletics, all of which require strong physique and strength. Among these it is wrestling, considered a way of life that symbolizes masculinity at its best. By working on their bodies the wrestlers gain in status which is high in masculine barometer of physical judgment.
Importantly, the basic hegemonic ideology of sport has been defined by scholars as 'male'. It supports male dominance by naturalizing a connection between masculinity and the skills of sport: aggression, physical strength, success in competition and negation of the feminine. The history and spaces of sport even in the west have been considered predominantly male and sport ground has been identified as a 'traditional space of masculinity'.
Similarly in Haryana, although some women have made their mark in the national and international arenas leading to the developmental support of women's sports by the government, there continues to exists a lot of uneasiness and widespread condemnation, especially for wrestling and boxing for sportswomen. All the women icons from Haryana have publically bemoaned the abusive derision of themselves and their family members by fellow villagers for being trained in 'men's sport'. My field work threw up a lot of criticism about female wrestlers who are accused of 'building their muscles' by lifting weights, 'wearing kachchas' (underclothes) exposing their bodies to the public and indulging in wrestling with boys. The same opinion is held towards boxing for women. Their opinion is summed up in 'who will marry these girls?' As in the west, this negative opinion shows 'threatened masculinity' in this region as well.
Resisting change
Unwillingness on the part of men to modify their all-male spaces in villages or accommodate women for instance shows an endeavour to maintain the structures of power in changing times. They tend to view change or adaptation as a sign of weakness. These exclusive masculine spaces are maintained to exercise most cogent control on those who are left out of these spaces, women particularly, and curb their democratic and human rights.
What can be done to change the exclusivity of such spaces? The answers are difficult. Masculine spaces are reflective of the society that produces them culturally and then sanctifies them. As symbols of that society can they change without society being changed? Can we hope to change society by changing the symbols of that society? On the other hand if women do not even have access to these symbolic spaces how do we expect changes in the social structures and conditions? It cannot also be denied that as power relates to control of both symbolic as well as material goods, they are strongly interlinked. A change in the exclusive nature of these spaces has the possibility of encouraging a change in the desired direction and be potentially gender-transformatory. An attack on the culture of all-male exclusive spaces which seeks to normalize asymmetries as natural and inevitable would be an attack on all-male power and patriarchy itself.
The writer has authored several books on gender issues including The Veiled Women: Shifting Gender Equations in Rural Haryana and Gender Discrimination and Land Ownership.
Entering the all-male clubs
According to home ministry statistics, out of 15,85,117 personnel working in state police forces, only 84,479 or just 5.33 per cent are women.
In Haryana, the percentage of women police personnel at present is 6.5 per cent.
Presently, the Indian Army counts 2.44 percent women in its ranks, the Indian Navy 3.0 percent and the Indian Air Force 6.7 percent.
The tenure of women SSC officers is now increased to 14 years.
Women constitute 48.5 per cent of the general population of India.
36 percent of women in urban India are either working or attending school contributing to the high growth rate.