Whatever happens in the coming days – and the predictions are dire – Hong Kong will never be the same after an amazing week. More than a week ago, a barrage of tear gas exploding around a modest student demonstration catapulted Hong Kong into a new place.
It's an ideal world that has no business existing in the heart of a place as hard-headed and money-minded as this. A multi-lane city-centre highway became a people's park, a flyover ramp became the site of gentle family strolls. Teenagers line this impromptu park with shops that offer cold drinks, hot soup, towels, umbrellas and much more. They are like the million shopkeepers in the real Hong Kong outside, with the difference that no money is offered or taken.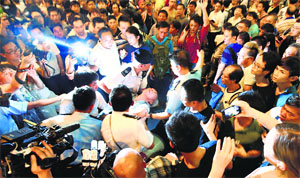 A man who collapsed during the confrontation between anti-Occupy and Pro-democracy protesters being taken away by the police. Reuters

Hundreds of thousands of Hongkongers, the majority very young, have found the courage to imagine and put into practice a way of living and sharing that has nothing in common either with Hong Kong's cut-throat capitalism nor with the crony communism rampant on the mainland.

There are no police in this world. Instead there are first-aid stations staffed by volunteers. More volunteers circulate with signs printed with the number to call if you need legal advice. There are mobile democracy classrooms. The advertising installations for fashion magazines and perfume are plastered with satirical depictions of Hong Kong's chief executive C Y Leung. The walls of the flyover ramp bear messages of support in 61 languages, including Welsh, Scots Gaelic, Quebecois French and Pashto. Five days ago these occupied streets were kept immaculately clean by volunteers. They are still immaculately clean today.

Near the back of the crowd of 5,000 listening to speeches on Sunday night was an elegant middle-aged couple, Makim, 44, and Fafa, his wife, 36. They held up pieces of paper which said simply, "Thank you." Fafa said: "We've come here every day. I own a make-up shop in Causeway Bay" – site of one of the occupation camps – "and of course it's hurt my business. But we hope they will change Hong Kong. Our bodies are weak but our faith is strong."

Anger brought this place into being, but there is no anger on display, let alone violence or looting. You sense people falling in love. At dawn on Saturday a young couple in Causeway Bay got engaged in the occupied street– the pictures were all over Facebook in no time. But this world with its clear rules – no booze, no graffiti, no mess, signs that say "Please don't waste produce and leave with your garbage" – could be living through its last hours. On Sunday powerful, realistic men were telling the inhabitants of this world, time's up. Go home, right away.

Former Chief Justice Andrew Li Kwok-nang said, "The students' ideals and aspirations for democracy have been fully understood and are respected. It is now time for them to leave the protest venue. No one would like to see the students getting hurt. I sincerely urge the students to leave immediately. Otherwise there is a danger to their safety."

Before flying to Washington for meetings with the International Monetary Fund, Financial Secretary John Tsang Chun-wah said: "The high speed of development over the past week was completely out of everybody's expectation. It's hard not to be concerned that more serious chaos could happen. This event is a grave test for all Hong Kong people. Its handling shall require everyone's wisdom and patience."

These warnings reinforced that of Mr Leung, who said that, today being a regular working day, the roads around the government offices must be cleared so civil servants can get to their desks. The air was thick with rumours that drastic action could be taken at any time. Professor Michael DeGolyer, a close observer of changing Hong Kong, told The Independent: "People are beginning to sense we are approaching an inflection point. Leung's statement that if the streets and particularly around government offices are not cleared by tomorrow morning the Hong Kong government may probably lose control of HK is very ominous: that is the condition under which central government forces may be called for assistance.

"It is a clear warning that he may already have the backing of central government authorities to legalise the entry of People's Liberation Army troops or Security Police in large numbers."

There are increasing signs of dissent from ordinary members of the public. The occupation of the working-class commercial district of Mong Kok has seen continual tension between occupiers and those opposed to them, some criminals but others local shopkeepers infuriated by the damage to their businesses. The hostility showed signs of spilling into the Admiralty area with the arrival of a small but noisy demonstration demanding that police clear the roads. Both government and occupation sides were holding out hopes of dialogue. The olive branch was extended by Mr Leung last Thursday, but spurned by the students after the outbreak of Triad-inspired violence in Mong Kok.

— The Independent

Power of protest

2007 December: Beijing says it will allow the people of Hong Kong to directly elect their own leader in 2017 and their legislators by 2020. HK's Chief Executive Donald Tsang hails this as "a timetable for obtaining universal suffrage", but pro-democracy campaigners express disappointment at timescale.

2009 June: Tens of thousands of people attend a vigil in Hong Kong on the 20th anniversary of the Tiananmen Square massacre. The territory is the only part of China to mark the anniversary.

2013 June: Hundreds march in support of whistleblower Edward Snowden, who fled to Hong Kong after exposing US surveillance programmes.

2014 July: Tens of thousands of protesters take part in what organisers dub Hong Kong's largest pro-democracy rally in a decade.

2014 August: Chinese government rules out a fully democratic election for Hong Kong leader in 2017, by imposing tight rules on nominations of candidates who want to run in the poll.

2014 September: Pro-democracy demonstrators occupy city for several days to protest central government's decision to limit voters' choices in a 2017 leadership election.

British past to tense present

1842: China cedes Hong Kong island to Britain after the First Opium War. Thousands of Chinese migrants fleeing domestic upheavals settle in the colony.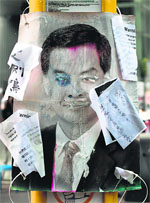 1898: China leases the New Territories, together with 235 islands, to Britain for 99 years from July 1.
1970s: Hong Kong established as an "Asian Tiger" — one of the region's economic powerhouses — with a thriving economy, hi-tech ndustries.
1982: Britain and China begin talks on the future of Hong Kong.
1984: Britain and China sign Joint Declaration on the conditions under which Hong Kong will revert to Chinese rule in 1997. Under the "One country, two systems" formula, Hong Kong will become part of one communist-led country but retain its capitalist economic system and partially democratic political system for 50 years after the handover.
1989: Massacre of pro-democracy demonstrators in Beijing's Tiananmen Square leads to calls for the introduction of further democratic safeguards in Hong Kong. Sino-British talks preceded the 1984 Joint Declaration on reversion to Chinese rule
1990: Beijing formally ratifies Hong Kong's post-handover mini-Constitution or Basic Law.
1992 December: Hong Kong stock market crashes.
1994 June: After two years of bitter wrangling, Hong Kong's legislature introduces a stripped-down version of Chris Patten's democratic reform package. Widens the franchise but falls far short of universal suffrage.
1997 July: Hong Kong handed back to the Chinese authorities after more than 150 years of British control. Tung Chee-hwa, a Shanghai-born former shipping tycoon with no political experience, is hand-picked by Beijing to rule the territory. following takeover.
2003 July: A day after a visit by Chinese Premier Wen Jiabao, 500,000 people march against Article 23. Two government members resign. Bill shelved indefinitely.
2004 April: China rules that its approval must be sought for any changes to Hong Kong's election laws, giving Beijing the right to veto any moves towards more democracy.
2005 March: Amid mounting criticism Tung Chee-hwa resigns, citing failing health. He is succeeded in June by Donald Tsang
2006 March: Pope Benedict XVI elevates Bishop Joseph Zen, the leader of Hong Kong's 300,000 Catholics and an outspoken advocate of democracy, to the post of cardinal. China warns Cardinal Zen to stay out of politics.
2006 July: Tens of thousands of people rally in support of full democracy.
2007 July: Hong Kong marks 10th anniversary of handover to China. New government under Chief Executive Donald Tsang is sworn in. Plans for full democracy unveiled.