R E G I O N A L B R I E F S

| | | |
| --- | --- | --- |
| | PUNJAB | |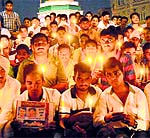 Students hold a prayer meeting in Hanumangarh.
Abohar
Teachers' death mourned: Students assembled at Shaheed Bhagat Singh Chowk, Hanumangarh, 65 km from Abohar, with candles to mourn the demise of three lecturers of BH Modern PG College. The teachers, Rakesh Saini (32), Jagmal (45) and Ajay Kaushik (45), were recently killed in a road accident on the Bathinda-Bajakhana road.
Murder convict ends life: A man, who was awarded life sentence in a murder case, ended his life during parole. Sources said Birbal had been sentenced to life imprisonment for a farm worker's murder in Nihalkhera village, 10 km from Abohar, on the Abohar-Fazilka road. He was staying with his family on parole for the past few days. He had reportedly left his house on Monday evening to board a bus as he was to report back at the district jail at Ferozepur. However, some people found his body hanging with a tree at a cremation ground on Tuesday. The police shifted it to the Civil Hospital for a post-mortem examination.
100 litres of fertilisers seized: About 100 litres of soluble fertilisers were seized in Sriganganagar on Tuesday. Agricultural officer Baldev Singh Sidhu said instructions were received from the state headquarters to initiate action against manufacturers and dealers who had wrongfully claimed that the products would increase plant growth hormones. These were being marketed as micro and soluble fertilisers in contravention of the provisions of the fertiliser Act. The officials today targeted a dealer at Udyog Market in Sriganganagar. A detailed report will be submitted to the Deputy Director of the department for further proceedings.
Bathinda
5 booked for thrashing: The police have booked five persons for thrashing a couple of Bhai Bhaktaur village. In a complaint to the police, Kawarnavdeep Singh said he and his wife were attacked by Daljit Singh, Balbir Singh, Kawaljit Singh, Jagtar Singh and Lakhvir Singh, both residents of Bhai Bhaktaur village. The complainant said the accused had beaten him up and his wife. A case under Sections 452, 323, 506,148and 149 of the IPC has been registered at the Maur police station.
One held for gambling: The Kotwali police have arrested Mahesh Kumar of Alwa Basti, for gambling. The police recovered Rs 1,050 from him. A case has been registered.
3 booked for molestation: The police have booked three persons for molesting two women of Pakka Kalan village. As per the information, Vir Ram had filed a complaint with the Rama police station stating that the accused Makhan Singh, Malkit Singh, Kadu Singh, resident of Pakka Kalan and two unidentified persons had molested his wife and daughter-in-law.
Fatehgarh Sahib
Youth booked for rape: Aman Kumar of Nai Abadi in Sirhind has been booked for allegedly raping a girl on the pretext of marrying her. No arrest has been made so far. Police officer Rajbir Kaur said they were investigating the matter.
Moga
Minor raped in Moga village: A 13-year-old Class VIII girl was allegedly raped by two youths in a remote village in Dharamkot sub-division of the district three days ago. The police have taken the accused, Harvinder Singh and Gurdip Singh, into custody. They would be produced before the court on Wednesday, said Ram Singh, Station House Officer.
Patiala
Protest at PRTC office: A heavy posse of police was deployed outside the PRTC headquarters on Tuesday as members of the PRTC Azaad Union protested along with their family members. The union members were recently shunted out from the corporation. The protesters allegedly locked the entrance gate for about three hours, not allowing the staff inside to come out. The dharna was lifted after SDM Gurpal Singh Chahal assured them of a meeting with the Transport Minister before October 31.