Parties seek end to dynastic rule in state
Bohapur (Ludhiana), October 7
The bhog ceremony of two brothers, allegedly killed by the police in a "fake encounter" on September 27, saw Opposition parties coming together to seek an end to the "dynastic rule" in the state. Representatives of various parties, including the BJP, attended the bhog ceremony held amid heavy police security.
(Clockwise from top) Patiala MP Dharamvira Gandhi addresses a gathering at the bhog ceremony of two brothers killed in a fake encounter at Bohapur village; the grieving mother; and hoardings of youths allegedly killed in fake encounters. Tribune Photos: Himanshu Mahajan
Supriya suicide case


FIR lodged, kin want teachers booked
Jalandhar/ludhiana, October 7
Suicide victim Dr Supriya's parents today expressed dissatisfaction with the FIR lodged in the case. They alleged the police had failed to take action against the professors, who had reportedly harassed Dr Supriya. The victim's parents had named them in the complaint.
Dr Supriya
Now, Suvidha Centres to issue birth certificates in Gurdaspur
Gurdaspur, October 7
The Gurdaspur district administration, after taking cognisance of hundreds of complaints pertaining to the delay in the issuance of birth and death certificates, has decided to hand over the work from staff of Civil Hospital to that of Suvidha Centres.
Golden Temple plaza set for Diwali opening
Amritsar, October 7
Deputy Chief Minister Sukhbir Badal today said the Golden Temple entrance plaza would be dedicated to the devotees on Diwali. The work on the prestigious Rs 78-crore project was almost complete, he said.

Deputy Chief Minister Sukhbir Badal at the Golden Temple in Amritsar on Tuesday. photo: Vishal Kumar


On Ludhiana fake encounter
Maintaining law and order in the state is our top priority. Action against the erring officials is not limited to routine inquiries or suspension. They will be dismissed for their lapses.
Sukhbir Badal, deputy chief minister


This is what the Golden Temple entrance plaza in the holy city of Amritsar is expected to look on completion


About the project
The work on the prestigious Rs 78-crore project is almost complete
The project to beautify the stretch from Hall Gate to the Golden Temple will give a unique and traditional look to the entire passage with world-class landscaping
Cong seeks action against RSS activists
Chandigarh, October 7
The Punjab Congress has demanded stern action against RSS activists for brandishing firearms during a procession in Jaito in Faridkot district, described it as a dangerous trend in the sensitive border state.
SAD defends diesel price hike
Chandigarh, October 7
The SAD today flayed senior Congress leaders Capt Amarinder Singh and PPCC chief Partap Bajwa for "misleading" the people on the recent VAT hike on diesel in the state.
File chargesheet against Tytler: Phoolka to Sukhbir
Ludhiana, October 7
Senior advocate HS Phoolka has called upon Sukhbir Singh Badal, the president of the Shiromani Akali Dal (SAD), to ensure that chargesheets be filed against two main accused in the 1984 carnage by November 1.
PAU identifies agent that can sting dengue mosquitoes
Chandigarh, October 7
Working on the biological control of mosquitoes, a team of scientists at Punjab Agricultural University (PAU) in Ludhiana has successfully identified the agent that kills dengue-spreading aedes larvae.
Buyers missing, cotton farmers at arhtiyas' mercy

Mansa, October 7
Balwinder Singh, a farmer of Behman Jassa village, today sold his cotton crop for Rs 4,000 a quintal at Mansa. His cousin Sarpratap Singh managed to sell his produce at a higher price of Rs 4,435 in Sirsa, 75 km from here.





Cotton farmers await buyers in Mansa. Tribune photo: Pawan sharma
Stacking paddy a headache for officials
Fatehgarh Sahib, October 7
Stacking paddy is going to be a huge problem for government agencies with rice shellers refusing to mill and store paddy after the Centre reduced the moisture content limit from 15 per cent to 14 per cent.
Opinion divided over deceased brothers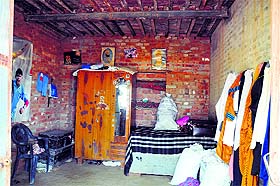 Bohapur, October 7
A winding potholed road along the Neelon Canal takes one to Bohapur village. The village has poor civic amenities. The pond is dirty and the roads dusty. Little wonder then that the residents voted for the Aam Aadmi Party (AAP) in large numbers during the recent Lok Sabha elections. Harinder alias Laali and Jatinder alias Goldy, who were allegedly eliminated in a false encounter by the police, had spearheaded the AAP campaign in the village.


The house of the two brothers at Bohapur village. Tribune photo
Hoardings of youths killed in police encounters dot village
Bohapur, October 7
Large hoardings of five youths killed in "police encounters" or under mysterious circumstances in recent times dotted the village today. Installed by the SAD (Amritsar), these targeted the SAD government, its alliance partner (BJP) and the RSS for alleged lawlessness.
55-yr-old farmer commits suicide
Fatehgarh Sahib, October 7
Apparently upset over mounting debts, a 55-year-old farmer committed suicide by jumping in Bhakra Canal, police said. Avtar Singh, a resident of village Raeawal near Amloh, committed suicide on October 2 by jumping in Bhakra Canal near Rorewal village, police said.
SDM-Nagra spat: Congress workers resume protest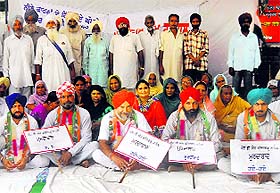 Fatehgarh Sahib, October 7
The Congress activists, who are on an indefinite fast, resumed their protest after four days of government holidays. They have been protesting outside the district administrative complex, demanding the transfer of sub-divisional magistrate (SDM) Pooja Syal Grewal. She had an argument with Congress MLA Kuljeet Singh Nagra.


Congress activists protest near the district administrative complex in Fatehgarh Sahib on Tuesday. Tribune photo
Parents dressed up girl as bride before murder: Probe
Batala, October 7
Police investigations into the Batala honour killing case have thrown up shocking revelations. It has come to light that the teenaged girl, Paramjit Kaur, who was allegedly having an affair with a boy of her village Kiri Afghana, was cajoled into dressing up as a bride before she was allegedly thrown into the Beas river.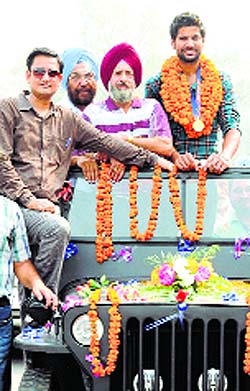 Hero's welcome:

Hockey player Rupinder Pal Singh received a rousing reception in Faridkot on Tuesday. Tribune photo
Generation at Ropar plant reduced
Ropar, October 7
Facing a coal crunch, the authorities at Guru Gobind Singh Super Thermal Plant have begun running four power generation units at 170 MW load as against their capacity of 210 MW today. Two of the six units at the plant were shut down in the last ten days.
PGI team visits Ferozepur
Ferozepur, October 7
To expedite the process of setting up a satellite centre of the Post Graduate Institute of Medical Education and Research (PGIMER) in Ferozepur, a team from the institute, led by Dr GS Thakur, today visited this border town.
Kilns operating despite ban
Chandigarh, October 7
Despite a ban on the mining of earth across Punjab, brick kilns owned by the "sympathisers" of the SAD or those ready to "bribe" the officials are being allowed to operate. Around 2,700 brick kilns had to shut operations following the ban imposed by the Supreme Court on the excavation of brick-earth from fields or vacant plots without an environmental clearance.
Kidnapped infant's relatives protest police 'inaction'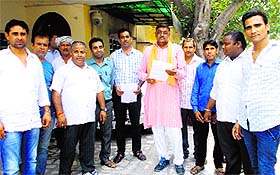 Abohar, October 7
Relatives of a 'kidnapped' infant, along with former director of Zila Parishad Mahesh Budania, today held a protest at the office of the Superintendent of Police in Sriganganagar today. They said the police had not been able to find any clue in the case even after two weeks.


Zila Parishad ex-chief Mahesh Budania (centre) and other protesters at the SP's office in Sriganganagar on Tuesday. Tribune Photo
Clean-up drive at cancer-prone village in Abohar
Abohar, October 7
On the second day of government officials' visit to the cancer-prone Shergarh village, Mahatma Gandhi National Rural Employment Guarantee Act workers were deployed for cleaning a reservoir. The village had recently witnessed deaths of two women and a man due to cancer in a week.
Anganwari workers protest in Fazilka, demand salary hike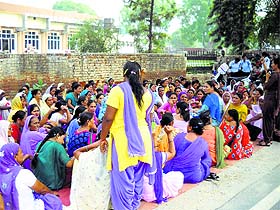 Fazilka, October 7
Members of the All India Anganwari Workers Union, Fazilka unit, held a protest outside the Deputy Commissioner's office here today. The demonstration was led by the union's state president, Hargobind Kaur.







Anganwari workers protest outside the office of Deputy Commissioner in Fazilka on Tuesday. Tribune photo
BJP workers 'wrongly' figure on SAD list
Abohar, October 7
The SAD cut a sorry figure in Abohar when two persons announced at a meeting convened by the BJP that their names were wrongly included in the list of office bearers of the re-organised city SAD unit.
Cop, aide get 20-year RI for raping minor
Faridkot, October 7
A constable and his accomplice today got 20 years of rigorous imprisonment in a rape case.