Govt plans strict steps to check PNDT violations
Patiala, October 5
The government has so far failed to fix accountability of health officers in case of violations of the PNDT Act, but it has now planned to tackle the menace with an iron hand. Chief Parliamentary Secretary, Health, Dr Navjot Kaur Sidhu, has been carrying out raids to keep a check on doctors violating the Act or indulging in private practice.
Amarinder ridicules SAD for defending diesel price hike
Amritsar, October 5
Congress Deputy Leader in the Lok Sabha Capt Amarinder Singh today lashed out at the ruling Shiromani Akali Dal (SAD) for its defence of the hike in VAT on diesel in the state.
Sangat Darshan adding to fiscal woes: Bajwa
Chandigarh, October 5
Punjab Pradesh Congress Committee (PPCC) president Partap Singh Bajwa today alleged it was the squandering of money on Chief Minister Parkash Singh Badal's Sangat Darshan that had compounded Punjab's financial woes.
Manpreet too takes on CM
Chandigarh, October 5
People's Party of Punjab (PPP) chief Manpreet Singh Badal today said that Chief Minister Parkash Singh Badal's admission that the BJP-led NDA government had refused a financial package, forcing the state government to hike VAT on diesel, had raised a question mark on the SAD-BJP alliance.


Medico's death: Parents allege police inaction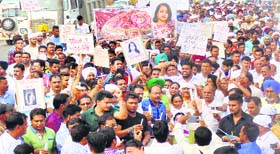 Jalandhar, October 5
A number of social activists and politicians from various parties today joined the protesting medical interns, seeking justice for the family of Dr Supriya who had allegedly committed suicide at Dayanand Medical College and Hospital, Ludhiana, on September 29.

Family members of Supriya, doctors and social activists protest at Bholath village in Jalandhar on Sunday. Tribune photo: malkiat singh

Kandi canal nears completion, to help irrigate 1.25 lakh acres
Hoshiarpur, October 5
The long wait of kandi farmers for canal water is likely to end by June next year. The second phase of the kandi canal is nearing completion.
PUDA plans urban estate in Tarn Taran
Tarn Taran, October 5
The Punjab Urban Development Authority (PUDA) has initiated the process to establish an urban estate here. The move would lay the foundation of a new town here like New Amritsar.
Regional languages may soon fade away, apprehend scholars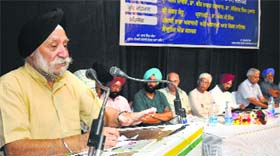 Jalandhar, October 5
A national seminar on "The crisis of regional languages in India" was held at the Desh Bhagat Yadgaar Hall here today. Several scholars talked about threats to various regional languages across the country.

Dr SP Singh, former vice chancellor of Guru Nanak Dev University, addresses a gathering during a seminar in Jalandhar on Sunday. Tribune photo: Malkiat Singh

Muktsar villages unite against 'polluting' mill
Muktsar, October 5
Accusing the state government of not paying attention to the pollution caused by a private paper mill in Rupana village on the Muktsar-Malout highway, residents of 10 villages have vowed to fight a legal battle by filing a writ petition in the High Court.
Clean-India drive yet to take off in Hoshiarpur
Hoshiarpur/ Fazilka, October 5
The Swachh Bharat campaign launched by Prime Minister Narendra Modi on October 2 has failed to take off in the city. Heaps of garbage is lying around government offices and in public places.
Preparations on for 3 Sikh events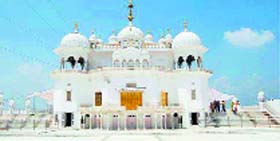 Amritsar, october 5
The Sikh community is gearing up for three major events in the coming years - the 350th foundation day of Anandpur Sahib next year, the 350th birth anniversary of Guru Gobind Singh in 2017 and the 550th birth anniversary of Guru Nanak Dev in 2019.

Takht Sri Kesgarh Sahib in Anandpur Sahib. Tribune photo

jamalpur killings
Remove DGP, demands Khaira
Chandigarh, October 5
Punjab Congress spokesperson Sukhpal Khaira today asked the government to remove Director General of Police Sumedh Singh Saini from his post over the "fake encounter" of two Dalit boys in Jamalpur recently.
Excise official feared drowned in Bhakra canal
Fatehgarh Sahib, October 5
Banur-based Excise Inspector Chanderish Kalia is feared to have drowned in Narwana branch of the mainline Bhakra canal. His car was fished out from the water body yesterday.
AAP dividing society: SAD
Chandigarh: The SAD has warned the Aam Aadmi Party (AAP) leadership against playing the role of anarchists. Defending Deputy CM Sukhbir Badal for 'prompt' action over the killings of two brothers in Jamalpur, Akali leaders Maheshinder Singh Grewal and Sharanjit Singh Dhillon said it was unfortunate that AAP, which had failed to provide any responsible leadership, was trying to create fissures in civil society. "This will not be tolerated at any cost", they warned.
Scheme for women dairy farmers
Patiala, October 5
The state government will provide various facilities to women farmers interested in dairy farming.
CM vows to develop border areas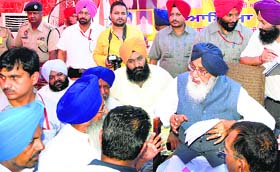 Kambo (Amritsar), October 5
The government will take measures to boost development in border villages, said Chief Minister Parkash Singh Badal at at a Sangat Darshan programme here today.




Chief Minister Parkash Singh Badal listens to grievances of people during a Sangat Darshan programme at Kambo village in Amritsar on Sunday. Tribune photo: Vishal Kumar

Sparks fly at Gurdaspur DCC meet
Gurdaspur, October 5
There was pandemonium at the Gurdaspur District Congress Committee (DCC) meeting here today with members incensed at Rajya Sabha MP Ashwani Kumar's remarks on party factionalism.
Seven months on, traders await online C-forms
Jalandhar, October 5
The long-pending demand of traders in Punjab for online C-forms is yet to be cleared by the Excise and Taxation Department.
Refinery set up, R'sthan plans to promote olive farming
Abohar, October 5
The Rajasthan Government that recently set up India's first olive refinery at a cost of Rs 3.75 crore plans to promote olive cultivation in the state. The government had earlier promoted guar production since canal water was in short supply. The state has now got the biggest export oriented guar gum unit in Sriganganagar.
Abohar cremation ground in disarray
Abohar, October 5
People attending funerals at the main cremation ground in Shivpuri often complain about the unbearable stench emanating from the carcasses dumped illegally in the area. Moreover, large heaps of garbage dot the area.
Badal extends Eid greetings
Chandigarh, October 5
Chief Minister Parkash Singh Badal today greeted the state people, particularly the Muslim community, on the eve of Eid-ul-Zuha (Bakrid).
Police remand of accused extended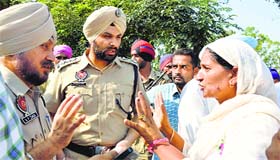 Ludhiana, October 5
A local court has extended the police remand of all the four accused in the twin murder case of the two Dalit brothers shot dead in Jamalpur on September 27.




The mother of the killed brothers argues with the police a day after the crime on September 27. File photo


Four killed in bus-car collision in Moga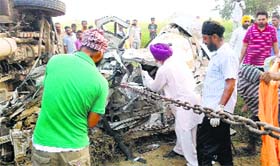 Moga, October 5
At least four persons were killed on the spot in a collision between a car and a Punjab Roadways bus here today.





People try to take out the bodies from the damaged car near Mehna village in Moga district on Sunday. A Tribune Photograph

Heroin seized in Ludhiana was meant for Delhi
Ludhiana, October 5
The accused, Rashpal Singh, who was caught with 40 kg of heroin from Ludhiana yesterday had procured the contraband from Jalalabad. It was reportedly meant to be delivered in Delhi.
Ex- priest robbed of Rs 7 lakh
Hoshiarpur, October 5
A former priest of a religious dera at Susan village under Bullowal police station was today allegedly robbed of Rs 7 lakh.
12 booked for firing in Tarn Taran
Tarn Taran, October 5
At least 12 persons have been booked under Sections 307, 379, 148 and 149 of the IPC and Sections 25, 27, 54 and 59 of the Arms Act for a firing incident at Shahbazpur village here last evening. Sources said the case had been registered on the complaint of Gurbax Singh of the same village.
Hit-and-run claims life of motorcyclist
Fatehgarh Sahib, October 5
A motorcyclist was killed when his bike collided head-on with a car on the Sirhind bypass here today. The victim has been identified as Hardeep Singh of Kotla Fazal village in the district. The car driver fled from the spot.