Robbers attack six of family in Mansa, 1 dead
Mansa, September 25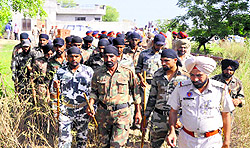 A gang of seven robbers entered the house of Gurcharan Singh (55), an instructor at the ITI Budhlada, late last night by using a ladder. They hit hard Gurcharan Singh and his wife Paramjit Kaur (50) on the head while they were asleep.


Police personnel inspect the robbery site in Mansa on Thursday. A Tribune photo

Mid-term review of SAD-BJP govt: Health
Healthcare too needs a check-up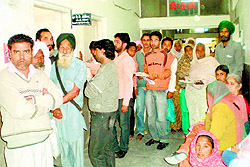 Chandigarh, September 25
Before the 2012 Assembly elections, the SAD-BJP had promised to upgrade the all-important health sector. It has yet to honour the promise. Although there has been some effort to improve healthcare, the government has miles to go to achieve the target of quality care and affordable treatment.

Patients wait for their turn at the Civil Hospital, Bathinda. File photograph

PPCC to protest outside CM's house
Fatehgarh Sahib, September 25
To press the government to revive industry, which is on the brink of a collapse, the Pradesh Congress will hold a dharna in front of the Chief Minister's residence on September 29.
Bickering at AAP's district convention
Jalandhar, September 25
The district-level AAP convention, that was addressed by state convener Sucha Singh Chhotepur at Desh Bhagat Yadgaar Hall here today, saw a large turnout. Jalandhar MP-candidate Jyoti Mann complained she was being ignored by the party. She was accompanied by her supporters who asked Chhotepur why her name was not mentioned on stage.



'Berozgar Rally' in Oct
On anvil: Policy to refuse extension to tainted staff
Chandigarh, September 25
All Punjab Government employees will no longer be eligible to seek an extension of two years in their retirement age. The government is coming up with a policy where extension in service beyond the retirement age of 58 will be given selectively.
Will make state No. 1 in 2 yrs: Badal
Chandigarh, September 25
With performance of the first half term of his government under the scanner, Chief Minister Parkash Singh Badal today said the SAD-BJP government would fulfil all aspirations of the people during its remaining term.
SC coal shock: PSPCL may have to pay Rs 1,460 cr fine
Jalandhar, September 25
The Supreme Court's decision to cancel coal blocks is sure to pose a headache for Punjab. As the penalty on Panem, the firm operating the coal block allotted to Punjab, works out to around Rs 1,460 crore, deliberations have started in Punjab State Power Corporation Limited (PSPCL) to deal with the crisis.
Chief Engineer accused of embezzlement
Chandigarh, September 25
The topmost officer in the Punjab Water Supply and Sanitation Department is likely to face action for allegedly embezzling funds. Suresh Kumar, Principal Secretary, Punjab, has ordered departmental action against Sudhir Bhatia, Chief Engineer (North) for embezzling Rs 3.07 crore.
Rlys to begin trial booking of meals
New Delhi, September 25
Railway passengers travelling on the Delhi-Amritsar section will now have the option of ordering food, that will be served to them at their seats.
SAD leader's supporters trying to grab my land: NRI woman
Chandigarh, September 25
A Kapurthala village-based NRI woman and her son have levelled serious allegations against former Punjab minister and senior SAD leader Bibi Upinderjit Kaur that her supporters were trying to grab a part of their land and that the SAD leader was "shielding" them.
SGPC wants special aid for J&K Sikhs
Amritsar, September 25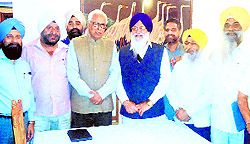 SGPC president Avtar Singh Makkar met J&K Chief Minister Omar Abdullah and Governor NN Vohra during his visit to the flood-hit state. He sought a special package for the rehabilitation of Sikhs in the state.



SGPC delegation meets J&K Governor NN Vohra (fourth from right) in Srinagar. A Tribune photograph

Four villages to be made tourism hub
Ropar, September 25
The Punjab Tourism Department will soon start work on developing infrastructure in four villages located along the Sutlej, said Akali MP Prem Singh Chandumajra here today. The villages to be developed as tourism hub are Katli, Bahadarpur, Tibba Tapparian and Ranjitpura Bas.
MGNREGA funds embezzled in Moga village
Moga, September 25
Embezzlement of MGNREGA funds has come to light in Moga district. The district administration has ordered a random inquiry in villages that received MGNREGA funds during the current financial year.
29 die in govt hospitals every day: RTI plea
Muktsar, September 25
An RTI application revealed that on an average, 29 people die in state government hospitals every day. In the last 11 years, 1,16,756 people lost their lives battling various diseases and injuries in government hospitals from 2002 to 2012.
Kisan Sabha ends 3-day fast
Sangrur, September 25
Ten members of the district unit of All India Kisan Sabha ended their 72-hour-long chain fast outside the district administrative complex here today. They had started the fast on September 22 in support of farmers' demands.
HC takes note of 'forum shopping'
Chandigarh, September 25
For years, "forum-shopping" has been a matter of guesses and surmises. But a scathing order passed by the Punjab and Haryana High Court has, for the first time ever, brought on record the sordid reality.
Court bars PTU VC from 'major decisions'
Chandigarh, September 25
The Punjab and Haryana High Court has restrained Punjab Technical University (PTU) Vice-Chancellor Rajneesh Arora from taking "any major decisions" till October 10.
State draws HC ire for gagging Press
Chandigarh, September 25
The Punjab and Haryana High Court today virtually rapped the Punjab Government for gagging the Press.
3 get life term for murder
Abohar, September 25
A court in Bhadra (Hanumangarh) today awarded life sentence to three persons in a kidnapping and murder case. The convicted persons are Ravinder Romy, Om Parkash and Ratan Singh.

52 youths jailed for submitting fake certificates for Army recruitment
Patiala, September 25
Fifty-two Punjabi youths eyeing the posts of "Sepoy in the Army" are languishing in various jails across the country for allegedly "submitting fake certificates".
Ultrasound centre sealed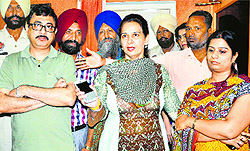 Patiala, September 25
Chief Parliamentary Secretary (CPS), Health, Navjot Kaur Sidhu carried out a sting operation with the help of a decoy patient at a private ultrasound centre in Patiala today and allegedly found that the doctors there indulged in sex determination.



Chief Parliamentary Secretary (Health and Family Welfare), Punjab, Navjot Kaur Sidhu (C) during a raid on an ultrasound centre in Patiala on Thursday. Tribune photo: Rajesh Sachar