Ex-CM's properties attached
Chandigarh, September 24
A local Bench of the Debt Recovery Tribunal (DRT) has ordered attachment of properties of the family of former Punjab Chief Minister late Harcharan Singh Brar.
Ignored for Modi meeting, BJP leaders sulk
Chandigarh, September 24
The SAD leadership may be trying hard to "salvage" its position in the BJP-led National Democratic Alliance at the Centre by once again seeking a special package, this time from Prime Minister Narendra Modi. But by not taking along leaders of their alliance partner in the state BJP, the party seems to have sparked yet another row.
Mid-term review of SAD-BJP govt: Law & Order

Friendly cop still a far cry
Chandigarh, September 24
Despite people-friendly measures, such as a helpline for NRIs, women and children, there is a growing perception that the state police has been politicised and this has affected its functioning. The Women Armed Special Police Squad Scheme was launched by the government with much fanfare. But it failed to yield any significant results. The Police Department could not pay the huge fuel bill. Hence, the women constables had to do without their bikes and the scheme was as good as grounded.
A protesting lineman being lathicharged. File photo

12 HC judges to take oath today
Chandigarh, September 24
For the first time in the history of the Punjab and Haryana High Court, 12 Additional Judges will be administered oath in one go tomorrow. With this, the number of high court judges will reach 57. The court will also have the unique distinction of having nine women judges after the elevation of two.
online lottery
Govt promoting gambling: Oppn
Chandigarh, September 24
Punjab's decision to start its own online lottery to earn additional revenue has invited sharp criticism from various sections of society. The state government has been accused of promoting gambling to earn money while failing to take corrective measures to improve revenue.
State, Centre lock horns over local bodies' poll
Chandigarh, September 24
The Centre and the Punjab Government seem to be at loggerheads on the issue of delay in holding elections to the local bodies.
500 pvt buses to carry supporters to INLD rally
Mansa, September 24
More than 500 buses of private transporters from Malwa today reached Haryana's Killianwali border to ferry supporters to Jind for the INLD rally. All this has resulted in a loss to the exchequer.
Strike called off, Indo-Pak trade back on track
Amritsar, September 24

Transporters and traders called off their strike at the Attari integrated check-post (ICP) after some of their demands were accepted during a meeting with the LPAI, the CWC and customs officials today. The bilateral trade returned to normal on the Attari-Wagah land route as 86 trucks arrived from Pakistan, while 74 truckloads of goods were exported by 6 pm.
Trucks loaded with tomatoes at the Attari integrated check-post on Wednesday. Photo: Vishal Kumar

Govt launches 'Sohna School' campaign
Bathinda, September 24
Carrying forward Prime Minister Narendra Modi's "Clean India" mission, all schools in Punjab have been asked to undertake "Sohna School Muhim" (beautiful school campaign) from September 26 to October 31. The campaign will be part of the "Savachh Bharat" drive to be launched by the PM on Gandhi Jayanti.
Return land acquired for firm, farmers ask Patiala MP
Patiala, September 24
A deputation of Ujara Roku Sangharsh Committee, SIEL Chemical, Rajpura, today met Patiala MP Dr Dharamvira Gandhi in order to get their acquired land back. They alleged that 533 acres of the land that was acquired for SIEL Chemical, Rajpura, had been lying unutilised. The state government had acquired the land in 1994.
Religious groups protest animal slaughter
Patiala, September 24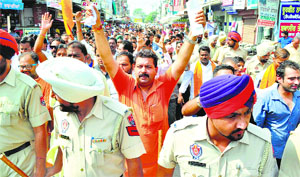 Patiala police today detained around 150 members of various Hindu organisations in Rajpura and Patiala as they were marching towards the respective railway stations for scheduled train blockade against the recent alleged cow slaughter in Malerkotla town of Sangrur. They were detained in Julkan police station for few hours and later released.
Activists try to block the railway track in Patiala on Wednesday. Tribune photo: Rajesh Sachar

12 Lehragaga residents down with diarrhoea
Sangrur, September 24
As many as 12 people in Lehragaga, about 40 km from here, have been diagnosed with diarrhoea at the sub-division hospital today. On the other hand, 10 of the 14 patients admitted yesterday have been discharged. A 1-year-old girl had reportedly died due to diarrhoea yesterday. The postmortem of the body will ascertain the cause of her death today. Those admitted to the hospital were from ward number 12, 13, 7 and 9.
Four killed, 2 hurt in Dhuri road mishap
Benra (Sangrur), September 24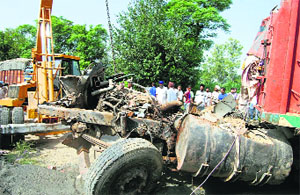 Four persons were killed and another got injured when a tractor-trailer collided with a truck-trailer on Dhuri-Sangrur road in Benra village, about 5 km from Dhuri, today morning. The injured person, Amrik Singh of Benra village, was admitted to DMC Hospital, Ludhiana.

The mangled remains of a truck-trailer at Benra village in Sangrur on Wednesday. Tribune photo

Fazilka farmers protest, seek compensation for crop loss
Fazilka, September 24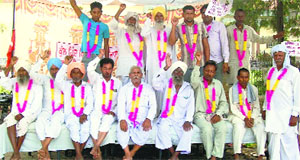 Activists of Kul Hind Kisan Sabha, Fazilka district unit, staged a protest in front of the Deputy Commissioner's office here today. They were demanding compensation for the crops damaged during the recent rain. They demanded Rs 30,000 per acre for the cotton crop washed away by the flood water.

Farmers protest in front of the Deputy Commissioner's office in Fazilka. Tribune photo


Abohar leads in skill training scheme


Abohar, September 24
With the distribution of sewing machines to 995 women in Abohar today, the remote town now leads in the Skill Training for Employment Promotion among Urban Poor (STEP-UP) under the Swaran Jyanti Shehari Rozgar Yojna (SJSRY).

Day after exposing infested grain, activist assaulted
Hoshiarpur, September 24
A day after raising voice against the supply of "infested" food grain to BPL families through ration depots, Social Democratic Party president Jai Gopal Dhiman was allegedly attacked by masked men this morning.

Rs 2 cr missing from ATMs, security firm staff booked
Muktsar, September 24
The district police today booked three employees of a Mohali-based private security firm, which deals in loading cash in ATMs, for allegedly running away with nearly Rs 2 crore on September 19.