Mid-term review of SAD-BJP govt: Industry
Fresh investment a trickle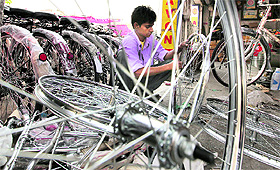 Chandigarh, September 21
Punjab continues to be in a state of flux. It is unable to decide if it wants to remain an agrarian economy or march towards industrialisation. The SAD-BJP government, that is vociferously protective of its agrarian vote bank, refusing to do away with power subsidy, is now aggressively wooing the industry to set up shop in the state.

A worker at a cycle unit in Ludhiana. A Tribune file photograph
Government mohindra college row
State govt seeks details from college principal
Patiala, September 21
The state government has sought an explanation from the Principal of Government Mohindra College, Patiala, after he replaced two guest teachers this academic session. Principal Sukhbir Singh Thind had replaced Deepti Goyal, teacher of English, and Kirandeep Kaur, teacher of Punjabi.
'Diarrhoea' outbreak in moga
Residents want MC officials booked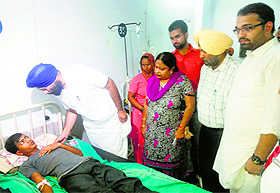 Moga, September 21
The "callous" attitude of the Municipal Corporation (MC) has led to the suspected diarrhea outbreak in many localities of the Moga city in the past few days. Residents of Mohan Singh Basti had given a written complaint to the executive officer of the MC on September 5 that they were getting contaminated water supply and had demanded clean drinking water. However, the civic body took "no preventive measures" against the outbreak of water-borne diseases.

Punjab Health Systems Corporation chairman Barjinder Singh Brar interacts with a 'diarrhoea' patient at the District Hospital in Moga on Sunday. A Tribune Photograph
Maluka's son in race for post of Malwa YAD chief
Bathinda, September 21
The Shiromani Akali Dal (SAD) high command is holding hectic parleys to pick leaders to head the Majha, Malwa and Doaba units of the Youth Akali Dal. The party is learnt to be keen on introducing fresh faces and keeping a close watch on their functioning. It is wary of giving them unbridled powers. Malwa is likely to have two presidents because of its huge area.
INLD ties won't impact Akali-BJP bond: Badal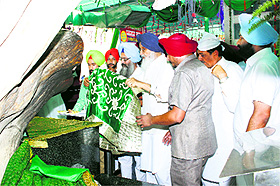 Faridkot, September 21
Chief Minister Parkash Singh Badal said the SAD's alliance with the Indian National Lok Dal (INLD) in Haryana for the upcoming Assembly elections would not put their relations with the BJP in jeopardy.




Chief Minister Parkash Singh Badal pays obeisance at Tilla Baba Sheikh Farid
in Faridkot on Sunday. A Tribune photograph

Politicians reject delimitation draft of Batala MC wards
Batala, September 21
Leaders of three main political parties Ashwani Sekhri (Congress), LS Lodhinangal (SAD) and Ashok Modgil (BJP) have outrightly rejected the proposals of the Batala delimitation committee, forcing Sub-divisional Magistrate (SDM) JS Grewal to send a new draft to the state government after incorporating suggestions of these leaders.
Cong MLA leads protest in Ferozepur
Ferozepur, September 21
Hundreds of Congress workers, led by Ferozepur Urban MLA Parminder Singh Pinki, held a demonstration in front of the Municipal Committee office here today. They were protesting poor civic amenities in the town.
Villagers protest police inaction in 'murder' case
Batala, September 21
Hundreds of residents of Rai Chack village, falling under the jurisdiction of Kotli Surat Malhi police station in Batala district, held a protest against the alleged police inaction in the "murder" case of Joginder Pal. The body of Joginder, an employee of a petrol pump, was found in an empty tank of the filling station on September 17.
Residents up in arms against pvt transporters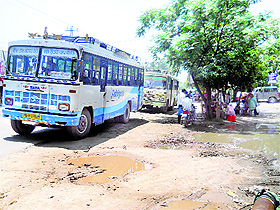 Bassi Pathana, May 21
Residents of the town are up in arms against private transporters, whose buses pick up passengers from the narrow main road of the town instead of the newly constructed bus stand. Manot Kumar Banda, general secretary, Hindu Organisation, said despite several representations to the District Transport Officer, Senior Superintendent of Police and the Deputy Commissioner, no action had been taken against the transporters.


Private buses pick up passengers outside the newly constructed bus stand in Bassi Pathana. Tribune photo
Pong dam not filled to capacity; irrigation may be hit
Ropar, September 21
Despite weak monsoon in the region, the Bhakra dam has filled up to 1,678.34 feet against its maximum capacity of 1,680 feet as the filling period of dams in region ended today. But, Pong dam is more than 22 feet short of target, which may not augur well for Punjab and Rajasthan during the summer season.
PMO intervenes, infuses life into Dera Bassi plant
Chandigarh, September 21
Almost all hospitals and nursing homes, including the prestigious Post Graduate Institute of Medical Sciences, Chandigarh, might have been forced to stop conducting surgeries had Prime Minister Narendra Modi not intervened on time. Caught in bureaucratic wrangling for over a year, one of the largest plants supplying nitrous oxide (used to give anaesthesia), Anaesthetic Gases Pvt Ltd at Dera Bassi, would have been forced to stop supplying the gas to all medical institutions for the want of a no objection certificate (NOC) from the Ministry of Environment and Forests.
Rs 3 as ration money for constable!
Ropar, September 21
Strange it may sound but it is true that the Punjab Police constables are paid a mere Rs 3 per day as ration allowance. As compared to Punjab, non-gazetted officers from the rank of constable to inspector in the Delhi Police get an allowance of Rs 67.54 per day. The allowance in the neighbouring state of Haryana is around Rs 20 per day. Even a Class IV employee in the Haryana Commando Force receives Rs 20 daily as diet money.
BRTS: Chawla protests felling of trees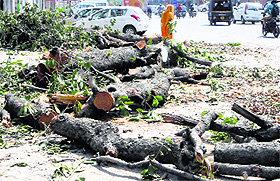 Amritsar, September 21
Former Punjab minister and senior BJP leader Laxmi Kanta Chawla has targeted the state government over its ambitious bus rapid transport system (BRTS) project. She said the project had not only taken a toll on the city's greenery, but had also uprooted traders in many areas.




A large number of trees have been axed for the BRTS project in Amritsar. Tribune file photograph
Boy who slit girl's throat nabbed from Uttarakhand
Jalandhar, September 21
A jilted lover who had allegedly slit the throat of a girl after she discarded his marriage proposal was today arrested by the Nawanshahr police. He had been hiding in Uttarakhand after committing the crime.
RSS chief's fourth visit on Sept 24
Chandigarh, September 21
With RSS chief Mohan Bhagwat visiting Ludhiana and Amritsar on September 24 and 25, RSS pracharaks have fanned out into the villages. This will be Bhagwat's fourth visit to the state since March. He had earlier visited Fazilka, Mansa and Khanna.
Fissures in AAP's Amritsar unit to the fore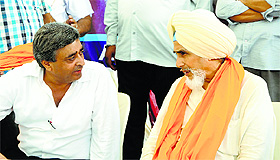 Amritsar, September 21
Differences in the district unit of the Aam Aadmi Party (AAP) have come to the fore. The party's disciplinary committee member, Narinder Singh Walia, has approached the police. He has accused senior leader Ashok Talwar and his supporters of irregularities in collecting relief material for the flood- hit in Jammu and Kashmir.


AAP convener SS Chhotepur with former party convener Ashok Talwar in Amritsar on Sunday. Photo: Vishal kumar
Medical students on warpath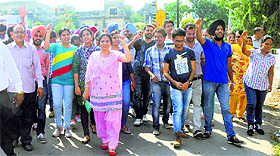 Jalandhar, September 21
Parents of medical students at the Chintpurni Medical college, Pathankot, accuse Anil Joshi, Minister for Medical Education and Research, of shielding Swaran Salaria, college owner, and for the prolonged delay in shifting them to other recognised colleges.


Students of Chintpurni Medical College and parents protest in Jalandhar on Sunday. Tribune Photo: Sarabjit Singh
Better upkeep of focal points on cards
Chandigarh, September 21
The state government has notified the creation of Focal Point Industrial Infrastructure Development Association as special purpose vehicle (SPV) for the upkeep and maintenance of focal points.
Maya's working dictatorial, alleges Jandali
Jalandhar, September 21


Parkash Singh Jandali, who was recently expelled from the BSP, has lashed out at party chief Mayawati describing her style of functioning as "dictatorial." Addressing mediapersons here today, he accused Mayawati of promoting sycophants and ignoring honest and dedicated party workers. "Mayawati has wavered from the path shown by Dr BR Ambedkar and Kanshi Ram."


Former BSP leader PS Jandali in Jalandhar on Sunday.
Hope for kin of youths stuck in Iraq
Amritsar, September 21
The release of 46 Turkish hostages by ISIS militants have raised the hopes of families of Punjabi youths stuck in the strife-torn Iraq. At least 40 Punjabi youths were allegedly kidnapped by ISIS militants in mid-June. They are reportedly held captive near the northern city of Mosul.
Unsafe classrooms a worry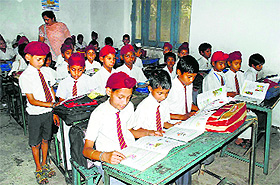 Patiala, September 21
As many as 330 rooms in various government schools in the district have been declared unsafe. The schools have sent requests to the PWD (B&R) and Panchayat Departments that 400 more classrooms be either renovated or declared unsafe.






A government school in Patiala. file photo
Start Namdhari Azadi train, CM tells Centre
Chandigarh, September 21
Chief Minister Parkash Singh Badal today urged the Union Railways Minister DV Sadananda Gowda to name a train as "Namdhari Azadi Sangram Express" in view of the historic importance of the Kuka Movement in the nation's freedom struggle.
Will fill posts for differently abled, says Dhindsa
Sangrur, September 21
The state government will clear the backlog of posts, reserved for differently abled persons in government departments of the state. The state will also consider enhancing financial assistance to disabled persons.
Boy hurt in firing
Abohar, September 21
Harteshwer Singh (25) was hurt in a firing incident at an eatery on Saturday. He sustained injuries from a .32-bore pistol. He was shifted to Nehru Memorial Civil Hospital, where doctors referred him to Guru Gobind Singh Government Medical College and Hospital, Faridkot. The police said no case had been registered so far as the family had described it as an "accidental" firing. — OC
Fazilka college faces shortage of employees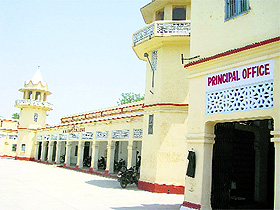 Fazilka, September 21
After the recent transfer of two lecturers of MR Government College in Fazilka, only two regular lecturers are left in the college against the sanctioned posts of 31. Tribhuvan Ram and Gurnam Chand were transferred following reported factionalism on September 10. Posts have been lying vacant since a long time. The college is also without a regular Principal.




The MR Government College in Fazilka. A Tribune photograph

Madrasa teacher gets life term for raping minor
Sangrur, September 21
In a rape case, Virinder Aggarwal, Additional Sessions Judge, Sangrur, has sentenced a 25-year-old teacher, who was in charge of a madrasa in Malerkotla, to life imprisonment and imposed a fine of Rs 25,000.
3 booked for cheating
Abohar, SeptEMBER 21
The police have booked Som Doda, a liquor contractor, Anil Kumar, former councillor and Baghel Singh of Jammu Basti in Abohar under Sections 419, 420, 465, 468 and 471 of the IPC. The FIR was registered on the basis of a report lodged by Head Constable Nirmal Singh.