Review decision to exempt power producers from NOC: Dhumal
Shimla, September 21


Former Chief Minister PK Dhumal has taken an exception to the reported decision of the government to exempt hydropower developers from taking no-objection certificates (NOCs) from public works, irrigation and public health, fisheries and revenue departments. He said this would be a big blow to the efforts of the government to maintain ecological balance and preserve the fragile hills.

PK Dhumal, former CM
Fund crunch stalls work on ESIC medical college
Mandi, September 21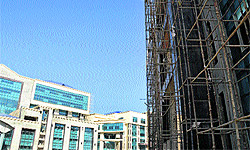 The completion of the ESIC Medical College and Hospital at the Ner Chowk near here has been delayed further. Reason: shortage of funds. The 500-bed Employees' State Insurance Corporation (ESIC) Medical College and Hospital was to be made operational in 2011 and the first batch of the MBBS course was to start from 2014-15 academic session.

A part of the ESIC Hospital is still incomplete at the Ner Chowk in Mandi. Photo: Jai Kumar

HP to spend Rs 600 cr on tourism infrastructure
Shimla, September 21
The government will implement the ~600-crore Asian Development Bank (ADB)-assisted Infrastructure Development Investment Programme to give boost to tourism in the state.
Check illegal mining on Chakki riverbed: Villagers
Nurpur, September 21

Illegal mining on the Chakki riverbed is going on unabated in lower areas of Kangra district, posing a threat to the environment and spoiling hundreds of acres of fertile land.

JCBs and stone crushers on the Chakki riverbed. Photo by writer

Pak team reaches Manali to inspect power project
Shimla, September 21
A three-member Pakistani delegation of water expert headed by Indus Waters Commissioner Mirza Asif Beg reached Manali today to inspect the 120-MW Miyar hydropower project near Udaipur in Lahaul-Spiti district.
750 more buses to be added to HRTC fleet, says Bali
Kangra, September 21
The government has disbursed Rs 14 crore for the development of infrastructure in Rajeev Gandhi Govt Engineering College at Nagrota Bagwan while Rs 6 crore was already disbursed for the construction of the college building.
Speed up work on Manali road: MP to Gadkari
Mandi, September 21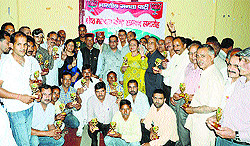 Mandi BJP MP Ramswaroop Sharma said he had met Union Road Transport and Highways Minister Nitin Gadkari and urged him to speed up the work on the four-laning of the Kiratpur-Manali road.


Agents of the best booths of the BJP being honoured by MP Ramswaroop Sharma and MLA Jai Ram Thakur in Mandi on Sunday. Photo: Jai Kumar

5-day Mandi Mahotsav begins on cultural note
Mandi, September 21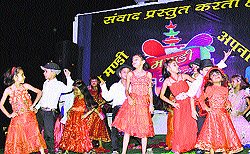 The five-day Mandi Mahotsav has started here. The event is being organised by the Samvad Yuva Mandal, a cultural organisation. The programme was inaugurated by Mandi Municipal Council Executive Officer Ajay Prashar last evening.


Children perform on the opening day of the mahotsav in Mandi on Saturday night. Photo: Jai Kumar

Continue aid to SVSD College: Satti
Una, September 21
State BJP president and Una MLA Satpal Singh Satti has expressed resentment over the government decision to stop the 95 per cent grant-in-aid being given to the college since 1978. He has blamed petty politics by local politicians of the ruling party behind the move.
Female teachers accompanying women kabaddi teams allege harassment
Shimla, September 21
Female teachers of government colleges from different parts of Himchal Pradesh accompanying women kabaddi teams participating in the inter-college kabaddi competition at Theog, 32 km from here, had a harrowing time as the organisers did not make proper arrangements for their "safe" stay.
Crime against women on the rise in the state
Shimla, September 21
Women in the state are growing more vulnerable to crime. The largest district, Kangra, with sex ratio of 1,012, has registered an increase in crime against women.
Rural women to be provided kitchen garden seed kits
Una, September 21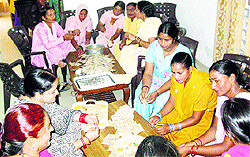 The Swan River Federation, an umbrella organisation for 6,120 rural women who are members of 425 self-help groups in 50 panchayats of the district, has decided to distribute kitchen garden seed kits to all its members.


Members of the Swan Women Federation pack kitchen garden seed kits in Una on Sunday. Photo: Rajesh Sharma

Lok Mitra Kendras in Nurpur fail to deliver
Nurpur, September 21
The process to set up Lok Mitra Kendras (LMKs) in Kangra district in the Public Private Partnership model under the national e-governance plan was launched with much fanfare five years ago. But they are hardly able to deliver requisite services now and are being shut.
Solve property disputes with mutual consent: Judge
Chamba, September 21
RK Sharma, District and Sessions Judge, Chamba, urged the public to not indulge in unnecessary quarrel, which takes them to court and wastes time and money.
KVK shows way to fight effect of dry spell on crops
Shimla, September 21
While a long dry spell in several areas of the country is adversely affecting crop productivity, the Krishi Vigyan Kendra (KVK) in Reckong Peo (Kinnaur) has shown the way to revive the cultivation of nutrient-rich and climate-resilient traditional crops such as ogla and phafra (buckwheat).
Step-down of transformer at NHPC power project sought
Chamba, September 21
To cope with the frequent power shutdowns and provide regular supply to Chamba district, the Chamba Welfare Association has urged the state government to set up a "step-down transformer" at one of the hydroelectric projects owned by the National Hydroelectric Power Corporation (NHPC).
Kutlehar BJP sends relief material to J&K flood-hit
Una, September 21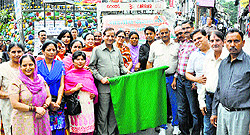 The Kutlehar block unit of the Bharatiya Janata Party (BJP) today sent a truck load of relief material to Jammu and Kashmir for the flood victims. Virender Kanwar, BJP MLA from Kutlehar, said the material included a tonne of wheat flour, 45 quintal rice, three quintal pulses and 200 pairs of clothing, besides blankets.
BJP leader Kishan Kapoor flags off a relief material truck for flood victims of Jammu and Kashmir in Dharamsala on Sunday. Photo: Kamaljeet

Science graduates given degrees in Palampur
Palampur, September 21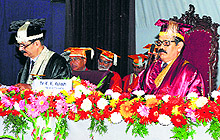 Dr KK Katoch, Vice-Chancellor, CSK Himachal Pradesh Agriculture University (HPAU), underlined the importance of basic science in research and applied sciences and said its development brought economic prosperity.


Vice-Chancellor KK Katoch and delegates on the dias during a convocation function of College of Basic Sciences in Palampur on Saturday. Photo: Ravinder Sood

4-day youth fest concludes
Nurpur, September 21
The four-day youth festival concluded at Ram Singh Postgraduate Government College, Dehri, yesterday. About 450 students of 69 government colleges from across the state took part in various competitions.
11th State Yoga Championship comes to an end at Una
Una, September 21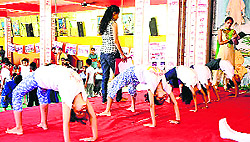 The 11th State-Level Yoga Championship came to a close today at the Radha-Krishna Temple in Kotla Kalan village near Una town. The two-day championship was organised by the State Yoga Association. More than 350 participants from 10 districts of the state performed at the competition.

Partcipants of the yoga championship showcase their talent at Una

VIGNETTES
Hindi poetry on flowers
The Shimla Amateur Garden and Environment Society (SAGES) had its workshop on flowers on November 14 this year, that happened to be the Hindi Divas.
PO held, sent to judicial custody
Nurpur, September 21
A team of the Special Investigation Unit (SIU) of the Kangra police arrested Kishor of Ghagni Parel (Chamba) from Tissa in Chamba district yon Friday.
Migrants held with stolen material from Tahliwal industrial area
Una, September 21
The Una police arrested six migrants from Uttar Pradesh and Bihar along with stolen material from the Tahliwal industrial area late last night.
Bollywood actors Rakul Preet Singh; (right) and Rajkumar Rao during the shooting of the film "Shimla Mirchy" on The Ridge in Shimla on Sunday. Photos: Amit Kanwar