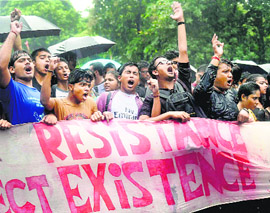 molestation case

: Jadavpur University students march towards Governor's House demanding the resignation of Vice Chancellor Abhijit Chakrabarty over sexual harassment of a second-year history student last month, in Kolkata on Sunday. The BJP has called for an inquiry by the National Commission for Women into the issue. PTI

Bilawal a daydreamer in Pakistan, says IUML
New Delhi, September 21
Indian Union Muslim League on Sunday dubbed Bilawal Bhutto Zardari as one of the "daydreamers" in Pakistan for his Kashmir remarks and said that every inch of Indian territory will be protected to the last minute.
Finalise joint missile project: France to India
New Delhi, September 21
France has asked India for early finalisation of the long-pending Rs 30,000-crore project for joint production of short-range surface-to-air missile (SR-SAM) systems. In a letter, the French Defence Ministry has told its Indian counterpart that "it will carry out substantial transfer of technology and know-how, especially in the field of missile guidance".
Those under preventive detention can vote: EC
New Delhi, September 21
People under preventive detention have the right to vote, the Election Commission said ahead of the Assembly elections in Maharashtra and Haryana, and warned that there should be "no ground" for any grievance due to non-compliance of the directive.
Fan out in rural areas: BJP to MPs in Haryana, Maharashtra
New Delhi, September 21
Learning from the recent by-poll debacle that saw the party lose 13 seats held by it, the BJP has asked its sitting MPs in Haryana and Maharashtra to campaign extensively and ensure maximum gains from their respective constituencies in terms of number of Assembly seats in the coming elections.
Replacement of plan panel still under consideration
New Delhi, September 21
The proposal to replace the Planning Commission with a new body, as announced by Prime Minister Narendra Modi, is "still under consideration" of the Centre. In reply to an RTI query, the Planning Commission said the final decision, as and when it is taken, on its replacement will be put in public domain.
Narrow escape for crew, passengers of AN-32
Chandigarh, September 21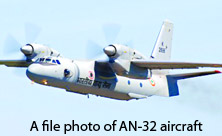 The crew and passengers of the AN-32 aircraft yesterday miraculously escaped serious injuries after the plane crashlanded and caught fire at the Chandigarh air force station. The aircraft has been damaged beyond repair. Terming it as a freak accident, IAF sources said a strong wind shear virtually slammed the aircraft on to the runway. "The aircraft was still at a certain height above the runway when it got caught in the wind shear. After hitting the runway at a high speed, it veered off. In the process, its right wing hit the ground and tore off," a source said. As the wing broke, fuel from its tanks spilled out and ignited," he said.
CBI quizzes PC's wife in Saradha scam
New Delhi, September 21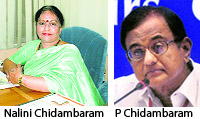 Nalini Chidambaram, wife of former Finance Minister P Chidambaram, has been examined by the CBI in connection with the alleged multi-crore Saradha chit fund scam. The CBI examined Nalini, a Supreme Court lawyer, yesterday evening in Chennai in connection with the legal fee paid to her by the Saradha group, official sources said here. The sources said Saradha Chairman Sudipta Sen, at present in jail, had mentioned about hiring Nalini as a lawyer at the request of Manoranjana Sinh, estranged wife of Congress leader Mantang Sinh. Sen, who had written a letter to the CBI last year, had claimed that Rs 1 crore had been paid to the lawyer as her legal fee by the Saradha Group. Nalini represented Manoranjana and, therefore, was asked to offer her professional advice in her negotiations with Sen in connection with plans by the group to acquire a TV channel in the northeast. — PTI
Visa on arrival facility on cards for US tourists
New Delhi, September 21
India is working on a proposal for visa on arrival (VoA) facility for US tourists, one of the big-ticket announcements expected to be made during Prime Minister Narendra Modi's high-profile visit to the US beginning September 26. The Ministry of Home Affairs is working overtime to finish the work on the VoA proposal to finalise it in time for the Prime Minister's visit, according to government sources. The MHA in consultation with the tourism ministry is working on the tourist VoA under which visa can be granted to US citizens who do not have a residence or occupation in India and whose sole objective of visiting India would be recreation, sightseeing, casual visit to meet friends and relatives, etc, the sources said. Under the new proposal, which is still being worked out, the stay limit is expected to be 30 days. — PTI
Mars probe set to begin orbiting Red Planet
Bangalore, September 21
Tomorrow is a great day on the itinerary of India's Mars mission. The spacecraft is slated to enter the sphere of influence (SOI) of the Red Planet on that day. The spacecraft will arrive at the Mars' SOI (around 5,73,473 km from the surface of Mars) in a hyperbolic trajectory. When the spacecraft reaches the closest approach to Mars (periapsis), it will be captured in the planned orbit around Mars (called Mars orbit insertion or MOI). The MOI is slated to take place early in the morning on Wednesday (September 24). Launched from the spaceport at Sriharikota near Chennai on November 5 last year, the Mars orbiter had left earth's SOI on December 1 after six orbit raising manoeuvres. When the orbiter reaches the Mars's SOI tomorrow, it will have covered 666 million km since December 1 – the longest journey by any Indian space mission till date. — Shubhadeep Choudhury/TNS
2G: Govt orders appointment of permanent ED officer
New Delhi, September 21
Acting on the directions of the Supreme Court, the government has issued fresh orders for permanent appointment of an Enforcement Directorate officer in the agency who has been tasked with the probe into the 2G spectrum case. The finance ministry, on September 13, issued orders for appointing Rajeshwar Singh as deputy director in the agency on "absorption basis with immediate effect". The apex court had issued directions in this regard on September 8 after it was informed that Singh's appointment has not been made regular by the government despite an order from the Central Administrative Tribunal (CAT) which was issued in December last year. Sources said Singh, who had proceeded on one-year sabbatical owing to lack of clarity over his continuance in the investigation agency, has taken over charge last week after the FM issued the orders. — PTI
RJD MP calls doctors 'executioners'
Patna, September 21
Condemning doctors as "executioners" and "flesh-eating devils", Rashtriya Janata Dal (RJD) MP and muscleman Rajesh Ranjan, better known as Pappu Yadav, today said he will launch a statewide agitation from Saharsa on October 13 to rein them in. Yadav also asked the state government to take strict action against the medical practitioners and ban private practice by doctors in government service. "Barring 10-15 per cent doctors who work honestly, all others are executioners and flesh-eating devils. They are completely corrupt and behave like middlemen. — PTI