When people helped each other
Srinagar, September 15
Srinagar, until recently a city living around a pristine lake with an easy-flowing river snaking from its south to north, is a place of disaster. For the last nine days, equaling to nearly 240 hours, hundreds of people continue to remain trapped with stinking water around them and with a lurking danger of epidemic diseases.
Sohni Mahiwal Point washed away in Chenab
Hamirpur Kona (International Border), September 15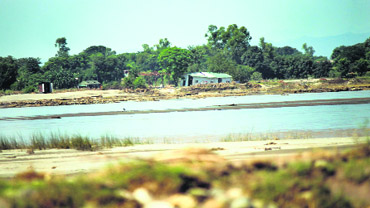 Sohni Mahiwal Point was washed away when the Chenab diverted its flow between the border hamlets of Hamirpur Sidhar and Hamirpur Kona on the night of September 5. It was the spot where Sohni used to meet her lover Mehiwal during the late Mughal period.

The point on the banks of the Chenab where fabled Sohni and Mahiwal used to meet. Tribune Photo: Inderjeet Singh

Fertile fields in border area turn barren
Hamirpur Kona (international border), September 15
Silt accumulated on the fields has not only damaged standing crops, but also buried hopes and desires of hundreds of the ill-fated families of this border belt as nearly 1,200 acres of fertile agriculture land has turned barren in Hamirpur Kona village only. Located on the international border (IB), this hamlet, comprised of over 280 families, has bore the maximum brunt of the nature's fury as the mighty Chenab changed its course and flowed through the standing crops.
Consider ex gratia to victims, SC tells govt
New Delhi, September 15
The Supreme Court on Monday asked the government to consider ex gratia to victims of floods in Jammu and Kashmir and set up an adequate number of relief camps for them, besides facilitating mobile banking services to enable them to meet their immediate expenses.
Snapshots
Landslide threat looms over Kishtwar
Over 80 families across 10 villages of Kishtwar district are living under the constant threat of landslides post incessant rain and flash floods in the region, said Deputy Commissioner, Kishtwar, Javed Khan.
---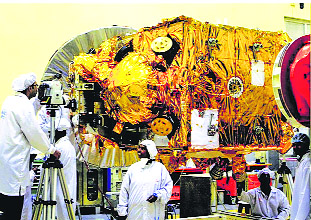 ISRO gears up to put Mars spacecraft into orbit
Bangalore, September 15
As India's Mars Orbiter Mission (MOM) fast closing in on its target, ISRO scientists today said the operation to insert the spacecraft into the Martian orbit would be carried differently than what was planned earlier.


Over to Red planet: An artist's impression of Mars orbiter's journey and (below) Mars Orbiter Mission module's file picture.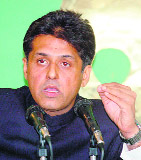 Embarrassed, Congress gags out-of-line speakers
New Delhi, September 15
Embarrassed by recent anti-leadership and anti-party line remarks by some of its leaders, the Congress today gagged its ranks saying not everyone has the liberty to speak on the party's behalf. Only official spokespersons can articulate the party's position on policy issues, signalled Congress leader Shakeel Ahmed, circulating a list of 18 spokespersons who, he said, must be contacted for party's views on critical issues.

Manish Tewari, former information minister

Western Command observes 67th Raising Day
Chandigarh, September 15
The Army's Western Command observed its 67th Raising Day at the Chandimandir military station today. To mark the occasion, the General Officer Commanding-in-Chief, Western Command, Lt Gen KJ Singh, laid a wreath at the Veer Smriti War Memorial. A large number of officers attended the ceremony. A ceremonial Guard reversed arms while buglers sounded the Last Post as a mark of respect to martyrs.
Linking North-East top priority, says VK Singh
New Delhi, September 15
The Narendra Modi-led government will focus on the North-East, especially rail, road and air links to bring the eight states closer to other parts of India. Key work will include connecting the upcoming Silchar-Jirbham-Imphal highway with Mandalay, Burma, for onward road links with Thailand and Vietnam — both countries are vital for India in its "Look-East" policy.
Rs 16,000-cr projects okayed in 100 days: Gadkari
New Delhi, September 15
The government today said it had set a time frame of three years to achieve the target of constructing 30 km of road everyday and steps towards that have been taken with the clearance of projects worth Rs 16,000 crore in the first 100 days of the Narendra Modi-led NDA government at the Centre.
BJP leadership disowns 'polarisation' bid in UP
New Delhi, September 15
The central BJP leadership in Delhi is keeping a safe distance from certain Uttar Pradesh leaders' attempts at polarisation, terming them their personal viewpoints. Taking forward Yogi Adityanath's discourse, BJP's Unnao MP Sakshi Maharaj yesterday alleged that children in madrasas were being trained to become terrorists, inviting criticism from the saffron party's political rivals.
Lokpal search panel
Cong slams BJP on Rao's inclusion
New Delhi, September 15
The Congress today slammed the BJP for its U-turn on the inclusion of PP Rao in the Lokpal Search panel, something it had vehemently opposed when the previous Congress government had made the proposal.
BJP credits Modi for dip in inflation
New Delhi, September 15
The BJP has credited initiatives taken by the Narendra Modi government for the decline in inflation and said it was committed to bringing down prices and improving the country's economy to make the life of the common man easy.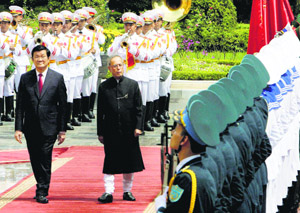 India, Vietnam ink 7 pacts
Hanoi, September 15
Strategically important oil and gas cooperation and extension of a $100 million credit by India to Vietnam for defence purchases are among the seven pacts inked between India and Vietnam as they called for "freedom" of navigation in the South China Sea, a remark that could irk China which has been claiming territorial sovereignty over the high seas.

President Pranab Mukherjee and his Vietnamese counterpart Truong Tan Sang inspect a guard of honour in Hanoi on Monday. AP/PTI

India slams Pak for backing Saeed
New Delhi, September 15
India today reacted sharply to a statement by Pakistan that there was no case against Hafiz Saeed, with New Delhi describing him as the "evil mastermind" behind the 2008 Mumbai attacks and Islamabad should bring the Jamat-ul-Dawa chief to book for the crime.
Boundary row likely to be discussed during Xi's visit
New Delhi, September 15
In a departure from custom, Prime Minister Narendra Modi will receive Chinese President Xi Jinping not in Delhi, but in Ahmedabad, where the dignitary will arrive to commence the September 17-19 bilateral visit to India.
Visitors' list
Reveal source of info, SC tells Bhushan
New Delhi, September 15
The Supreme Court today directed advocate Prashant Bhushan, who has levelled allegations against CBI Director Ranjit Sinha of protecting accused in the 2G case, to reveal the name of the whistleblower from whom he got CBI documents and the guest list of the senior cop's residence.
Accreditation must for all teacher training institutes, says govt
New Delhi, September 15
It will soon become mandatory for all institutes offering teacher education and training programmes to get their courses accredited. The HRD Ministry today emphasised the need for streamlining training systems and setting minimum benchmarks for quality attainment. The matter came up for discussion today at the meeting of Central and state university V-Cs and academic regulators, including the UGC and the National Council for Teacher Education which HRD minister Smriti Irani opened. Irani called for improvement in the standards of teacher education in the country and directed the NCTE, the apex body for teacher education, to prepare a database of all educators so that they can be trained further and their core competencies built. Irani addressed the meeting just a day after the retreat with V-Cs of Central universities which she held in Chandigarh over the weekend. TNS
'Love jihad' a political concept, says Muslim law board
Lucknow, September 15
'Love jihad' is a political concept and has no sanction in Islam, clarified the All-India Muslim Personal Law Board. Interacting with mediapersons and a cross-section of common people, a select band of AIMPLB's members representing its Tafheem-e Shariat committee (committee to help comprehend Sharia laws) hit out at Unnao BJP MP Sakshi Maharaj for his statement about madrasas being the breeding ground of terrorists. At a meeting in Kannauj, the controversial BJP MP had claimed Muslim youth studying in madrasas were being motivated to practice "love jihad" by giving them cash incentives of Rs 11 lakh for luring a Sikh girl, Rs 10 lakh for a Hindu girl and Rs 7 lakh for a Jain girl. Madrasas are only spreading love and communal harmony through education claimed the ulemas representing the AIMPLB. TNS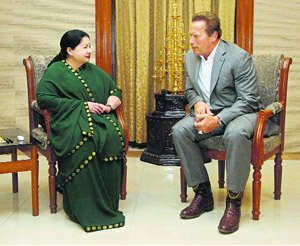 star appeal

: Hollywood actor Arnold Schwarzenegger with Tamil Nadu Chief Minister J Jayalalithaa at the secretariat in Chennai on Monday. PTI

Amethi clash: FIR against MP's son
Lucknow, September 15
The Akhilesh Yadav government has registered an FIR against the scion of Amethi's royal family, Anant Vikram Singh, and 257 others for yesterday's violence between his supporters and the police, leaving a constable dead and around 20 injured. Amethi District Magistrate Jagatraj held Anant Vikram Singh, the son of Raja of Amethi and Congress MP Sanjay Singh from his first wife Garima Singh, responsible for yesterday's violence. Of the 257 people, seven have been named, while 250 remain unidentified. Those named in the FIR are: Vijay Pratap Singh, Chintu Kumar, Sanjay, Awadhesh, Binnu, and Sunil. The district administration said Anant had yesterday called his supporters to prevent the entry of his father Sanjay Singh to 'Bhoopati Bhawan'. TNS
Govt okays setting up of Ayush mission
New Delhi, September 15
The Cabinet headed by Prime Minister Narendra Modi today approved the setting up of the National Ayush Mission (NAM) to plug gaps in healthcare delivery. Under the NAM, a special focus will be given to specific needs of vulnerable and far-flung areas of the country and allocation of higher resources in their annual plans. The mission will help improve Ayush education with the efforts of state/UT governments through quality enhancement in educational institutions, and better access to Ayush services. The mission will also help provide sustained availability of quality raw material for Ayush systems of medicine and improve availability of drugs through a rise in number of pharmacies and drug laboratories. TNS
Bypoll results today, stakes high for BJP
New Delhi, September 15
Counting of votes will be held tomorrow in three Lok Sabha and 33 Assembly constituencies spread across 10 states where byelections were held on September 13, with stakes high for the BJP. The three Lok Sabha seats are in Vadodara (Gujarat), vacated by Prime Minister Narendra Modi, Mainpuri (Uttar Pradesh) and Medak (Telangana), while 11 Assembly constituencies are in UP, nine in Gujarat, four in Rajasthan, two in West Bengal, five in Northeastern states and one each in Chhattisgarh and Andhra Pradesh. Twenty-four of these Assembly seats were held by the BJP and one each by its allies Apna Dal and the TDP. — PTI
India slams Pak for backing Saeed
New Delhi, September 15
India today reacted sharply to a statement by Pakistan that there was no case against Hafiz Saeed, with New Delhi describing him as the "evil mastermind" behind the 2008 Mumbai attacks and Islamabad should bring the Jamat-ul-Dawa chief to book for the crime. Earlier, Pakistan High Commissioner Abdul Basit said Hafiz Saeed is a Pakistani national so he is free to roam around. "So what is the problem...he is a free citizen so there is no issue as far as Pakistan is concerned. Courts have already exonerated him. There is no case pending against him." Later, MEA spokesperson Syed Akbaruddin said: "Our views on Saeed are clear. To us, he is the evil mastermind of the Mumbai attacks and one of the accused in an Indian court for the killings on streets of Mumbai. We have repeatedly asked Pakistan that he should be apprehended and taken through normal judicial process." TNS