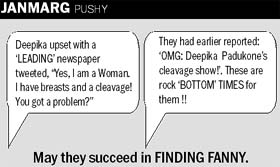 MSMED ACT
Frame new industrial policy, Centre tells UT
Chandigarh, September 15
As the UT Administration is not allowing certain activities under the Micro, Small and Medium Enterprises Development (MSMED) Act, 2006, in Chandigarh despite directions from the Union Home Minister, the Centre has now issued directions to it to formulate a new industrial policy commensurate with the Act.


Resident bears the brunt of VIP apathy
Chandigarh, September 15
In yet another incident of high-handedness by a VIP convoy, a Zirakpur resident had to bear with damage to his swanky vehicle and suffer mental harassment after his Honda City car was hit by an escort vehicle of the convoy this morning.
The Zirakpur resident, whose car was hit by an escort vehicle, narrates the incident to policemen. Tribune photo: Manoj Mahajan

Sweeping machines drain MC funds
Chandigarh, September 15
After spending over Rs 2.45 crores on three road-sweeping machines since 2008, the Municipal Corporation (MC) is all set to further spend Rs 18 lakh on spare parts of the machines that have turned out to be money-guzzlers for the civic body.

Road-sweeping machines are proving a white elephant for the Municipal Corporation, Chandigarh. A file photograph

MAdrasi Colony
NGO comes to the rescue of uprooted dwellers
Chandigarh, September 15
While the UT administration moved on after patting itself for a successful demolition drive in Madrasi Colony and forgetting dwellers who were devastated after being made homeless, Vastsal Chaya, a city based NGO, has come as a savior to them.
Several residents of Madrasi Colony, who could not get a house in the rehabilitation colony, are putting up at a gurdwara in Bapu Dham Colony. Tribune photo: Manoj Mahajan
City residents in the grip of sleep disorders, say experts
Chandigarh, September 15
If you feel an irresistible urge to move your legs while thinking, report chronic snoring or have frequent complaint of indigestion, excessive daytime sleepiness or morning headaches, watch out!
City hospitality body for lowering cap on infra status
Chandigarh, September 15
The Chandigarh Hospitality Association (CHA) has demanded reduction in the cap on 'infrastructure status' to the hospitality sector from prevailing Rs 200 crores to Rs 20 crores.


Rs 2.7 cr embezzled from Balongi village panchayat fund, alleges Mohali MLA
Mohali, September 15
Alleging embezzlement of Rs 2.70 crore from the panchayat fund of Balongi village, Mohali Congress MLA Balbir Singh Sidhu today demanded an inquiry by the vigilance department or some High Court judge in the matter.

Rainwater accumulates on an uncarpeted road at the main bazaar of Balongi village near Mohali. MLA Balbir Singh Sidhu has alleged that certain panchayat members in connivance with government officials embezzled money meant for development works. A file photo
Suspension of prtc contractual employees
Regular staff shoulder responsibilities
Chandigarh, September 15
After suspension of 81 contractual employees (drivers and conductors), senior and regular staffers of the Pepsu Road Transport Corporation (PRTC), Chandigarh, have been shouldering all responsibilities.


UT Admn retrieves 3 acres near PEC
Chandigarh, September 15
Around three acres of prime UT land near Nayagaon were cleared of illegal structures in a demolition drive carried out here today. The structures, including a saw mill and meat shops, had come up on the UT land adjoining the boundary of the Punjab Engineering College on the road leading from Chandigarh to Nayagaon.
A demolition drive under way near Punjab Engineering College in Chandigarh on Monday. Tribune photo: Pradeep Tewari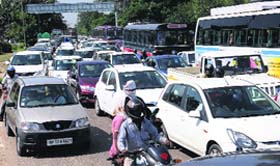 Rush hour: Traffic snarls in mornings and evenings on working days are common around Tribune Chowk. Tribune photo: Manoj Mahajan
Property tax to be rational in Mohali: DC
Mohali, September 15
Clearing the air on property tax, Member of Parliament (MP) from the Anandpur Sahib constituency Prem Singh Chandumajra said residents of Mohali would have to pay the tax in the coming days.
57,474 getting mid-day meal in Mohali: DC
Mohali, September 15
Under the Mid-Day Meal scheme, 57,474 children at 691 schools in the district are being served lunch. Stating this, Deputy Commissioner Tejinder Pal Singh Sidhu said there were 467 government primary schools in which 35,448 children were studying. At 224 upper primary schools, there were 22,026 students.


Colourful, musical evenings at Sec 17 soon
Chandigarh, September 15
To make evenings at the Sector 17 Plaza more colourful, the Municipal Corporation is coming up with a laser-cum-musical fountain at a cost of around Rs 2.75 crores. The musical fountain will create aesthetic designs, including three-dimensional images, achieved by effects of timed sound waves and timed light against water particles.
The construction of a laser-cum-musical fountain under way at the Sector 17 Plaza in Chandigarh. Tribune photo: Manoj Mahajan
PGI governing body meeting postponed
Chandigarh, September 15
The PGIMER governing body meeting that was scheduled to be held today at Union Health Minister Dr Harsh Vardhan's office in New Delhi was postponed for an undisclosed period, due to the unavailability of the minister.


j&K floods
Students lend a helping hand
Chandigarh, September 15
Students pursuing postgraduation at the geography department of Panjab University have collected nearly Rs 54,000 for flood-affected people of Jammu and Kashmir. The department had placed sealed boxes to collect money at different locations on the campus.

A student donates money to help the J&K flood-hit on the Panjab University campus in Chandigarh. Tribune photo: Manoj Mahajan
CTU bus passes a hit
Chandigarh, September 15
The new bus passes introduced by CTU for inter-city travelling on "anytime anywhere basis" is getting good response. E-Sampark centres have been authorised to issue quarterly and half-yearly bus passes in the form of a plastic card. The passholder is allowed to travel on any local route and for any number of times.


Primary sections
Mass transfer of teachers soon
Chandigarh, September 15
In order to remove disparity between student-teacher ratio in government schools, the Education Department has finally decided to do mass transfer of teachers of primary sections.


Annual Cultural Extravaganza
Act on J&K flood disaster leaves audience in tears
Chandigarh, September 15
The 8th Annual Cultural Extravaganza, "Rajni", of the Aryans Group of Colleges, Chandigarh, was held at Tagore Theatre today. A special fund-raising activity was also done by the Aryans Group for J&K flood victims.

Students of the Aryans Group of Colleges at a fund-raising event during the annual cultural extravaganza at Tagore Theatre in Chandigarh on Monday. Tribune photo: Manoj Mahajan

ABVP to take up Central varsity issue at all levels
Chandigarh, September 15
The ABVP is going to take up the Central university issue at all levels from the PU authorities to the Central government next week. Dinesh, senior leader of the ABVP, while interacting with the media today, said the party had chalked out the strategy on how to get it approved.

ABVP representatives address mediapersons at Panjab University in Chandigarh. Tribune photo: Manoj Mahajan
NSUI to submit details of poll expenditure today
Chandigarh, September 15
The NSUI, which won three seats during the recently held student council elections at Panjab University, also wants to lead in submitting the details of its poll expenditure to the university authorities.


Engineers' Day at PEC
Students apprised of job prospects in Navy
Chandigarh, September 15
Engineers' Day was celebrated at the PEC University of Technology to commemorate the birthday of Bharat Ratna awardee Sir Mokshagundam Visvesvaraya, a legendary engineer and scholar.

Rear Admiral BR Taneja, Director General, Weapons and Electronics Systems Engineering Establishments, delivers a lecture at the PEC University of Technology. Tribune photo: S Chandan
University gets complete access to Google services
Chandigarh, September 15
Rayat-Bahra University has become the first educational campus of Punjab to have a complete access to Google Apps Education Edition - a group of Google services enabling 30,000 of its students and teachers to be connected and work together.
Law graduates get enrolment certificates
Chandigarh, September 15
The Bar Council of the Punjab and Haryana High Court today organised a function where enrolment certificates were distributed among law graduates. The function was organised under the chairmanship of Rakesh Gupta at the Law Bhawan, Sector 37, here.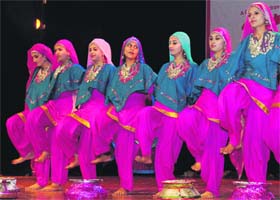 ADDING A DASH OF COLOUR: Students of the Aryans Group of Colleges present an item during its annual cultural extravaganza "Rajni" at Tagore Theatre in Chandigarh on Monday. Tribune photo: Manoj Mahajan
PU and college notes
Talk-cum-seminar
The Department of Gandhian and Peace Studies organised a special talk-cum-seminar on Gandhi fellowship at Panjab University on Monday. Rajvinit Gumber, former Gandhi scholarship fellow, was the chief speaker. He delivered an informative and comprehensive talk on Gandhi Fellowship. In his presentation, Rajvinit Gumber discussed various opportunities to get this fellowship.
From schools
Honour for school
DAV Public School, Sector 8-C, Chandigarh, has been placed at No. 8 at the state level in coeducational day schools in a survey conducted by C-Fore in Education World India School Ranking. The survey rated and ranked over 800 schools on 14 parameters, including academic reputation, faculty competence, leadership quality, sports education and ratings.