Heroin worth Rs 65 cr seized from Pak train
Amritsar, September 13
The Directorate of Revenue Intelligence (DRI) today seized 13 kg of heroin being smuggled from Pakistan through a goods train that arrived here last night.
SGPC sends 50,000 more food packets to J&K flood-hit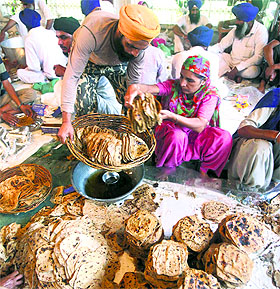 Amritsar, September 13
The SGPC today dispatched another 50,000 food packets to the flood-hit Jammu and Kashmir. Its employees and devotees are working overtime to prepare langar at Sri Guru Ram Das Langar Hall in the Golden Temple complex. Manjeet Singh, secretary, SGPC, said: "We have prepared 50,000 food packets each containing four paranthas, dry vegetable and pickle. These have been sent to Srinagar by air this morning. We will send 50,000 more food packets to Kashmir tomorrow."



'Langar' being prepared for those hit by floods in J&K at the Golden Temple in Amritsar on Saturday. photo: Vishal kumar
Controversy mars MCI poll, again
Chandigarh, September 13
The exercise to elect state representative to the Medical Council of India (MCI) ran into controversy again with three of the four candidates boycotting the counting in protest over the allegations of fake votes and non-receipt of over 70 per cent of the about 16,000 votes.
Bandh over recovery of carcasses
Sangrur, September 13
Local shopkeepers today observed a complete bandh, protesting the recovery of a few carcasses (said to be of cows) in Malerkotla on September 10. They also demanded that the guilty be brought to book.
Policemen take undertrial to relative's house, arrested
Gurdaspur, September 13
The Gurdaspur police nabbed an undertrial and two policemen from the house of the undertrial's kin. The "erring" policemen had taken the prisoner to a relative's house in Dhariwal, 10 km from here, instead of taking him back to Gurdaspur Central Jail from the Civil Hospital.
Army observes 49th anniversary of Asal Uttar battle
Chandigarh, September 13
Asal Uttar Day was celebrated by Army's Gurki Brigade in Punjab to commemorate the victory in the Battle of Asal Uttar 49 years ago during operations against Pakistan.
Vocational scheme in 500 schools soon, says Cheema
Ropar, September 13
The vocational education scheme that was launched by the state government recently would be introduced in 500 more schools next year, said Education Minister Daljit Singh Cheema.
Held during drug drive, 3,700 addicts all set to walk free
Chandigarh, September 13
The state government is all set to release 3,700 drug addicts presently lodged in 26 jails across the state. These persons will be treated in 25 de-addiction centres that are already operational.
Two killed, 27 hurt as tourist bus, truck collide in Bathinda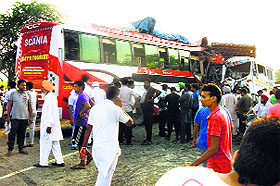 Rampura, September 13
Two persons died while 27 were hurt in a head-on collision between a tourist bus and a truck near Jethuke village of Rampura on the Bathinda-Barnala road today. The accident occurred when the truck, loaded with gas cylinders, tried to overtake another vehicle. The bus with around 45 passengers onboard was on its way from Kolkata to Dargah Sharif near Bikaner in Rajasthan.

The mangled vehicles in Rampura on Saturday. Tribune photos
38 STPs to be functional by June 15, HC told
Chandigarh, September 13
The state government has told the Punjab and Haryana High Court that no less than 38 sewage treatment plants (STPs) would be functional by June 30, 2015. The undertaking came during the hearing of a petition for restraining the state from utilising groundwater in blocks declared "notified areas" by the Central Ground Water Board.
De-addiction centre not set up, HC pulls up state
Chandigarh, September 13
The Punjab and Haryana High Court has admonished the Punjab Government for going back on its word to set up a de-addiction centre at Janer in Moga. The court has placed Secretary, Health and Welfare, Director, (Health) and Moga Deputy Commissioner in the dock.
AISSF turns 70, ex-chief says will revamp outfit
Chandigarh, September 13
The All India Sikh Students Federation (AISSF), which was established on September 13, 1944, completed 70 years today. Some of its former presidents and office-bearers met on the campus of Panjab University and passed a resolution to reinvigorate it.