fifty fifty


The legend of Mary Kom
Kishwar Desai

When I first read about the Olympian boxer, Mary Kom, a few years back, my initial thought was, 'What an inspirational film this would make'. In a country that lacks role models, especially for young girls, it is women like her who are coming out of nowhere to convince us of the possibilities of the human spirit. The fact that she was born into a poor family, that too from Manipur, lends a poignancy to the tale. The important part is that she did not worry about what other people thought of her endeavour, she just had the chutzpah to follow her dream, despite hundreds of roadblocks. And at last a film on her life has been made and is doing rather well.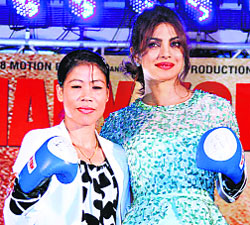 Priyanka Chopra has worked hard to emulate Mary Kom's mannerism.
The reality is that we rarely respect our sports stars, and generally this includes all categories (except perhaps cricket!). But sportswomen have a much more difficult time, battling the myth that they are 'unfeminine' in venturing forth into an erstwhile male dominated territory. Even when the girls bring back medals and glory, their attempts are simply not given the same importance, as is well portrayed in the film.
Usually parents take an inordinately long time to accept sports as a career or lifestyle choice for their daughters (partly out of wishful thinking perhaps) and this often leads to a basic insecurity among girls. Breaking off ties with family members is difficult, and there is no denying that their marriage prospects might also get affected. And in a bone crunching sport like boxing, weightlifting or wrestling there are worries about broken limbs and bruised faces. Besides, competitive international sports are extremely tough, and even champions like Mary Kom would be at a severe disadvantage when the investment into their lives by the Indian government is compared to what other countries do.
Given this bleak environment one is thrilled that filmmakers are at last recognising the importance of narrating a story like this, even whilst they continue to produce so called 'blockbusters' like "Happy New Year".
The biopic format, however, is never easy to shoot. And the selection of events to highlight can hamper or help the film immensely. The producers of Mary Kom's biopic have done well to keep the narrative simple, whilst focusing on the conflicts she faced: from opposition within her family to an unsupportive boxing federation. There are a few 'larger' visions or character insights built into the script, as happened in "Bhaag Milkha Bhaag". But there is a clean storyline which engages the audience right from the start. This is only partly to do with Priyanka Chopra's very competent rendering of Mary Kom — and a lot to do with the fact that both Mary Kom and the setting of the film, Manipur, are by themselves unique.
The irony is that the film cannot be seen in Manipur, alas, because of the ban imposed by militants on the screening of Hindi films. Their fear might be that by viewing Hindi films the residents of the state might fall prey to the lure of the 'Indian state'. A ban like this makes little sense for a variety of reasons. To begin with, in the age of the Internet it is impossible to keep art, culture, or cinema in separate compartments. It is now possible for Web users from all over the world to view banned content from other countries, what to speak of material from another state!
The other controversy to hit the film is the choice of Priyanka Chopra to play the main role and not someone from the Northeast, because apparently the latter would have been more effective. However, this proposition falters in the face of the fact that Priyanka has worked hard to transform her body, and even her accent, to create a very credible, moving and real Mary Kom. After some time, deep into the film, one forgets that she comes from another part of India.
The same hue and cry, it must be said, was not made when Farhan Akhtar played Milkha Singh. No one said he should not do it because he is neither a Sikh, nor can he speak Punjabi with the required panache. The film and his acting went on to win accolades all over the world.
One hopes that all these petty criticisms are not going to affect the key constituency that must view the film: all young women and men. This film is a change maker, both in its portrayal of women as well as the positive role seen to be played by Mary Kom's husband in real and 'reel' life. It sends out all the right messages and raises important issues. Please do take your daughters and sons to see the film!