'0001' fetches Rs 8.50 lakh
Chandigarh, September 13
In a price that could have got him an entry-level sedan, the proprietor of International Tractors Pvt Limited has bought the number '0001' for whopping Rs 8.50 lakh at an open auction held at the Registering and Licensing Authority (RLA). Out of the first 100 numbers of the CH 01 AZ series, 88 were auctioned today that fetched Rs 53.69 lakh.
Leasehold plots not to be converted into freehold
Chandigarh, September 13
In a major blow to industrialists, the UT Administration has decided against converting industrial plots from leasehold into freehold. The decision was taken at a recent meeting and the same was communicated to the Union Ministry of Home Affairs (MHA)too, a senior UT official said.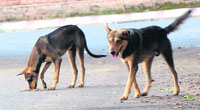 Rabies patient gets new lease of life
Chandigarh, September 13
In a rare case, doctors at the Western Command Hospital, Chandimandir, managed to save the life of a 16-year-old boy suffering from rabies.

Rabies, a life-threatening disease in people and animals, is caused by a virus. A file photo
PGI signs MoU for research
Chandigarh, September 13
Transformative healthcare requires a judicious combination of science, technology and entrepreneurship. This was stated by Prof Robyn Norton, principal director of the George Institute for Global Health, at the Post Graduate Institute of Medical Education and Research today.
New train to Jaipur from city on Sept 15
Chandigarh, September 13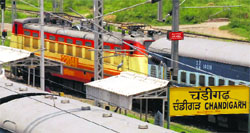 The Northern Railway today approved the Jaipur-Chandigarh-Jaipur Daily Express, which will start plying from Chandigarh on September 15. As per the budget announcement of 2014-15, the train no.— 19717/19718 (Jaipur-Chandigarh-Jaipur Daily Express) will comprise a total of 12 coaches.

The Jaipur-Chandigarh-Jaipur Daily Express will start plying from Chandigarh on September 15. A file photo
HARYANA ASSEMBLY POLL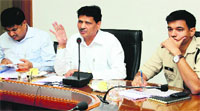 P'kula admn, police gear up for poll
Panchkula, September 13
Anyone found with cash in excess of Rs 1 lakh while travelling in Panchkula may have to give it up to the police on failing to justify the reason behind carrying such a large amount of money.
SS Phulia, Panchkula Deputy Commissioner, addresses a press conference ahead of Haryana Assembly elections at the Mini-Secretariat on Saturday. Tribune Photo: Nitin Mittal

HJC may give Chander Mohan the P'kula ticket
Panchkula, September 13
Chander Mohan, former Haryana Deputy Chief Minister, is all set for a comeback and may contest the Haryana Assembly poll from Panchkula.


Chander Mohan, former Deputy Chief Minister, Haryana
1,500 victims airlifted to Chandigarh
Chandigarh, September 13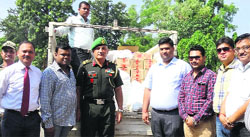 Close to 1,500 flood-affected persons were airlifted from Jammu and Kashmir to Chandigarh over the past 24 hours through a constant stream of aircraft that flew in from Srinagar.

The Maha Mai Mansa Devi Charitable Bhandara Committee members donate relief material to the Station Commander, Chandimandir, in Panchkula. A Tribune photograph
Community kitchen set up at gurdwara
zirakpur, September 13
Good Samaritans of the area have set up a community kitchen for the flood-affected persons at Gurdwara Bauli Sahib.
PSEB to curb cheating menace
Mohali, September 13
After tasting not much success in various anti-cheating drives during the examinations in the past, the Punjab School Education Board (PSEB) has now come up with a 10-point formula in this direction.
Mohali DLSA goes high-tech
Mohali, September 13
To spread legal awareness and information about the various schemes of Punjab Legal Services Authority, the District Legal Services Authority, Mohali, has formed a 'Whatsapp' group of all the enrolled para legal volunteers (PLVs) of the district.
Relief for market committee chief
Chandigarh, September 13
Providing a major relief to the Market Committee Chairman Dinesh Mahajan, the UT Home Secretary-cum-Secretary Agriculture, Anil Kumar, has set aside an order passed by the UT Deputy Commissioner-cum-Secretary State Agriculture Marketing Board, Mohammad Shayin, wherein he had suspended the licence of Mahajan's two firms.
Last date extended to September 30
Mohali, September 13
The Municipal Corporation has extended the last date for the payment of property tax for 2013-14 to September 30. Uma Shankar Gupta, Commissioner, MC, said three special counters have been opened at the civic body's office for the collection of property tax.
Girl comes to friend's rescue
Chandigarh, September 13
While hundreds rendered homeless after yesterday's demolition drive at Madrasi Colony started scurrying to find a roof, 17-year-old Aashifa, on finding one that could barely accommodate her family, decided to share it with a friend, Ruby, in order to save her future.
106-yr-old maestro mesmerises city
Chandigarh, September 13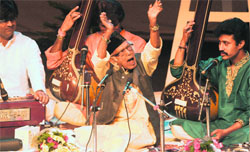 In the ongoing 6th Chandigarh Arts and Heritage Festival, the key attraction on Saturday was a classical vocal recital by 106-year-old classical vocalist Padma Vibhushan-awardee Ustad Abdul Rashid Khan.

Classical vocalist Ustad Abdul Rashid Khan, a recipient of Padma Vibhushan award, performs during the Sixth Arts and Heritage Festival at Tagore Theatre, Sector 18, Chandigarh, on Saturday. Tribune photo: Pradeep Tewari



SOI submits memo to HRD Minister

Chandigarh, September 13
The Student Organisation of India (SOI), Panjab University, today submitted a memorandum to Union Human Resource Development (HRD) Minister Smriti Irani for giving Central university status to the PU.


Leaders of the SOI submit a memorandum to Union HRD Minister Smriti Irani at the BJP office in Sector 33, Chandigarh, on Saturday. A Tribune Photograph
21-member delegation meets Smriti Irani
Chandigarh, September 13
A 21-member delegation of the Democratic Organisation of Sarva Shiksha Abhiyan Teachers (DOSSAT), Chandigarh, met Human Resource Development (HRD) Minister Smriti Irani today to apprise her of the pending issue of the regularisation of SSA teachers.
Panjab varsity to discontinue finance course at USOL
Chandigarh, September 13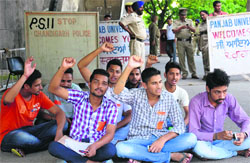 For the courses run under the community college schemes in the city, certificates will be issued to students by the colleges after authorisation from Panjab University. The written communication from the UGC was tabled in the Syndicate meeting chaired by Vice-Chancellor AK Grover today for approval.


PUSU activists hold a protest at Panjab University on Saturday. Tribune photo: Manoj Mahajan
Central universities to have common portal
Chandigarh, September 13
Central universities of the country will develop a common portal to share their expertise in research work and faculty. This was decided on the concluding day of the two-day retreat meet chaired by Union HRD Minister Smriti Irani here today.
Honour for P'kula school
Panchkula, September 13
Hansraj Public School, Sector 6, here has been placed at No. 2 at the state level in a survey conducted by C-Fore (Central Forecasting Private Limited) in the "Education World India School Rankings - 2014".
Canadian education fair today
Chandigarh, September 13
Charms Education & Immigration Services (P) Limited is going to organise a mega Canadian education fair in Chandigarh on September 14.
Students attend workshop
Mohali, September 13
The Gian Jyoti Group of Institutions organised a workshop on automobile engine mechanics here.