| | | |
| --- | --- | --- |
| | ARTICLE | |
Communal violence in Mewat
There is a disturbing divide which needs attention
D.R. Chaudhry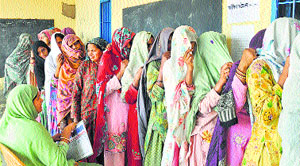 Meo women do not wear a burqa but support a "hijab". There is no place for female education in the kind of Islam being preached in Mewat

A simple road accident in Tauru town of Mewat district of Haryana leading to one casualty triggered violence, disturbing the communal harmony Mewat is known for. Even during Partition and the demolition of Babri Masjid, Mewat remained an island of harmony.
The Meos are Muslims with their distinct traits radically different from other community groups. The religion they profess is a blend of Islam and Hinduism. They are converts. The Meos subscribe to Islam but their caste structure is deeply influenced by their Hindu background. They share many gotras with Hindus. They follow the system of gotra in matrimonial alliances like Hindus. The Jats have the institution of Khap Panchayat while the Meos have a similar organisation called Pal. There is no sight of burqa-clad Meo women in Mewat. On account of their typical background Meos have liberal ethos. They are easy going and freedom loving.
It is Tabliq Jamat, an Islamic religious movement based on the teachings of Prophet Muhammad, which has a significant effect on Meos. It expects Muslims to have faith in Allah and observe Namaz five times a day and follow a virtuous path. It expects women to observe complete hijab. There is no place for female education in the kind of Islam being preached in Mewat. It tends to keep its followers aloof from the latest trends in politics and society. This movement seems to have made some dent in the liberal ethos of Meos. Fortunately, it does not preach any kind of fundamentalist ideology, though it tends to keep Meos frozen in the realm of conservatism.
The present model of development has spawned lumpen and criminal elements in almost every community like Jats, Gujjars etc. Meos are not free from this malaise. There is a section of criminal elements in this community also who commit all kinds of crime and some of them are equipped with illegal firearms. Lack of proper development in Mewat too contributes to this phenomenon.
The Hindu community too has been largely free from communal and fundamental forces. However, during the last few years the RSS and its affiliates have made significant inroads in Mewat and played a highly provocative role in injecting an anti-Muslim virus in the body of Mewat. They emphasise the role of Meos in spreading the concept of jihad, love jihad — young Muslim boys luring and marrying Hindu girls. When the question of love jihad was posed to several responsible Meos, they drew a blank face and expressed total ignorance. There is not a single instance of a Muslim boy marrying a Hindu girl through love jihad in Mewat.
On June 8, 2014, at about 7 in the morning a young man named Danvir, while riding a motor cycle, was mowed down by a dumper near the Pataudi-Mohammadpur road junction in Tauru. He died on the spot. The driver ran away and two cleaners of the dumper — Raes and Mubarak, both Meos, were caught by the mob on the spot. In such a situation the driver and his assistants are usually beaten up and then handed over to the police for further action. Here the situation took an explosive turn. Since the diseased and the cleaners were of different religions, Hindu communal elements in the mob imparted a communal colouring to the incident. Both the cleaners were thrashed by the mob so ruthlessly that they lost consciousness. Policemen tried to save them but the mob snatched them from the police and the beating continued. They were left as dead. Some elements in the mob started manhandling and beating any Meo they spotted in the town. Three motor cycles of Meos were set ablaze.
A rumour was spread that two Meo cleaners were killed and their bodies were not allowed to be lifted. Tauru is largely populated by Hindus. The news spread in the Meo villages which infuriated Meos. A large number of them reached the spot. There were some anti-social and fundamentalist elements among them and some of them were equipped with illegal firearms. They started firing in the air and two men were injured by pellets. They started throwing stones. Hindus present on the spot retaliated by throwing stones. It was a full-scale communal fight. The Meo mob looted some Hindu shops around. Meanwhile Shahida Khan, an ex-MLA, reached the spot and tried to pacify the irate Meo mob.
The elements owing allegiance to the RSS and its affiliates started spreading rumours. It was rumoured that Radhasoami Satsang Bhavan and the Pagha temple were razed to the ground. It was found by this author that the Radhasoami building was intact and there was an incident of stone-throwing near the Pagha temple and in the locality around by about three dozen Meos who came from a nearby village.
The Hindu communal elements, especially belonging to the RSS and the Shiv Sena, collected a mob and attacked the Jumma Masjid and Kasai Masjid and caused an extensive damage to them. Religious texts, carpets and furniture were set ablaze. There were three major Meo establishments in the town — Sai Collection, a showroom of clothes, and three-storyed Mohammud Cloth House and a Coca Cola agency owned by Rafiq. All three were consigned to the flames. The Coca Cola agency was set ablaze during the curfew which was imposed in the afternoon. The curfew continued for about a week.
A panchayat of about 5,000 Meos met in Shikarpur village. One Meo leader tried his level best to provoke the audience. However, the sensible elements in the gathering controlled the situation. Near Patherheri village some BJP leaders organised a meeting of Hindus. One of them observed: "Tension lene ka nahin, tension dene ka time aa gaya hai" (It is not the time to get tense but an opportune moment to give tension). Thus some politicians of both communities were a part of the problem.
At present Tauru is peaceful but tension is simmering beneath the surface which might erupt at any stage. There is an urgent need for the secular and liberal elements to be on guard to avert any kind of eventuality. There is a disturbing divide, which needs special attention, between Hindu and Meo students in the educational institutions in Mewat which can be worked up to create communal conflagration.

| | | |
| --- | --- | --- |
| | MIDDLE | |
Politeness in speech reflects good manners
Sharda Kaushik
"Suit the action to the word, the word to the action; with this special observance, that you o'erstep not the modesty of nature." — William Shakespeare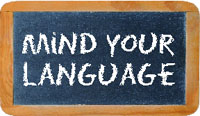 Polite speech shows concern for the interlocutors and tact on the speaker's part. Words, sentence forms and tone of voice work in tandem to build a cordial atmosphere. Sometimes even sentences like "Please reply soon" and "Help us, won't you" may get interpreted as instructions, not requests. A discussion on realizing politeness in speech follows:
(a) Don't change the channel.
(b) Do you have to change the channel?
(c) Do you mind not changing the channel?
Sentence (a) avoids the subject "you", typical of imperatives used for giving commands. The statement sounds impolite as the speaker is imposing her wish on the other person. Sentence (b) with the tone going higher indicates that the speaker is providing the other person with the choice to agree or disagree, which makes the message polite, to an extent. Sentence (c) is a polite suggestion; a request. With the phrase "you mind", the speaker acknowledges that she is interfering with the other person's desired action, hoping it can be condoned.
(a) What do you want?
(b) What would you want me to do for you (please)?
(c) What can I do for you (please)?
Sentence (c) is polite as the speaker combines the pronoun "I" with the modal "can" to offer his services, giving the other person the choice to express his wish. The message in sentence (a) is direct, the query demanding; not even remotely polite. Sentence (b) too is somewhat direct, as it puts the onus of spelling out the requirement on the other person. But with the help of the modal "would" and the tone rising, it becomes less impolite.
(a) I need to borrow the book (please).
(b) I needed to borrow the book (please).
(c) I was wondering if I can borrow the book (please).
The message in sentence (b) becomes less direct and fairly polite with the verb "need" used in its past tense. The distance shown in time impacts the social distance as well. But sentence (c) is truly polite. By lengthening the speaker's message with "I was wondering" and embedding the modal "can" in the "if clause", it reflects the other person's authority, inconspicuous in sentences (a) and (b).
(a) My father is busy and may not come today.
(b) My father is kind of busy and may not come today.
(c) I'm afraid my father is busy and may not come today.
Phrases like "may be/ kind of/ I think" and "I'm afraid" can subdue the directness of the intended meaning framed in plain words. In sentence (a), the speaker sounds authoritative but in sentence (b) "kind of" projects the speaker's hesitation or embarrassment caused by her father failing to meet the other person's expectations. In sentence (c), the speaker goes beyond that and even offers an apology for disappointing the other person.
Politeness helps to avoid possibilities of friction between interlocutors and is characteristic of good manners in speech.

OPED

Review
CINEMA: NEW Releases
Quirky slice of fun
Nonika Singh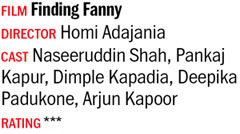 Those of you who have seen the quirky promos of Finding Fanny know too well it's not likely to be a regular fare. But does the offbeat tag guarantee unlimited fun?
Well, the answer to this query first and foremost depends on what you define as fun. So, if you equate laughter with enjoyment, the answer is both yes and no, and, interestingly, lies in the same rationale. For Finding Fanny, with its many layers and subtexts is funny alright, but by no stretch of imagination a comedy 'comedy,' as Hindi film buffs understand it.
The reference point of the film, as the title suggests, is the search for Fanny. Now, who is Fanny? At a philosophical level, many things; love being the super most. But strictly from a story telling point of view, she is old postmaster Fredie's (Naseeruddin Shah) love interest of some four decades back. The provocation to find her lies in an undelivered letter he wrote to her expressing his heartfelt feelings.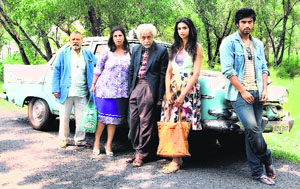 SPIRITED ACT: Pankaj Kapur, Dimple Kapadia, Naseeruddin Shah, Deepika Padukone and Arjun Kapoor

Angie (Deepika Padukone), the good-hearted young widow of this quaint village in Goa, triggers the search and the road trip. And soon enough the journey has on board not only her and the old lover boy Fredie but Angie's 'friend' Savio (Arjun Kapoor), mother in-law Rosie (Dimple Kapadia) and her cat. And to cap it all, the motley group includes an egocentric, famous artist Don Pedro (Pankaj Kapur), who seems to have found his muse in Angie. By the way, he owns the beaten imported car in which they undertake their journey. Together they are quite a whimsical bunch and can only be expected to create a riot, which they do. Never mind that it's not always a laugh riot. Sure, the film has its sunny side up, moments that make you laugh, and more importantly smile. Humour actually is intelligent and a trifle irreverent too.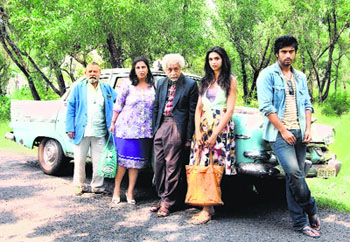 SPIRITED ACT: Pankaj Kapur, Dimple Kapadia, Naseeruddin Shah, Deepika Padukone and Arjun Kapoor

The narrative mocks at death too, without going too much into its finality or darkness of it all. The brightest sparks in this engaging exploration are the performances. In a film that packs two of India's finest actors — Naseeruddin Shah and Pankaj Kapur — acting can only be superlative. Both Naseer and Pankaj breathe and live their characters as only they can. Neither understated nor melodramatic, but with just the right 'over the top' inflections as demanded of their caricaturised parts. As for the clincher — who is better? Well, for sure it's a tie. But the real surprise packages are the two lovely ladies. Deepika is the perfect sunshine girl Angie, who, in her own bizarre way, brings an order to the madness around her; Dimple excels as the bountiful (suitably padded to achieve the hip-heavy look) proud woman hiding her melancholy beneath her odd demeanor. Actually, she makes you ache; not so much for her character, but as to why her talent is not given more space in Bollywood. Amidst the bevy of talented actors, Arjun Kapoor holds his own with remarkable ease.
The setting of the film is pitch-perfect with just the right temper, and the cinematography captures the beauty of it all even more so. The only song Oh Fanny Re in the film, (the other one is reserved for the credits in the end) , lends the right notes. Actually, the film strikes no false notes. There is nothing superficial in the film, even though it moves into the realm of absurdity. At one level, what with a dead cat hanging around the trip, a husband choking on a wedding cake, it actually plays out like theatre of the absurd. Even if the finale is on the predictable lines, it is no dampener.
So, if you like your cinema off the road, get into the company of these idiosyncratic oddballs. Not only will you enjoy their company, the chances of you discovering yourself enroute are rather bright too.

A creation gone wrong
Johnson Thomas

Vikram Bhatt's attempt to give Bipashu Basu's career a much-needed lift with this horror factory product is yet another nail-in-the-coffin for genuine horror aficionados. The plot is lame, the build-up lacking in tension and bite and the tempo is just a little too flat to make any dent on your psyche. Even, the digital 'Creature' fashioned on mumbo-jumbo looks a little too rubbery to strike fear in the hearts of its viewers.
The narrative is so intent on making the lead actress look good that not a hair on her head strays out of place despite the heavy-weather activity she engages in to save her resort from horrific attacks by the creature.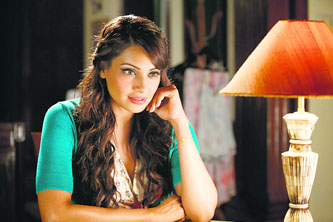 Empty thrills: Bipasha Basu

The film begins with Ahana (Bipasha) showing off her new toy, a boutique hotel, Glendale Resorts, in the heart of the Himachal Hills, to her dear father. Minutes later we realise that her father died several months ago and it's just Ahana, setting herself free from the stranglehold of a coveted ownership of prime property in Mumbai, which she sold off to fashion this so-called dream.
Guests start streaming in and Ahana, the efficient hostess, sets the ball rolling with a music programme as a welcome gift. But the band has not arrived and Ahana mistakes a loner for the musician and sets him singing. A song later she realises that she's mistaken, apologises and they both are enroute to falling in love. But the creature has its own plans, keeps eating away her guests and her confidence, causing a rupture in the romance.
Bipasha looks good and performs to rote but it's not an involving one. Pakistani actor Imran Abbas has the look of a sensitive poet but not much screen presence to go with it. Mukul Dev manages to look solid even though his role is a wishy-washy one. The songs are an attraction no doubt but it's not enough to get you into the theatres.
The storyline is standard Bollywood—so not much purchase there. The treatment is a little too hands-off to stir the audience. We never get involved in the character's plight not are we empathetic towards her dilemma. There's no tension to be had either. The thrills are minimal even though the 3D depth and effects are pretty crusty. This is a film that promised much but delivered very little.

Trip to nowhere
Johnson Thomas

A dad, former assassin-now-mechanic, jumps into overdrive after a weird guy picks up his daughter's phone to whom he just spoke on Skype. Together with his daughter's former room-mate who clings to him like sticky tape, they set out to find her, shooting everybody who stands in their way. That's the story— very familiar, worn-out and unexciting, to say the least.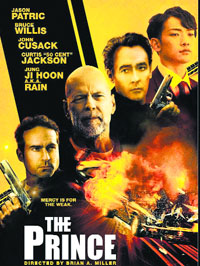 With Jason Patrick in the lead and John Cuscack, Bruce Willis in 'side' roles, there really is not much to expect from this other than some strong firepower and action.
The in-between stuff is so sluggish and verbose that it will put you to sleep. With not much of a story to work with and a slow-to-burn treatment blocking the engagement, everything appears bland, uninteresting and unoriginal.
Although the director tries hard to mix it up with noir elements, there isn't much he accomplishes with the sluggish pace, poor character definition and unnecessary conversations. Even the performances are excessively lazy.
Either the A-list actors in this C-grade enterprise made their entries gratis or they got humongous amounts and couldn't care less about the outcome!


TV movies
Sunday September 13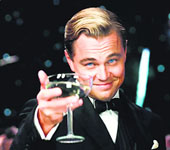 9:34 aM HBO
The Great Gatsby is a 1925 novel written by American author F. Scott Fitzgerald that follows a cast of characters living in the fictional town of West Egg on prosperous Long Island in the summer of 1922.
& PICTURES
9:48AM Ram Lakhan
4:30PM Yaadein
8:00PM Judaai
11:06PM Luv Shuv Tey Chicken Khurana
CINEMA TV
7:00AM Caravan
11:30AM Race
4:30PM The Gladiator Queens
8:55PM Cocktail
HBO
9:34AM The Great Gatsby
12:23PM G.I. Joe: Retaliation
4:54PM Insidious
6:58PM 30 Days of Night
9:00PM Man of Steel
INDIA TALKIES
9:30AM Jyoti
4:30PM Honhaar Bachchey
8:00PM Jagir
MOVIES NOW
9:50AM The Day After Tomorrow
12:25PM City Lights
4:25PM Transporter 2
6:10PM Batman Begins
9:00PM The Matrix
MOVIES OK
8:35AM Chain Kulii Ki Main Kulii
10:40AM O Teri
12:55PM Kabhi Khushi Kabhie Gham
5:15PM Main Insaaf Karoonga
8:00PM Singham
STAR GOLD
8:45AM Kurukshetra
11:20AM Makkhi
8:00PM Dabangg 2
10:35PM The Great Veera
STAR MOVIES
10:00AM Home Alone
4:30PM Men in Black 3
6:30PM Oz the Great and Powerful
9:00PM The Medallion
Saturday September 14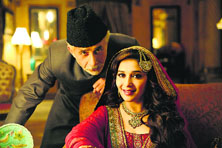 8:00PM Sony Max
Dedh Ishqiya is a black comedy thriller directed by Abhishek Chaubey starring Madhuri Dixit, Arshad Warsi, Naseeruddin Shah, and Huma Qureshi in the lead roles. It is a sequel of Ishqiya.
& PICTURES
9:06AM Bin Bulaye Baraati
12:00PM The Next Karate Kid
8:19PM Phir Hera Pheri
11:30PM Officer
CINEMA TV
7:00AM Race
11:30AM Vicky Donor
4:30PM Table No. 21
8:55PM Hindustani
HBO
8:39AM The Princess Diaries
10:58AM 30 Days of Night
3:06PM Man of Steel
7:18PM Paranormal Activity 4
9:00PM The Conjuring
INDIA TALKIES
6:00AM Honhaar Bachchey
9:30AM Jagir
4:30PM Bandh Darwaza
8:00PM Azaad
MOVIES OK
8:30AM Jodi No. 1
11:40AM Bhaag Milkha Bhaag
5:05PM Chameli Ki Shaadi
8:00PM Humshakals
STAR GOLD
9:25AM Doodh Ka Karz
12:05PM Mard Ki Zaban
5:05PM Fukrey
8:00PM Ready
STAR MOVIES
10:00AM The Fast and the Furious
12:00PM 2 Fast 2 Furious
4:30PM Fast & Furious
6:30PM Fast Five
9:00PM Fast & Furious 6
ZEE STUDIO
9:25AM Ducktales the Movie: Treasure of the Lost lamp
10:55AM Mission Impossible
6:40PM Gone in Sixty Seconds
9:00PM Scream 4