Ensure timely payment to beneficiaries: Sukhbir to DCs
Chandigarh, September 11
The huge backlog payments under various social security schemes and problems in the implementation of the Atta-Dal Scheme were the key issues discussed during a meeting of deputy commissioners with Deputy Chief Minister Sukhbir Badal held here today.
Local Bodies suggests Vigilance inquiry into Abohar MC scam
Abohar, September 11
The Deputy Director, Local Bodies, has observed that the complaints received against the Abohar Municipal Council (MC) prima facie appear to be true. He has recommended to the state government to depute a Chief Engineer, Vigilance Department, to probe the allegations of bungling.
Waiting for AICC's reply, says Jagmeet
Chandigarh, September 11
Former CWC member Jagmeet Singh Brar, who has sent another letter to AICC president Sonia Gandhi, vice-president Rahul Gandhi and other leaders, said he would wait for the response from the high command about the issues raised by him. "Already one month has passed but I am prepared to wait for a few weeks more", he said.
PPP, Cong activists block traffic
Muktsar, September 11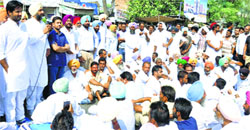 A large number of PPP and Congress activists, who were led by Manpreet Singh Badal and Congress MLA Amarinder Singh Raja Warring, today blocked National Highway-15 outside the courts complex in Gidderbaha, alleging that the police had registered a false case against a former sarpanch, a former councillor and two others at the behest of Akali leaders.

PPP and Congress activists protest outside the courts complex on National Highway-15 in Gidderbaha on Thursday. A Tribune photograph

J&k floods
SGPC team leaves for Srinagar
Amritsar, September 11
A 12-member delegation of the Shiromani Gurdwara Parbandhak Committee (SGPC) led by its junior vice-president Kewal Singh Badal on Thursday left for flood-hit Jammu and Kashmir to supervise relief operations being carried by the Sikh body there.
Rain fury: Hopes of cotton growers sink
Bathinda, September 11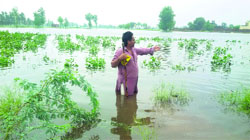 Tej Singh of Chugge Khurd village, who owns four acres of agricultural land, is a worried man. He fears that if cotton fetches less than Rs 4,500 per quintal in the market, he may run into losses.



A farmer assesses damage to his cotton crop at Baam village in Muktsar. A Tribune photograph
In waterlogged Muktsar dist, crores go down the drain
Muktsar, September 11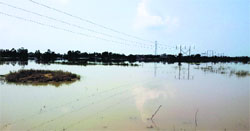 Muktsar is the worst-affected waterlogged district in the state. As per an estimate at least 46.32 sq km of its area is submerged. People in the district have been suffering massive losses, mainly during the monsoon every year.


A waterlogged field at Malout village in Muktsar. Tribune photograph
Fish ponds washed away
Fazilka, September 11
The recent rain has adversely affected fish farms in the district. Areas prone to waterlogging and seepage are hit the most. It has affected the efforts to promote diversification in the district.
CM accepts Jakhar's invitation to visit rain-hit Abohar
Abohar, September 11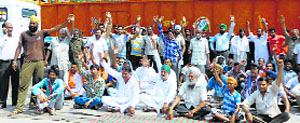 Punjab Chief Minister Parkash Singh Badal has reportedly accepted Jakhar's invitation to Abohar town. Badal had held a Sangat Darshan in Sappanwali village when some villages were submerged due to overflowing drains in September last year but Jakhar was not invited to the meeting.
Shopkeepers hold a dharna on the Malout highway in Abohar on Thursday. Tribune Photo
Sacha Sauda dera at Bhindranwale's village angers radical Sikhs
Moga, September 11
Radical Sikh groups have again opposed the proposal by Sirsa-based Dera Sacha Sauda to construct a dera on the outskirts of Rode, the native village of Jarnail Singh Bhindranwale, in the district.
Malwa ginning industry on brink of collapse
Bathinda, September 11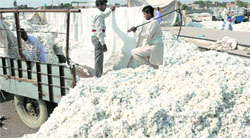 The number of ginning mills is fast declining in the Malwa region of Punjab. From 422 in 2000, their number has fallen to 110 this year. From ginning (process to separate cotton from the seed), farmers have been shifting to spinning (an exercise to produce thread).


The number of ginning mills has declined from 422 in 2000 to 110 in 2014. tribune file photo
Missing holy book found near gurdwara
Abohar, September 11
The holy book that went missing from Gurdwara Sant Kartar Sahib in a remote village in Rajasthan's border district Sriganganagar on August 20 was today found at the gate of another gurdwara in Chak 3NN village, Padampur. Scores of Sikh leaders, led by Gurdwara Baba Deep Singh chief sewadar Tejinderpal Singh Timma, reached the village and confirmed that the book, which had been abandoned by someone with a decorated "palki", was intact.
State ranked top in job generation
Chandigarh, September 11
Punjab has ranked on top with highest compounded annual growth rate (CAGR) of over 46 per cent in employment generation by the Central Public Sector Enterprises (CPSEs) between 2008-09 and 2012-13.
Bhola case: ED raids offices of money changers
Chandigarh, September 11
"Hawala" transactions worth crores of rupees were revealed during raids by Enforcement Directorate (ED) teams on the offices of three money changers in Sector 35 here today.
Delhi Police pick up land scam accused from Mohali
Mohali, September 11
The Delhi Police picked up Gurcharan Singh Khara, a co-accused in the Amritsar Improvement Trust land scam in which former Chief Minister Capt Amarinder Singh's name also figures, from the Mohali district courts complex this afternoon.


HC puts DGP on notice over transfers
Chandigarh, September 11
The Punjab and Haryana High Court today issued notice to Punjab Principal Secretary (Home) Jagpal Singh Sandhu and DGP Sumedh Singh Saini on a contempt petition against alleged reckless transfers of police officers.
Ashutosh clinically dead, case can't be re-opened: HC
Chandigarh, September 11
The Punjab and Haryana High Court today orally observed that its judgment holding Nurmahal dera head Ashutosh Maharaj clinically dead had attained finality in the absence of an appeal and the matter could not be re-opened again.
2 allowed MBBS counselling on HC orders
Patiala, September 11
The recent court order allowing two students to attend MBBS counselling has the entire MBBS counselling committee on toes. Both girls had initially failed to apply for the MBBS seats within the prescribed time limit.
Teachers' selection: HC assesses 'correct answers'
Chandigarh, September 11
In a first, the Punjab and Haryana High Court has exercised its "extraordinary jurisdiction" to assess "correct answers", after rapping the Punjab Government for its "abysmally pathetic" response to petitions on selection of teachers in the state.
Daduwal's bail plea to be heard on Sept 16
Mansa, September 11
The bail plea of the Sikh preacher and member of the ad hoc HSGMC, Baljit Singh Daduwal, will be heard by the Additional Sessions Judge, Mansa, on September 16. The same plea was rejected by the Mansa Additional Chief Judicial Magistrate KS Cheema on September 9.


Budhlada rape victim lied she was nurse: Police
Mansa, September 11
The police have said the Budhlada gang rape victim was not a nurse, as had been claimed by her. She reportedly said she had treated the victim of the infamous gang rape in the national capital, Damini, at Safdarjung Hospital in Delhi.
Youth shot dead in Moga village
Moga, September 11
A 34-year-old youth was allegedly gunned down by three armed persons at Kussa village in Nihalsinghwala sub-division of Moga district on Thursday.
Liquor worth Rs 1 cr seized
Abohar, September 11
The Rajasthan Police claimed to have seized country-made foreign liquor distilled in Haryana having market value worth Rs 1 crore by intercepting two trucks on the National Highway 62/15.