Fogging delayed, waterlogged areas face epidemic threat
Muktsar, September 16
Even though there is a high probability that waterborne diseases may spread quickly in several waterlogged villages in Muktsar, the administration is yet to begin fogging the area.
Jaitu residents protest broken sewerage
Faridkot, September 16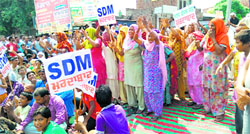 Residents of Jaitu town today observed an indefinite dharna in protest against the authorities' failure to fix the broken sewerage in the town. Sewage has been overflowing for over a week. The protesters blocked the Bathinda-Amritsar road.


People protest against the overflowing sewage in Jaitu on Tuesday. Tribune photo

Congress seeks action against SDM
Fatehgarh Sahib, September 16
The alleged verbal spat between Congress MLA Kuljeet Singh Nagra and Sub-Divisional Magistrate (SDM) Pooja Syal took a political turn today.
PPCC move to quell dissidence
Ropar, September 16
To rein in dissidence among the party workers and for better co-ordination, the Punjab Pradesh Congress Committee (PPCC) would soon appoint leaders in charge of districts.
BJP magic fading: Bajwa
Chandigarh, September 16
Describing the byelection results in several states as "re-surrection of the secular thought", the Punjab Congress president, Partap Singh Bajwa, said never before in the electoral history of India had the popularity graph of a leader (Narendra Modi) and his party (BJP) witnessed such a steep fall within 100 days of assuming power. "The people have rejected communal politics," he said. — TNS


Surprise checks: 68 officials found absent
Chandigarh, September 16
The Education Department's special monitoring cell today conducted surprise checks at 238 offices across the state. The exercise was part of a campaign launched by the department to ensure 100 per cent attendance in its offices.
Unbundling of FCI has commission agents jittery
Chandigarh, September 16
With unbundling of the Food Corporation of India in mind, a high-level committee headed by senior BJP leader Shanta Kumar has started working on the blue print of an alternative model required for the procurement, stacking and distribution of foodgrain in the country.
Vacate properties: Waqf Board
Jalandhar, September 16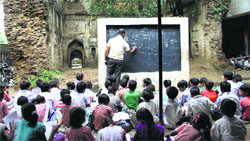 The Punjab Waqf Board has asked the state government to vacate its 295 properties, including mosques and graveyards, which are under "illegal possession" of the Education Department.



Government Elementary School at Basti Peer Dad in Jalandhar is reportedly being run from a building owned by the Punjab Waqf Board. Photo: Sarabjit Singh

'Conman' Gill used impostors for property deals
Chandigarh, September 16
More skeletons may tumble out in the alleged conman Devinder Gill case as the police are now probing whether he used his private staff to forge documents to impersonate as owners of properties.
Expect cheaper sand by mid-Oct
Chandigarh, September 16
The prices of sand and gravel in Punjab are expected to come down considerably once the state government-operated mines become operational by mid-October.
Farmers, labourers to rally today
Moga, September 16
The Bharatiya Kisan Union (Ekta/Ugrahan) and 16 other organisations of farmers and labourers will hold a state-level rally at Moga tomorrow to create awareness against drug abuse, besides pressing upon the Centre and the state government to meet long-pending demands of farmers and farm labourers.
Soon, town on pattern of Singapore island
Chandigarh, September 16
What could possibly be the similarity between Rahon, a small town in Punjab, and Sentosa island in Singapore? None so far, but soon this non-descript town in Nawanshahr could well become Punjab's biggest tourist hub.
Woman dies after delivery, kin allege negligence
Patiala, September 16
A 25-year-old woman died at the Government Mata Kaushalya Hospital this morning after delivering a stillborn. Family members of the deceased blamed the doctors for negligence and raised slogans against the hospital authorities, forcing the police to intervene.


Family members of Aarti with her body at Mata Kaushalya Hospital in Patiala on Tuesday; (left) and some family members argue with officials of the hospital. Tribune photos: Rajesh Sachar

Centre to conduct survey on drug abuse in state
New Delhi, September 16
The Centre has decided to conduct a survey in Punjab to assess the extent, trend and pattern of drug abuse. This was stated by Union Minister of Social Justice and Empowerment Thaawar Chand Gehlot while elaborating on the achievements of his ministry during 100 days of the NDA government.
Patiala college told to make fresh merit list
Patiala, September 16
To resolve the problem pertaining to the denial of admission to two sportswomen by Government Physical College, Patiala, the university authorities have directed the college authorities to recalculate the merit of all students admitted this year.
Complaint lodged against 9 politicians
Jalandhar, September 16
Social activists Balwant Singh Khera and Parvinder Singh Kitna today lodged a complaint with the state Lokpal against nine politicians, seeking probe into alleged misuse of power by them.
Changes in education policy only after debate, says HRD Minister
Amritsar, September 16


Union HRD Minister Smriti Irani today said the NDA government plans to kick off a nationwide debate on the current education policy through seminars, starting January 2015, which will form the basis for the changes to be made in it. Addressing a national seminar on 'Revitalising Education Policy for Safer Women World' at DAV College here, Smriti said that education needed resurrection and a new policy should only be made after a national-level discussion, which would see all the stakeholders participating in it.
Academy faces action over axing of trees
Ropar, September 16
The management of Sahibjada Ajit Singh Academy that runs a senior secondary school in the town is under the scanner of the Forest Department for allegedly felling 115 trees on five acres leased out to the academy by the Irrigation Department.
Minister Tota Singh in 'unpalatable' row
Ludhiana, September 16
Agriculture Minister Tota Singh has got into a culinary controversy, leaving caterers serving food at Punjab Agricultural University (PAU) with a bitter taste. The university authorities have reportedly imposed an unofficial ban on the caterers, who have been told that from now on they will not be authorised to serve food during any government programme organised at the PAU.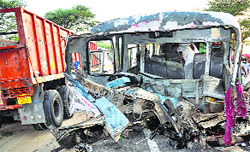 7 killed, 28 hurt in mishaps
Abohar, September 16
Seven persons were killed and 28 persons hurt in two accidents that occurred in Hanumangarh district in Rajasthan. Six persons died and 28 got hurt in a collision that took place between a state-owned bus and a trailer near Nagrana village yesterday.


The mangled remains of the bus that collided with a trailer in Hanumangarh. Tribune Photo


School for Sikh students in UK
London, September 16
British Sikhs in a town north-west of London in England's West Midlands region have set up a school targeted at children from the Sikh community.


HC sets deadline for starting town planning schemes
Chandigarh, September 16
The Punjab and Haryana High Court has set August 30, 2015, as the deadline for the Punjab Government to finalise town planning schemes. It has also given eight months' time to Patiala Municipal Corporation to finalise schemes for the city.


Jail inmate hurt in scuffle with DSP
Gurdaspur, September 16
Convict Karnail Singh, lodged in Gurdaspur Central Jail, was thrashed by a deputy superintendent of police (DSP) last night, reliable sources said. He has written to the District and Sessions Judge, seeking that he be medically examined.
Extradited from Oz, youth sent to two-day remand
Jalandhar, September 16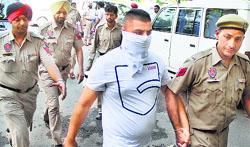 With the extradition of Jaskaran Singh alias Jassa from Australia after 29 months, the police are now hopeful of nailing the remaining two accused in Burundi national Yannick Nihangaza's murder case.



Yannick case accused Jaskaran being produced in court in Jalandhar on Tuesday. Tribune photo: Sarabjit Singh

Liquor seizure: SSP rejects probe report as incomplete
Patiala, September 16
A fortnight after over a dozen liquor cases were seized from the house of Gian Singh, father of SAD councillor Rajinder Singh Virk, the police inquiry report is all set to bail him out and establish that "the liquor was kept there by the servant" who had been already arrested.
Month on, police yet to act against Kauni's guard
Muktsar, September 16
It has been over a month since the Chief Electoral Officer (CEO) wrote to the Director General of Police (DGP), recommending disciplinary action against Harbans Lal, a security guard of SGPC member Navtej Singh Kauni, in the alleged note-for-vote scam. However, no action has been taken.