8 more MBBS seats fall vacant
Faridkot, September 20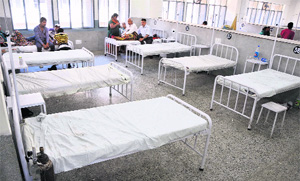 Adding to the woes of medical institutes in Punjab, eight more MBBS seats have fallen vacant as students selected against these have shifted to colleges in other states. Faridkot-based Baba Farid University of Health Sciences had earlier failed to fill 41 management quota MBBS seats in private colleges. The latest vacancies have occurred at the government medical colleges in Patiala (four seats), Amritsar (three) and Faridkot (one). The MBBS aspirants have shifted to medical colleges in other states where they got seats under all-India quota scheme.

Don't victimise Nagra, Cong tells Badal
Chandigarh, September 20
The state Congress has warned the SAD-BJP Government against "using the civil administration" to victimise Congress MLA Kuljeet Singh Nagra and other workers. In a statement, Sukhpal Singh Khaira, former MLA and state Congress spokesperson, said that the "frivolous and concocted" complaint made by Fatehgarh Sahib Sub-Divisional Magistrate (SDM) Pooja Syal Grewal against the Congress MLA had once again vindicated the party's allegations. He alleged the civil machinery of the state had been politicised and was working at the behest of the Badals.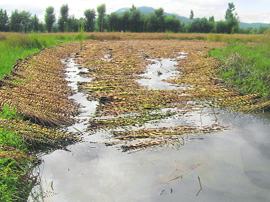 Agriculture Dept understating crop loss, allege Mansa farmers
Mansa, September 20
Though farmers claim that 15,000 acres of agricultural land had been damaged due to waterlogging, the Agriculture Department in its survey stated that only 6,587 acres of land had been hit. In certain villages, farmers have reportedly committed suicide after losing their entire crop due to waterlogging. But the Agriculture Department has stated otherwise, say farmers.
Govt to promote direct seeding of paddy: Sukhbir
Chandigarh, September 20
Deputy Chief Minister Sukhbir Badal today announced that the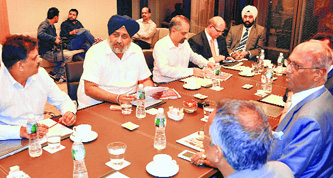 government would launch a joint project with Nuziveedu Seeds to promote direct seeding of paddy in all blocks of the state next year. Sukhbir discussed the issue with the management of Nuziveedu Seeds, including its chairman Prabhakar Rao, and decided to initiate a programme with the company on five acres of land in all blocks of the state next year.

Deputy CM Sukhbir Singh Badal meets GVK Group chairman GVK Reddy in Hyderabad on Saturday. Tribune photo

Rs 1-crore gunny bags go missing from Moga mill
Moga, September 20
Just a few days ahead of the paddy procurement season, at least 653 bales of new gunny bags allotted by the Food and Civil Supplies Department to Punsup, a state-owned procurement agency, have gone missing from a rice mill in Dharamkot sub-division of Moga district. The bags are worth over Rs 1 crore.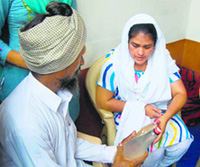 Diarrhoea outbreak feared in Moga; 1 dead, 18 ill
Moga, September 20
A man died while 18 persons were taken ill in suspected diarrhoea outbreak in the outer localities of the town, largely inhabited by Dalit communities, here today. Sources said the people got ill due to water contamination. The district administration has advised all the residents to consume boiled water. Several teams of officials are evaluating the situation.

A local resident with Surinder Kaur, SDM, in Moga on Saturday. Tribune Photo

Forest Dept officials' flip-flop has farmers in trouble: Sampla
Chandigarh, September 20
Member of Parliament Vijay Sampla and assistant media adviser Vineet Joshi have blamed Forest Department officials for "misguiding" the Punjab Government and courts on the Punjab Land Preservation Act (PLPA), 1900. They have submitted a memorandum detailing facts to Chief Minister Prakash Singh Badal.
Govt to bring youth's body from Libya
Hoshiarpur, September 20
The state government has said it would bear the expenses on the transportation of the body of Ranjit Singh of Hoshiarpur who had died in Libya. The Punjab State Commission for NRIs, taking note of a news report carried by The Tribune, had asked the government to act promptly on the matter.
Illegal detention: SP, CIA in charge suspended
Amritsar, September 20
The state police have suspended Superintendent of Police (Detective) Rajeshwar Singh Sidhu and in charge, CIA, Rashpal Singh, following orders of the Punjab and Haryana High Court.
Molestation: Girl's mother demands independent probe
Sangrur, September 20
Unhappy with the police probe into the alleged sexual assault on her daughter, a woman of Jalan village has demanded a high-level inquiry by an independent agency. A widow and a mother of four, the woman had alleged a close relative was behind the assault as he wanted to grab her property. On the orders of the High Court, the Senior Superintendent of Police (SSP), Sangrur, had conducted an inquiry. The SSP had found the allegations to be baseless. The woman had alleged that on the night of May 26, two unidentified persons had kidnapped her daughter from her house. She had alleged that the miscreants took her daughter outside the village and molested her, but she managed to escape. TNS
SGPC delegation returns from Kashmir
Amritsar, September 20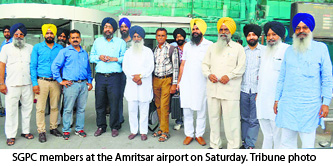 An SGPC delegation that had gone to Jammu and Kashmir returned today after taking stock of the flood-affected areas. The delegation, led by its general secretary Sukhdev Singh Bhaur, will now submit a report to SGPC president Avtar Singh Makkar on the basis of which they will chalk out a strategy for relief work in the coming days. As per a release issued today, Makkar said the SGPC would continue to extend aid to the flood-affected people of Jammu and Kashmir, irrespective of their caste, colour and religion. During the delegation's visit to Kashmir, Hurriyat leader Syed Ali Shah Geelani also met them and expressed satisfaction with the SGPC's efforts to facilitate relief to the flood-hit. He has also written a letter to Makkar, seeking more ration, blankets and medicines. Responding to the demand, Makkar said they would provide these items as per their requirement soon. TNS

'Forced' to go to school, boy ends life
Tarn Taran, September 20
A 12-year-old boy, Manav Mehta, of Bhikhiwind allegedly committed suicide after being forced by his family to go to school. A student of Class VI, Manav allegedly hanged himself from a tree at the border township, 35 km from here, yesterday. Instead of going to his school, Manav reportedly went to the outskirts of the township where he allegedly committed suicide. In another incident, 15-year-old Gagandeep Kaur, a student of Government Secondary School in Sabhra, 35 km from here, was killed as a truck hit her bicycle. — Gurbaxpuri
ASHA workers' protest
Sangrur: ASHA workers on Saturday staged a dharna near the residence of Finance Minister Parminder Singh Dhindsa here. They demanded Rs 6,500 as monthly honorarium for an ASHA worker, Rs 7,500 for a facilitator and Rs 300 for every tour. — TNS