VAT on yarn set to be halved
Chandigarh, September 19
The state government is all set to reduce value-added tax (VAT) on yarn by around 50 per cent.
SGPC team in Kashmir to review relief work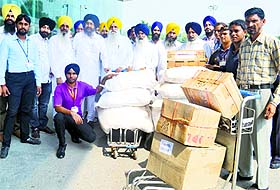 Amritsar, September 19
A 15-member SGPC delegation, led by its general secretary Sukhdev Singh Bhaur, left for Jammu and Kashmir to review the SGPC's ongoing rescue and relief work there. SGPC chief Avtar Singh Makkar, who was supposed to lead the delegation, could not accompany them in view of the demise of former SGPC president Jagdev Singh Talwandi.

SGPC team taking relief material to Jammu and Kashmir on Friday. Tribune photo
SGPC to help children hit by militancy in Nepal
Fatehgarh Sahib, September 19
The SGPC will soon set up a rehabilitation centre for children of 25 Sikh families whose parents were killed by Bodo militants in Nepal.
Villagers want principal back
Mehlan (Sangrur), Sept 19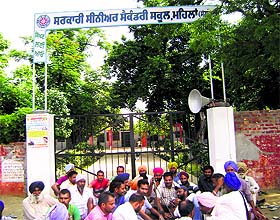 Villagers of Mehlan, 10 km from Sangrur, locked the gate of the local Government Senior Secondary School this morning, demanding cancellation of the transfer of its principal Manjit Kaur. They staged a dharna in front of the gate during the school working hours. Manjit Kaur was transferred from here about three weeks ago.



After locking the main gate of Government Senior Secondary School, villagers stage a dharna in Mehlan village, 10 km from Sangrur, on Friday. A Tribune photograph

Denotify kandi areas, says BJP
Chandigarh, September 19
Bharatiya Janata Party leaders today met Chief Minister Parkash Singh Badal and demanded that the Punjab Land Preservation Act (PLPA), 1900, be denotified in the larger interest of the residents of 470 villages in the kandi area.
Cong flays case against MLA's PA
Chandigarh, September 19
Punjab Congress president Partap Singh Bajwa today condemned the registration of an FIR against the personal assistant (PA) of Rajwinder Kaur, Nihalsinghwala MLA, and two others for "posting objectionable remarks" on Facebook against Agriculture Minister Tota Singh. He called it an attempt to curb democratic dissent at every level and in every media.
Veteran SAD leader Talwandi dead


Ludhiana, September 19
Veteran Akali Dal leader Jathedar Jagdev Singh Talwandi, 85, died after a brief illness here today. He is survived by his wife, two sons and two daughters. Talwandi, who had been ailing for some time and was being treated at Hero DMC Heart Institute since August 20, breathed his last at 11.10 am.



Jagdev Singh Talwandi
The stalwart saw several ups and downs
Ludhiana, September 19
Veteran Akali Dal leader Jathedar Jagdev Singh Talwandi began his political career in 1955 when he was elected sarpanch of his native village.
UP resident arrested for Golden Temple threat call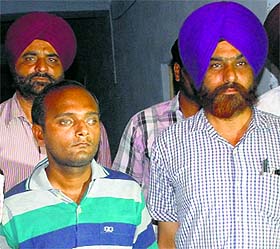 Amritsar, September 19
The city police today claimed to have arrested a Muzaffarnagar (UP) resident for allegedly making a threat call to Darbar Sahib manager Partap Singh a few days ago. The accused has been identified as Kamal Verma. Harjit Singh Brar, Additional Deputy Commissioner of Police (Special) said the accused had lost his bag from Guru Ram Das Sarai inside the Golden Temple complex a few days ago. "This prompted him to do something so that the vigil inside the shrine is enhanced and nobody else loses him belongings.




Accused Kamal Verma of Muzaffarnagar (left) in police custody in Amritsar on Friday. tribune photo: Vishal Kumar

Delimitation panel: Plea against nominations dismissed
Chandigarh, September 19
The Punjab and Haryana High Court today dismissed a petition challenging nomination of members to the delimitation boards after holding that the vires of a legislation cannot be challenged by way of a public interest litigation.


Usha Mohunta, mother of the Punjab and Haryana High Court's Acting Chief Justice, Justice Ashutosh Mohunta, breathed her last this morning after a brief illness.

BSF to strengthen border fencing
Ferozepur, September 19
The BSF will reinforce barbed wire fencing along the Indo-Pakistan border in the sector to keep intruders at bay and check the inflow of drugs and arms. Sources said the cobra fencing that was erected during the militancy period had got damaged over the years. This helped smugglers push drugs through the fence.

Amloh villagers oppose distillery near shrine
Amloh, September 19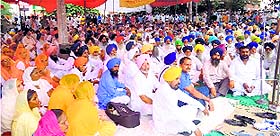 Residents of several villages in the Amloh sub-division protested the setting up of a distillery near a shrine in Kumbhra village and blocked the Amloh-Khanna state highway on Friday. They demanded that Deputy Commissioner Arun Sekhri addressed their grievances. Jagbir Singh Salana, who is spearheading the campaign, said the distillery was not even 100 metres away from the gurdwara.

Villagers protest in Amloh on Friday. Tribune photo
Aircraft maintenance hub at Mohali airport on cards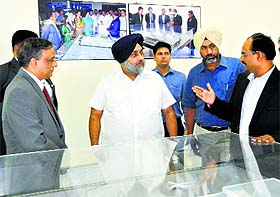 Chandigarh, September 19
Deputy Chief Minister Sukhbir Badal today visited infrastructure giant GMR's MRO (maintenance, repair and overhaul) facility at the Hyderabad international airport, besides the Genome valley life sciences park, with an aim to establish similar facilities at Mohali.




Deputy CM Sukhbir Badal with GMR officials at Rajiv Gandhi International Airport in Hyderabad on Friday. Tribune photo
Private medical colleges seek steep fee hike
Faridkot, September 19
Most private medical colleges in the state have demanded a steep rise in the fee. They have responded to the letter of Director, Research and Medical Education (DRME), Punjab, who sought suggestions for the rationalisation of fee structure for postgraduate courses in all private medical and dental colleges in the state.
Pak man not allowed to visit relative's dargah
Alampur (Hoshiarpur), September 19
Masud Ahmed, who came from Faisalabad in Pakistan to renovate the dargah of his great grandfather at his native Alampur village in Dasuya, is a disappointed man. He hasn't been able to gain access to the site that belonged to his great grandfather, a Sufi saint and a poet, reportedly as legendary as Bulleh Shah. Ahmed arrived here 12 days ago.
Gurdaspur roads in poor state
Gurdaspur, September 19
Roads in all the seven Vidhan Sabha segments of Gurdaspur district are in poor condition. Leave alone the link roads, even those running through Gurdaspur town have become an eyesore. Accidents have become a regular feature. Officials of the administration, however, have been citing paucity of funds as the reason.
Power theft in Moga
Patiala, September 19
The Enforcement Wing of Punjab State Power Corporation Limited (PSPCL) in Moga busted a gang involved in large-scale power theft by tampering with the electricity meters and seals.
Pinki issuing threats, says victim's father
Ludhiana, September 19
Amrik Singh — the father of Avtar Singh Gola, who was shot by Gurmeet Singh Pinki in 2001 — has accused Pinki of threatening him to withdraw the writ petition filed in the Punjab and Haryana High Court.
Bail for Daduwal in arms case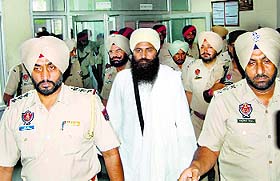 Mansa, September 19
The court of Additional Sessions Judge, Raj Kumar, has granted bail to Sikh preacher Baljit Singh Daduwal in a case registered by the Mansa police on August 27 under various sections of the IPC and the Arms Act. The police had recovered ammunition from a jeep. They had claimed to have found the adhaar card of Daduwal from the vehicle, which allegedly belonged to one of his followers.


BS Daduwal. file photo
State told to issue notification for CBI probe in Vidhu Jain murder
Chandigarh, September 19
Nearly a year after Malerkotla boy Vidhu Jain was burnt to death, the Punjab and Haryana High Court today asked the state to issue a notification for handing over the probe to the Central Bureau of Investigation (CBI).
Notice to state on doctors' protection
Chandigarh, September 19
The police in Punjab and Haryana, it seems, are prescribing punishment for doctors without carrying out the diagnosis. In a petition filed in public interest before the Punjab and Haryana High Court, a doctors' body has alleged that medical board's opinion was taken only in four out of 40 cases before arresting the doctor on charges of negligence. The petitioner, Medicos Legal Action Group, claimed that the data was based on information collected under the Right to Information Act.
Onus of due diligence on property buyer, says High Court
Chandigarh, September 19
Taking up a case where acquired land was sold, the Punjab and Haryana High Court has made it clear that property purchaser is required to take notice of land acquisition notification while purchasing the property; and mere existence of the owner's name in the revenue record does not confer title.
Robbers strike petrol pump
Hoshiarpur, September 19
Four masked and armed robbers allegedly looted Rs 10,000 and three mobile phones from the employees of a filling station at Jahan Khelan village on the Una road last night.