Pay Rs 2.10 lakh more, HC tells Maluka's wife
Chandigarh, September 19
The Punjab and Haryana High Court today directed Punjab Rural Development Minister Sikander Maluka's wife to pay an additional Rs 2,10,000 for keeping the vanity vehicle registration number, PB-65-R-0007.


MC spent Rs 27 lakh on study tour
Chandigarh, September 19
The municipal corporation (MC) spent over Rs 1 lakh on each councillor and official for a nine-day tour to Chennai, Kolkata and Port Blair organised earlier this month that cost the civic body around Rs 27 lakh. Interestingly, the travel company roped in by the MC to organise the tour was shortlisted just on the recommendations of a BJP councillor.
Joint meeting: UT opposes unplanned development
Chandigarh, September 19
The UT Administration has objected to unplanned development on the city's periphery during a joint meeting of Punjab, Haryana and Chandigarh called by the Union Ministry of Urban Development (MoUD) at New Delhi today.
Pawan Bansal's son in race for Cong ticket from P'kula
Panchkula, September 19
Congress leaders from Panchkula district are camping in New Delhi and lobbying for the party ticket from Kalka and Panchkula Assembly seats.
Need to fill gap between academia, industry: Expert
Chandigarh, September 19
An international conference on harnessing engineering, technology and innovation for sustainable development (HETIS-2014) began at the Dr SSB University Institute of Chemical Engineering and Technology (SSB UICET), Panjab University, here today.

Need for safeguarding interests of poor, women, says Justice Bhalla
Mohali, September 19
A national seminar on "The New Dimensions of Human Rights Violations in the Contemporary Times" began at the Army Institute of Law here today.


Justice Jagdish Bhalla addresses a seminar in Mohali on Friday. Tribune photo: Vicky Gharu
NOC made mandatory for registering agricultural land
Chandigarh, September 19
In order to check mushrooming of unplanned colonies and unauthorised construction on agricultural land, the Deputy Commissioner (DC) has made it mandatory to get no objection certificate (NOC) from the Land Acquisition Collector (LAC) before any agricultural land is registered by the Sub Registrar.
CPS holds surprise check at Kharar Civil Hospital
Mohali, September 19
Chief Parliamentary Secretary, Health, Dr Navjot Kaur Sidhu, today asked doctors at the Civil Hospital, Kharar, to prescribe government-supplied medicines to patients rather than the ones they had to buy from outside.
Notices against violations: Residents meet CHB chief
Chandigarh, September 19
A five-member delegation of the CHB Resident Federation today met the chairman of the board over the issue of cancellation and resumption notices being issued to allottees.
UT recommends 5 names for Padma awards
Chandigarh, September 19
After the expiry of the deadline on September 15, the UT Administration has recommended five names for the Padma awards-2015.
GMADA issues 400 allotment letters
Mohali, September 19
The Greater Mohali Area Development Authority (GMADA) has begun issuing allotment letters to successful persons under the Aerocity scheme.
Meeting on auction held
Mohali, September 19
Ahead of its auction of various sites scheduled here for September 26, the Estate Officer (Plots), GMADA, today held a meeting with representatives of property dealers' associations to discuss various matters related to the auction.
Patients examined at camps
Baltana (Mohali): ASCURE Healthcare in association with Smile Forever, an NGO, organised blood donation and free health check-up camps at Harmilap Nagar in Baltana yesterday.
Superstitions come first for P'kula candidates
Panchkula, September 19
Superstitions come first for those contesting the Vidhan Sabha elections from Panchkula.They are more bothered about 'shubh muhurat' than seeking votes. The Vidhan Sabha elections are scheduled for October 15 while October 19 is the counting day.
I-T notice to 3 defaulters
Chandigarh, September 19
The Income Tax Department, Chandigarh, has given last opportunity to three income tax defaulters. They are M/s Swami Auto Sales, Chandigarh, due Rs 2.10 crore, Rana and Co., Chandigarh and Nangal, due Rs 2.58 crore and Davinder Singh Pannu, a resident of Chandigarh, due Rs 4 crore. Pannu's house has already been attached. — TNS
Needy students to get free coaching
Chandigarh, September 19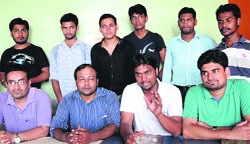 The Youth Welfare Association (YUWA), Panjab University, will start free medical and engineering entrance exam coaching for needy students of the tricity.




Members of the Youth Welfare Association address mediapersons at Panjab University on Friday. Tribune Photo: S Chandan
Elected council members managed it all in Rs 13,000
Chandigarh, September 19
Despite lavish parties, long trips and free lunches, details of poll expenditure submitted by four representatives elected to the Panjab University Campus Student Council to the Panjab University authorities today have been pegged at around Rs 13,000 only.
Panic grips Panjab varsity as chlorine cylinder leaks
Chandigarh, September 19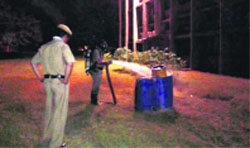 Panic gripped the chemistry department at Panjab University here when there was a leakage in a chlorine cylinder kept outside the department this evening.




Fire officials try to control the leakage in a chlorine cylinder at Panjab University. Tribune Photo: Amit Sharma
P'kula institute hosts Arabic theme festival
Panchkula, September 19
An Arabic theme festival was organised at the Allied Institute of Hotel Management, Sector 11, Panchkula, today.