INLD accuses 2 poll panel officials of bias
Chandigarh, September 19
The INLD today accused two senior officials of the Election Department of 'bias' towards the complaints of the party against the Congress. In a complaint to VS Sampath, Chief Election Commissioner, RS Choudhary, INLD general secretary, alleged Maheshwar Sharma, Additional Chief Electoral Officer, and Gulshan Gandhi, Deputy Chief Electoral Officer, were dilly-dallying on taking action on the INLD complaints against the Congress.
Vijayvargiya downplays rebel trouble
Bhiwani, September 19
Playing down the rebel trouble that has been brewing over ticket allocation, Kailash Vijayvargiya, the BJP's central election in charge for Haryana elections, claimed it was a minor problem and had been sorted out.
Faridabad Cong MLA withdraws candidature
Faridabad, September 19


The ruling Congress appears to be heading for a showdown following allegations of political conspiracy levelled by Ballabgarh MLA and chief parliamentary secretary Sharda Rathore. She has announced her decision to exit the fray in view of infighting and has dared the high command to get another candidate to win from her seat. In a statement, Rathore said she had agreed to contest from Ballabgarh on party MP Deepender Singh Hooda's request. However, some senior party leaders had been issuing statements targeting her.
Arora rips into 'No. 1 Haryana' claim
Fatehabad, September 19
INLD state president Ashok Arora today claimed the Assembly poll results would end the party's 10-year wait for power and it would win enough seats to constitute the government on its own.
HJC campaign panel chief Batra won't contest


New Delhi, September 19
Former state Home Minister and HJC campaign committee chairperson Subhash Batra will not contest the Assembly election. A HJC leader said not fielding Batra is part of the party's new strategy as it prepares to face the election with an ally. Its talks with the BSP to forge an alliance with it for election have not made headway and it has only managed to forge an alliance with Venod Sharma's Haryana Janchetna Party.
DCs, SPs discuss steps for smooth elections
Sirsa, September 19
The Deputy Commissioners and the Superintendents of Police from Bathinda, Mansa and Muktsar districts of Punjab, Hanumangarh district of Rajasthan and Fatehabad and Sirsa districts of Haryana today met here to discuss measures to hold peaceful elections in Haryana.

CEO Walgad appeals to people to vote
Yamunanagar, September 19
State Chief Electoral Officer Shrikant Walgad today appealed to the voters to cast their votes on October 15 to strengthen the democratic system of the country. Addressing students at the Jai Parkash Institute of Management and Technology (JMIT), Radaur, said today that the voters should use their right to vote after consideration.
BJP alleges regional bias in growth
Chandigarh, September 19
Haryana BJP spokeman Virender Singh Chauhan today accused the Hooda-led Congress government of bias in development and jobs. Chauhan dared the Chief Minister to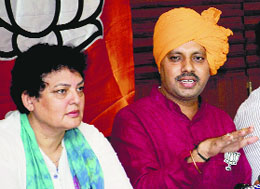 contest the Vidhan Sabha poll from some constituency in the badly neglected districts of north or southern Haryana. The skewed development is going to be a major election issue, Chauhan asserted. Chauhan accused the Chief Minister of spending hundreds of crores from the public exchequer on a 'misleading' publicity campaign. About fielding certain candidates facing criminal cases, the BJP leader claimed that the party would take appropriate action in due course. TNS

BJP spokesman Virender Chauhana (left) talks to the media in Chandigarh on Friday.


---
Clash over land
Prohibitory orders continue in Yamunanagar village
Yamunanagar, September 19
The situation in violence-hit Tigra village remained peaceful today even as prohibitory orders continued for the second day in the village. The orders were issued on Wednesday night after 30 persons, including the Zila Parishad chairperson, were injured in a clash between two communities over land.
Arrest warrants against five Bharti officials in fraud case
Hisar, September 19
A local court today issued arrest warrants against five Bharti Mittal Group officials on charges of fraud. The court of judicial magistrate Bharat Bhushan Kaushik issued warrants against Raj Jain (chief executive officer of Bharti Retail), Pankaj Madan (chief financial officer), Vinod Sahney (executive officer), Rana Varun Pratap (store manager, Easyday, Sector 13) and Alok Bajaj (store manager, Easyday, Sector 15).
Jhajjar villagers ban entry of cattle traders from Mewat, UP
Jhajjar, September 19
To check cow smuggling and slaughtering, a mahapanchayat of 40 villages in the Badli Assembly segment has banned cattle traders of Mewat and Uttar Pradesh from entering the villages.
Cop among six held; 31 vehicles recovered
Yamunanagar, September 19
The detective staff arrested six persons, including a policeman, who used to loot people disguising themselves as policemen. The police also recovered a car with a blue beacon, a mouser, a desi pistol, iron rods, sticks, police dresses and fake currency notes of Rs 21,000 from their possession.
Dairying 'brings nutritional security' to people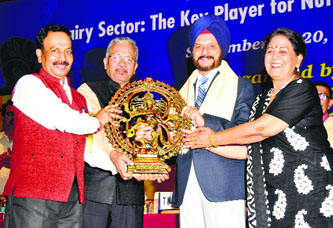 Karnal, September 19
National Dairy Development Board (NDBB) chairman T Nanda Kumar today emphasised nutritional security in India while addressing the seventh national seminar on "Dairy sector- the key player for nutritional security in India." The seminar was jointly organised by National Dairy Research Institute (NDRI) and NDRI Graduate Association (NGA).

Dr Jagjit Singh Pujrath (third from left) being felicitated at NDRI in Karnal on Friday. Tribune photo: Ravi Kumar

BKU demands early purchase of paddy
Kuruksehtra, September 19
Seeking early purchase of paddy and expressing resentment with the lower prices being given to farmers for aromatic (basmati) varieties by private firms, the BKU (Charuni group) held a demonstration at the Mini-secretariat today.
Two vehicle-lifters' gangs busted
Panipat, September 19
The district police have busted two inter-state gangs of bike lifters with the arrest of gang leaders. Fifteen bikes have been recovered from their possession. Stating this, DSP Jitender Gehlawat said one bike-lifter gang had been busted by CIA 2 Auto Vehicles Tracking (ATV) wing and the other by the City Thana police. A police team, headed by CIA ATV in charge SI Chabil Singh, caught Saalim of Kairana in Uttar Pradesh near Chhotu Ram Chowk and recovered seven stolen bikes from his possession, the DSP said. He further said City Thana SI Bhin Sen nabbed Dinesh and recovered eight stolen bikes from him. The DSP said further investigations were on. TNS
Traders protest raids by police, garment firm
Karnal, September 19
City traders today protested the raids conducted by a garment company along with the police at some shops in the city yesterday. The protest was led by Krishan Lal Taneja, president, Karnal Nagar Veopar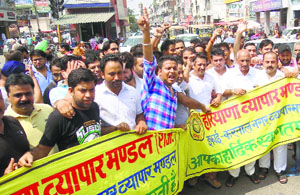 Mandal, and Krishan Garg, senior deputy mayor. They said some firms had been harassing them on the pretext of the Copyright Act by conducting such raids. They said it was just to extort money from them. Garments worth several lakhs were confiscated in the raids. The garments, which were taken into custody by the firm, were not proven fake as alleged by the firm, said Krishan Lal Taneja. TNS

Members of the Veopar Mandal protest at Sabzi Mandi Chowk in Karnal on Friday. Tribune photo: Ravi Kumar

Police rescue 6-yr-old child
Rohtak, September 19
The child, who was rescued by the police after an encounter with the kidnapper here last evening, had been abducted for ransom. The kidnapper, Jitender of Gumana Majri village in Jhajjar district, has a criminal record and was reportedly under debt. In order to repay the loan, he plotted to kidnap six-year-old Pratham for ransom. After monitoring the child's schedule for a few days, Jitender finally struck yesterday. As soon as Pratham got down from his school bus, Jitender bundled him into a Santro car and fled the scene. However, he was captured by a CCTV camera. The kidnapper also called Pratham's mother on her mobile phone. The police located the car and intercepted it near Delhi bypass. An encounter ensued in which the kidnapper sustained bullet injuries. He has been admitted to the local PGIMS. TNS
2 killed in road mishap
Rewari, September 19
Two persons — Jagroop of Solkha village and Dalip Rai of Samastipur (Bihar) — were killed when a vehicle hit an auto near Jaatuvaas village on the Rewari-Bhadavaas road last evening. The vehicle driver sped away after the accident. The mishap took place when auto driver Jagroop and Dalip were coming towards Rewari city. The auto overturned after the vehicle hit it. The vehicle driver has been booked for rash and negligent driving. TNS