Punjabis hold key to win on Hooda's home turf
Sunit Dhawan
Tribune News Service
Rohtak, September 10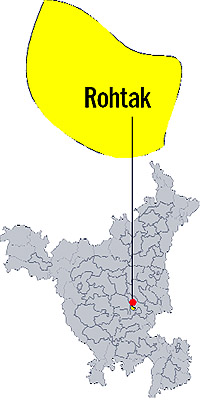 Rohtak, the hometown of Chief Minister Bhupinder Singh Hooda, has been the target of Opposition parties for cornering the lion's share of progress ever since he took over the reins of the state.
The Hooda camp assumed power on the slogan of Rohtak's "chaudhar". Several ambitious development projects were sanctioned for the area and it did get a network of good roads, flyovers and reputed educational institutes.
As Punjabi voters hold the key to victory in the Rohtak Assembly segment, a Punjabi and Hooda's aide Bharat Bhushan Batra was fielded from the constituency in the 2009 elections that he went on to win. Being the sitting MLA from the CM's hometown brought with it a great deal of responsibility and high expectations.
Development factor
Batra worked hard for the constituency's development, which includes wide roads, streetlights and educational infrastructure. He is credited with setting up of the State University of Performing and Visual Arts, University of Health Sciences, State Institute of Hotel Management, Rajiv Gandhi Sports Complex and has been honoured with the Haryana Vidhan Sabha's 'Best MLA' award.
Voters in two minds
Vote share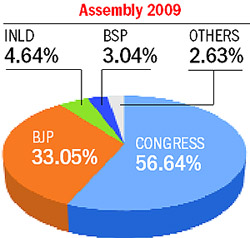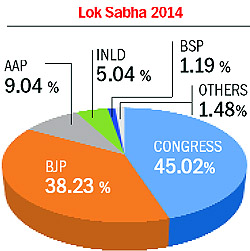 As Batra's tenure comes to an end, residents are indecisive. Development works apart, residential and commercial property prices are hitting the roof; corruption and red-tape is rampant in government offices; Post-graduate Institute of Medical Sciences (PGIMS) is unable to cater to health needs; traffic and parking chaos rules and unemployment and crime are on the rise.
The recent spell of rain exposed the local administration's tall claims and even the posh HUDA sectors, medical campus and other upmarket colonies were flooded in the Chief Minister's hometown, that too at the fag end of two consecutive terms at the helm. Poor planning and mismanagement may work to Batra's disadvantage.
Affordable housing needed
No HUDA sectors have been developed in Rohtak ever since the Congress came to power, depriving middle and lower-middle class residents of affordable housing.
On the other hand, some private builders have come up with townships. There is no let-up in traffic congestion in the old town area due to rampant encroachments. Residents say while incidents of eve-teasing, thefts, crime and traffic chaos are on the rise, a big chunk of the police force is often deployed to prevent the public from visiting the Chief Minister's local residence with their grievances.
At a glance
Total voters 1,65,807
Men: 86,882
Women: 78,925
Main issues
Traffic congestion, parking chaos, falling standards in institutions of higher learning, non-development of new HUDA sectors, poor facilities in industrial belt, monkey menace
Segment scan
The Rohtak segment has been dominated by Punjabi voters as well as legislators despite being the heartland of the Deswali Jat belt. Punjabis hold the key to power in the constituency and have won most Assembly elections
Legislatorspeak

I have tried to address the concerns of residents in every nook and corner of the constituency. The town is now connected to neighbouring towns with six-lane roads. Apart from building good roads and flyovers, we have beautified the town by developing parks and installing streetlights. Rohtak now boasts of reputed educational institutes and commendable civic infrastructure.
Bharat Bhushan Batra, Congress mla
Oppositionspeak
No new HUDA sector has been developed in Rohtak ever since the Congress came to power, depriving middle-class and lower-middle class of affordable housing. Unemployment amongst local youths is high despite the authorities' tall claims. Facilities are poor at the local PGIMS. There is no end to traffic and parking woes. The people of Rohtak feel they've been cheated in the name of chaudhar.
Manish Grover, bjp leader
The probables

Congress: Bharat Bhushan Batra
bjp: Manish Grover, Dr Markanday Ahuja, Manmohan Goel
inld: Raj Sharma, Raj Kamal Sehgal