Kumbh Mela: 5 industrial firms to beautify Rodi Belwala land
Haridwar, September 20
In view of the Ardh Kumbh fair scheduled to be held in the early part of 2016, beautification of Kumbh mela land is being undertaken. On one hand, this is expected to attract pilgrims and tourists, and on the other, it is likely to lead to removal of encroachments.
"Khoj Ley Himalayas" expedition flagged off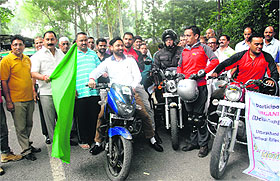 Dehradun, September 20
State Urban Development Minister Pritam Panwar and Congress MLA Vijay Pal Sajwan jointly flagged off the Delhi-Gangotri-Nelong valley motorcycle expedition, "Khoj Ley Himalaya", here today.



Urban Development Minister Pritam Singh Panwar flags off the "Khoj Ley Himalayas" expedition in Dehradun on Saturday. A Tribune photograph
Missing girl from Jwalapur found in Mussoorie
Mussoorie, September 20
A girl in her 20's reported to be missing from Jwalapur a couple of days ago was found by Mussoorie police from Camel's Back Road here late last evening. The police, after bringing the girl to Mussoorie police station and completing all formalities, have handed over the girl to her parents.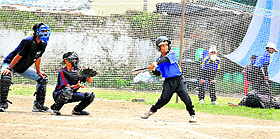 peak action: Players in action during a match in a national level baseball tournament at the Rangers Ground in Dehradun on Saturday. Tribune photo: Abhyudaya Kotnala
Make 'Hamara pedh, hamara dhan' scheme lucrative: CM
Dehradun, September 20
Uttarakhand Chief Minister Harish Rawat has said that 'Hamara pedh, hamara dhan' scheme should be made more lucrative. The scheme has been launched to connect with the rural population.
World Bank to assist U'khand in health sector
Dehradun, September 20
The World Bank will assist the Uttarakhand Government in organising surgical camps. This was stated by state Health Minister Surinder Singh Negi here today. "The World Bank has already committed itself to providing 121 million dollars for surgical camps that will be organised in the state. Besides, the bank will provide surgeons.
UKD (P) resents reappointment of teachers
Dehradun, September 20
Resenting reappointment of retired teachers in government schools, workers of the Uttarakhand Kranti Dal (Panwar) protested at the Garhwal commissioner's office here today.
Body found in car
Dehradun, September 20
The body of a 26-year-old person was found inside his car in the crowded Selaqui market today. The deceased was identified as Nitesh Kumar of Hisar in Haryana. According to the police, they got information from the local people that the body of a young person was lying inside one car.
Police form 2 more teams in robbery, murder case
Dehradun, September 20
After failing to get any substantial success in the Balawala robbery case, Dehradun police have formed two more teams under two experienced Inspector-rank officers to crack the case.
Maharaj welcomes new Kailash Mansarovar route
Dehradun, September 20
Senior BJP leader from Uttarakhand Satpal Maharaj has welcomed opening of alternate route to Kailash Mansarovar from Nathula in Sikkim.
MP Ed members climb overhead water tank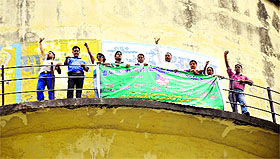 Dehradun, September 20
The agitated members of MP Ed and BP Ed Trained Association climbed atop the overhead water tank at Race Course here today in support of their one-point demand of appointment in government schools.

Agitated members of MP Ed and BP Ed climb atop a water tank in support of their demands in Dehradun on Saturday. Tribune photo: Abhyudaya Kotnala
'Rainwater harvesting can prevent crisis'
Haridwar, September 20
Noted environmentalist Anupam Mishra, who is also director of the New Delhi-based Gandhi Peace Foundation, has stressed on the rainwater harvesting system to mitigate water crisis.
Constable held in UP dacoity case
Dehradun, September 20
An Uttarakhand police constable, Pramod, posted at Rudrapur Kotwali, has been arrested by the Uttar Pradesh police for his alleged involvement in a case of Rs 2 crore robbery from a jewellery showroom in Bulandshahar.
Ministerial strike hits work in Champawat, Pithoragarh
Pithoragarh, September 20
Villagers coming from remote areas of Champawat and Pithoragarh districts to get some essential certificates made are returning disappointed from the district headquarters office due to a pen-down strike by ministerial workers.
Soccer: KV Birpur win
Dehradun, September 20
Kendriya Vidyalaya Birpur defeated KV Hathibarkala 4-1 in the final of the Inter-School Under-14 Boys Football Tournament 4-1 at Pavilion Ground here today. Hemchandra scored the opening goal for KV Birpur in the 5th minute and the second one in the 52nd minutes. Nandan and Prashant scored in the 28th and 35th minutes for the winning team. Nand scored the lone goal for KV Hathibarkala. — TNS
HINDI DEBATE
St Joseph's Academy win overall trophy
Mussoorie, September 20
St Joseph's Academy went on to clinch the overall trophy in the Bro Aloysius memorial inter-school Hindi debate competition organised at the Nirmala Inter-College at Barlowganj near Mussoorie on Saturday.